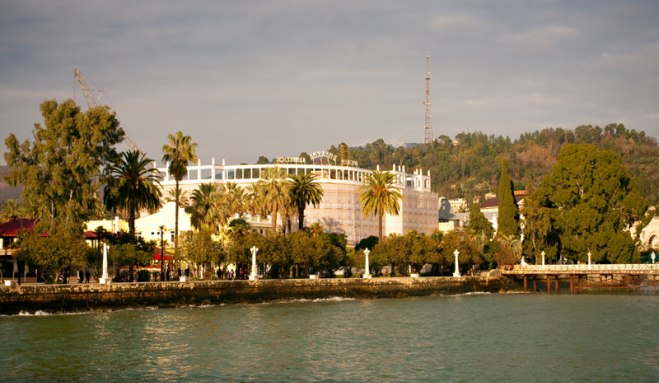 Abkhazia is a hospitable country with its fabulously beautiful nature, ancient history and original culture.
The leading tour operators of Abkhazia will help you to organize the unforgettable tour to Abkhazia.  
Caucasus Explorer
Tel. +7-499-653-90-19
Email: This email address is being protected from spambots. You need JavaScript enabled to view it.
Adjka Travel
Tel.  +7-499-653-90-19
info@adjika.travel
www.adjika.travel
Sukhum travel agency
Prospect Mira street,119, Sukhum
Tel. +7-840-225-31-15
Mob:  +7-940-927-30-35
E-mail: This email address is being protected from spambots. You need JavaScript enabled to view it.     
Gagra travel agency
Apskha Leon str.2, Gagra
Tel. +7-840-232-28-75
Mob: +7-940-925-31-15
E-mail: This email address is being protected from spambots. You need JavaScript enabled to view it.
Tour Operator «Rusalturs»         
Tel:+7 (495) 626-06-71, +7 (495) 626-03-80
Tel: +7 (495) 626-06-42, +7 (495) 783-04-89
E-mail: This email address is being protected from spambots. You need JavaScript enabled to view it.
www.abkhazia.ru 

Tour Operator «Aqua-Abaza»
Tel:+7 (495) 626-02-12, 626-05-83
Tel:+7 (495) 626-05-83, 641-73-26
E-mail: This email address is being protected from spambots. You need JavaScript enabled to view it.
www.akva-abaza.ru
Traveling to Abkhazia is possible by air from any city of the world to the Sochi International Airport, Russian Federation.
To get from Sochi (Russian Federation) to Abkhazia you should cross the Russian-Abkhaz border, which is about 30 min. drive from the airport (without traffic).
To get from the Sochi International Airport to Abkhazia, you can take taxi upon arrival to the airport or order it in the taxi services of Abkhazia.
Having done a taxi reservation in advance in Abkhazia, you ensure yourself a smooth moving from Sochi airport to any city of Abkhazia across the border. 
Taxi
Tel: (940) 716-00-00; +7 (840) 226-00-00+7
Email: This email address is being protected from spambots. You need JavaScript enabled to view it.
Web-site: www.abhaztaxi.ru
Tel:  (940)99-00-111; (940)77 21 11  
Visa - Passport
For travelling to Abkhazia the foreign citizens are required to have a double entry or multiple Russian visa, because you go to Abkhazia by transit through Russia (the first time you enter Russia on the way to Abkhazia and the second time you visit Russia on your way from Abkhazia back to your home country).  
For obtaining Russian visa, you should have an "entry permit" to the Republic of Abkhazia.
For obtaining an "entry permit" to Abkhazia you should fill electronic application on the website of the Ministry of Foreign Affairs of the Republic of Abkhazia (http://mfaapsny.org/en/council/visa.php).
You should send the completed application form, copy of passport, a recent photo of the applicant by e-mail This email address is being protected from spambots. You need JavaScript enabled to view it.  or fax: 8-10 -840-22 -6-39-48. 
Within 5 days an entry permit letter for visiting the Republic of Abkhazia will be sent to the email address from which the application was sent or to the fax number stated in the application.
You can pay consular fees in any branch of bank "Sberbank" in Abkhazia. Upon your arrival in Abkhazia you must visit the Consular Service within three working days in order to obtain the actual visa of the Republic of Abkhazia which will serve as an exit permit document.
 How to get to the resorts of Abkhazia from the border?
From the border there are buses, minibuses and taxis available to all cities of Abkhazia.
Travel time (excluding traffic)
• from Adler to the border - 25-30 minutes;
• from the Russian-Abkhaz border to Gagra - 20-30 minutes;
• from the Russian-Abkhaz border to p.Pitsunda - 40 minutes;
• from the Russian-Abkhaz border to g.Gudauta - 1:00;
• from the Russian-Abkhaz border to Novy Afon - 1 hour 20 minutes;
• from the Russian-Abkhaz border to Sukhum - 1 hour 40 minutes. 
HOTELS
More information about the hotels you can find on the following websites:
Transportation
Within Abkhazia buses, minibuses, taxies run between all cities. The rent of cars doesn`t practice. 
Language
The state language of the Republic of Abkhazia is Abkhazian language.  Russian is the language of state and other agencies. In the tourist centers English is used.   
Time
Abkhazia is in the same time zone as Moscow. UTC+4  
Religion
Abkhazia is a country of early Christianity. About 70% of its population are Orthodox Christians, 16% Muslims, 4% Catholics, 5% Pagans, 2% Jews, and 3% of other religions. 
Climate
Abkhazia has an exceptional variety of weather conditions. Mountains which are close to the coast create here a special microclimate, protecting the city from the cold winds and keeping warm sea air. The climate is humid and subtropical. Winter in Abkhazia begins in mid-December and spring arrives by early March. Even in the winter the temperature rarely drops below 0C and freezing temperatures are only seen high in the mountains. The average temperature in January at the shore is from +4 to +7С, in the mountains from +2 to -2 С, in July from +22 to +24C. Average annual precipitation in Abkhazia ranges from 1300 mm in the coastal region and up to 3500 mm in the mountains.  The temperature of the sea reaches 27C in the summer and the water stays at 18-19C all the way until October, so the beach season lasts from mid-May to October. 
Money
The Russian ruble is the official currency of the Republic of Abkhazia. You can exchange currency (EURO, USD) in any bank of Abkhazia. The commercial banks also have currency exchange services in all major resort cities. Using of plastic cards (Eurocard, MasterCard, Visa International, American Express) for any payments is currently prohibited throughout the country. But cards (Eurocard, MasterCard, Visa International, American Express) can be cashed in any ATMs.
Import cash money
The restrictions on foreign currency export from the Russian Federation that are set by existing Russian legislation apply on the territory of Abkhazia. The limit for the undeclared import of foreign currency is $3000 per person. Currency amounts over $3000 per person must be declared to the customs service. Permission from the Central Bank is required for amounts over $10,000 per person.
Precautions and rules of conduct
• Do not settle in the private sector.
• You should buy homemade alcoholic beverages with special care from private individuals, as they can be of poor quality and cause injury. We ask you to observe moderation in the use of alcohol. Don't swim in the sea or pool while alcoholic intoxication! 
• Do not go on a journey, picnics or unfamiliar people without the guide.
• Abkhaz people are quite liberal in matters of clothing: young people wear modern clothes, including shorts, tops and mini-skirts. In resort areas you can wear on your own. If you are going to visit local villages, historical and cultural monuments, try not to wear very sheer or too short clothes. 
Telephone communication
For international calls dial: 8-10 + city code + phone number
For calls to Russia dial: 8-107 + city code + phone number 
Mobile operators
There are two mobile operators in Abkhazia, AQUAFON and A-MOBILE. They operate using the GSM 900/1800 standard.
Address: 384900 Gumistinskaiya street 14, Sukhum, Novy Raion
Tel: +7 940 999 99 99
E-mail: This email address is being protected from spambots. You need JavaScript enabled to view it.
Web-site: www.aquafon.com 
Address: 384900 Kodorskoe Shosse street 665, Sukhum, Sinop
Tel: +(7840)2294018, +(7840)2294019
Tel: +7(940) 777 77 77
E-mail: This email address is being protected from spambots. You need JavaScript enabled to view it.
Web-site: www.a-mobile.biz 
You can buy the local SIM-card at the official points of sales of mobile communication services. Your passport and personal presence is necessary. You can also use your mobile phone which is automatically connected to the international roaming service. 
Useful contacts
Ministry of Foreign Affairs of the Republic of Abkhazia
Adress: 384900 Lakoba street 21, Sukhum
Теl: +7 (840) 226-70-69
E-mail: This email address is being protected from spambots. You need JavaScript enabled to view it.
Web-site: www.mfaapsny.org 
State Committee for Resorts and Tourism of the Republic of Abkhazia
Address: 384900 Prospect Mira street 119, Sukhum
Tel: +7 (840) 26-37-90  
E-mail: info@abkhazia.travel
Web-site: www.abkhazia.travel  
Telephones of emergency services
Fire Department "01"
Police "02"
Ambulance "03"
 
We wish you an unforgettable journey!
Chamber of Commerce and Industry of the Republic of Abkhazia
www.tppra.org - This email address is being protected from spambots. You need JavaScript enabled to view it. Tel/fax:+78402263387/ 226 35 72 
Prepared by Chamber of Commerce and Industry of the Republic of Abkhazia