Kabardino-Balkaria President Leaves Office Halfway Through Second Term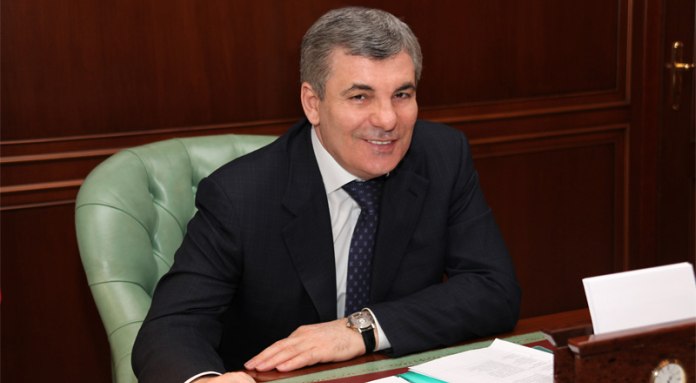 RFE/RL Caucasus Report -- Russian President Vladimir Putin has accepted the resignation of the president of the Kabardino-Balkaria Republic (KBR), multimillionnaire Arsen Kanokov, the man whom he had named to that post eight years ago. 
Rumors of Kanokov's imminent dismissal had been circulating for several months.

While Kanokov is said to have stepped down voluntarily to give a younger man the chance, the choice of his acting successor, Colonel General Yury Kokov, points to a victory by supporters of Kanokov's predecessor, Valery Kokov, in their protracted political battle to discredit Kanokov.

Yury Kokov is 58, two years older than Kanokov.

Kanokov was first named president just weeks before Valery Kokov's death from cancer, and on the eve of multiple attacks by disaffected young practicing Muslims on police and security facilities in Nalchik in October 2005. The trial of 58 men accused of participating in those attacks is entering its final phase.

A successful businessman who had previously represented Kabardino-Balkaria in the Russian State Duma, Kanokov succeeded in reviving the republic's stagnating economy, which is focused primarily on agriculture and tourism.

Gross domestic product has almost trebled -- from 35.2 billion rubles ($992 million) in 2005 to 94.9 billion in 2012. The share of federal subsidies in  the republic's budget fell from 64.9 percent to 53.7 percent, and registered unemployment from 34,500 in 2005 to 20,000 in 2009.

But that upswing has apparently peaked. During the first six months of 2013, Kabardino-Balkaria registered the steepest decline in industrial output of any federation subject (68.9 percent of the level for 2012), while investment plummeted by almost 50 percent.
Meanwhile, since June 2012 eight senior KBR officials have been fired on suspicion of corruption, including: presidential administration head Vladimir Zhamborov and his brother Ruslan; Minister for State Property and Land Resources Khabdulislam Ligidov;Pension Fund head Khasanbi Sheozhev; and Prime Minister Ivan Gerter.

Throughout his tenure as president Kanokov, who had no personal power base in Kabardino-Balkaria, has had to contend with resistance from officials who had served under Valery Kokov since the latter headed the republic in 1990 -- the so-called "Kokov clan," which is said to have serious support within the law enforcement agencies that are subordinate directly to Moscow.

Kanokov indirectly accused the Kokov clan of seeking in the summer of 2010 to thwart his nomination for a second term. And last year he implicitly identified Yury Kokov as being behind the arrest of the Zhamborov brothers.

Reports in late January that Kanokov was about to be dismissed proved erroneous; instead, Putin got rid of Kanokov's Daghestan counterpart, Magomedsalam Magomedov. Rumors of Kanokov's imminent dismissal resurfaced in the summer of this year, at which point Yury Kokov was already mentioned as his likely successor.

It is not clear whether Kanokov's dismissal of Ruslan Khasanov as KBR prime minister in September and the appointment of his successor, Konstantin Khramov, a Russian from outside the North  Caucasus, was occasioned by the need to reverse this year's  economic decline, or a belated effort by Kanokov  to undercut the influence of the Kokov clan, with which Khasanov was reportedly aligned.

A career Interior Ministry officer, Yury Kokov served from 2003 to 2008 as deputy head of the ministry's Main Administration for Combatting Organized Crime, and since then as head of its Antiextremism Branch.  He is reportedly regarded as not corrupt, and as not having been involved in protracted local struggles over property and resources.

Meeting with him at the Kremlin on December 6, Putin expressed approvalof Kokov's proposals to stabilize and improve the situation in the republic in the short and medium term, which leaves little doubt that he will be confirmed as republic head.

A source in Kanokov's entourage said he will be named to represent Kabardino-Balkaria in the Federation Council.