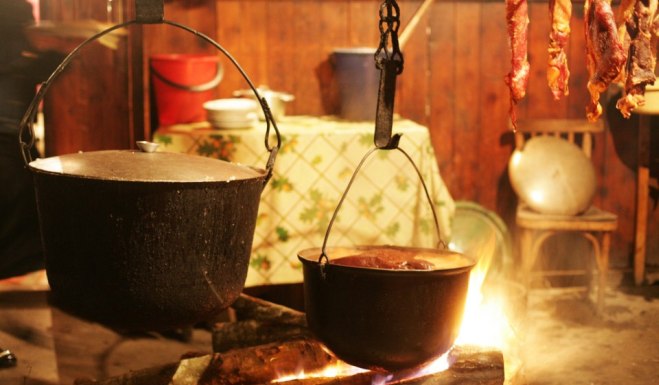 Abkhazian cuisine was shaped by the agricultural, climatic and economical factors of the area. Because the Abkhaz were mainly farmers and cattle-breeders, their basic dietary staples were corn, millet, and dairy products. In the past, wild game and edible plants growing in the wild were a significant part of the diet, but today they are rarely on the table.
One Abkhazian staple dish is mamalyga (abysta), or corn meal boiled in water with no salt added. Its high starch, vitamin B1, and fiber content makes it a very healthy food. There is a number of variations on mamalyga, such as mamalyga with soft fresh cheese (ayladzh), or mamalyga with milk and cheese (achamykva). Corn meal is also used to make amgyal flatbread and a type of sweet called atsvyrtsma. Freshly gathered corn on the cob is another staple, boiled, fried or roasted over an open fire. Wheat flour is less widely used, mainly for cheese pies (achash, or khachapur) and cheese dumplings.
Fresh cheese (ashvlaguan) and a local type of yogurt (ahartsvy, or matsoni) make up the dairy diet staples.
Meat and Vegetables
Meat and poultry is traditionally boiled or roasted in big chunks, with grilling being by far the most popular method. Stock is not traditionally used in Abkhazian cuisine, and soups in general are not part of it.
A staple vegetable dish, usually served with mamalyga, is made of seasoned beans (akud). Walnuts are a common ingredient in vegetable dishes. Another local favorite, a type of salad called achapa, involves chopping up cooked green beans, cabbage, beet greens, stinging nettles, sarsaparilla, etc., and seasoning the mix with chopped walnuts, adjika sauce, and spices. A separate vegetable platter can always be found on the table: in the summer, it'll include fresh tomatoes, cucumbers and green onions, while a wintertime platter will feature pickled gherkins, kohlrabi, tomatoes, artichokes, radishes, etc. Fresh greens, such as parsley, dill, cilantro, and garden cress, are also a must-have addition to every meal.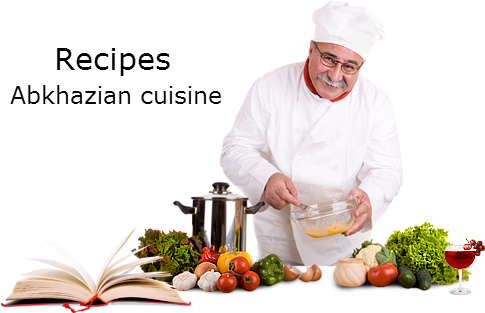 Ajika [Adjika] and Spices
Ajika or Adjika is the best known condiment of traditional Abkhazian cuisine, popular in Russia and abroad. This fragrant, spicy paste-like relish is added to virtually all dishes, resulting in distinctive flavor. The basic ingredient of ajika is red pepper with the addition of garlic and various herbs. It is known to improve digestion.
Spicy berry-based sauces and relishes are also a big part of Abkhazian cuisine. Made of cherry plums, barberries, blackberries, or tomatoes, and flavored with ajika and herbs, they are served with mamalyga and meat.
See: https://ajika.co.uk/about-ajika/
Beverages and Wine
Honey has been cultivated and eaten in Abkhazia since the ancient times. A traditional honey-based drink, atshadzyua, was widely used as a folk remedy against various diseases.
Among locally produced spirits are red and white wine and grape vodka called chacha. Even today practically every Abkhazian farm makes its own wine and chacha.
Winemaking developed in Abkhazia several thousand years ago (i.e. 3000-2000 BC), as evidenced by archeological finds of jugs containing grape seeds in Abkhazian dolmen tombs. Prince Nicolas Achba is considered to be the founder of modern commercial winemaking. Abkhazian wines, such as Bouquet of Abkhazia, Psou, Lykhny, Apsny, and Anakopia, found wide renown and are produced in Abkhazia to this day.