Lake Ritsa: an Abkhazian legend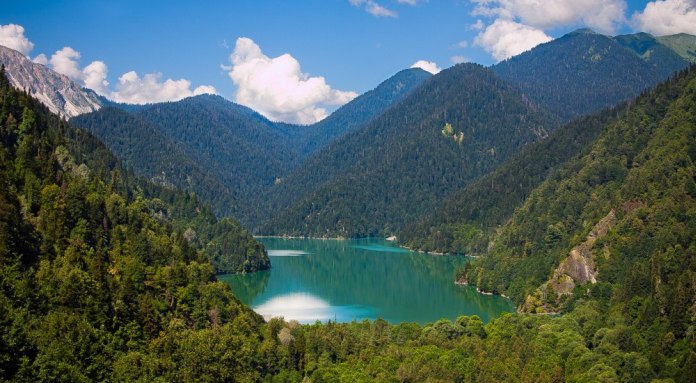 The old people told a story which they heard from their grandparents. There was a valley where there is the lake Ritsa now.
The people who lived in the valley were rich but very greedy. There lived a widow not far from them. The widow had many children. They were very poor. The woman worked all day and all night but she could not provide her children. The family was without food, they always starved. Her neighbours got the rich harvest of millet and wheat. The rich family called the widow to work, but they did not pay much money. Sometimes she got some flour. The widow never complained. She knew that she would get nothing from her rich relatives. One day the poor family had nothing to eat. The little children cried.
– we want to eat, we want to eat.
The woman went to her neighbours again but they refused to give her some food. When she came back home her children cried bitterly. Then the woman filled her boiler with little stones and put it on the fire.
The widow and her children sat around the fire looking at the boiler.–  I shall cook dinner for you, wait a little –  said the widow.
The little children were weeping. Soon they fell asleep. An old man came to the valley. He wanted to spend the night. The man came up to the houses, but nobody opened the door. Soon the old man was near the widow's house. He knocked at the door. The woman went out of the room. She invited him to her house. The old man entered the room and said –  I want to eat very much. Can you give me some food.
–  Oh, yes I can –  answered the woman.
–  I see the stones in the boiler. What will you give me to eat? – asked the old man.
– I have nothing, but I shall wait.
–  I must observe the hospitality and feed you –  said the widow.
After some time the stones in the boiler were turned into the flour. The woman was very glad and she cooked the meal. The widow gave the meal to her quest. She woke her children and gave meal to them too. When the widow got up early in the morning the old man had already gone. She saw water around her house. Water was everywhere.
She did not know what had happened. The woman has seen a narrow path from her house. The widow took her children and went along the path.
The water was swelling higher and higher. Soon the woman reached the bank. At that time the valley was under the water. A beautiful lake appeared in the place of the valley. It was called the lake Ritsa. The widow and her children lived happily on the bank of the lake Ritsa for a long time.
Translation: Ludmula Katsba, 2010