Monument to Abkhaz Poet Bagrat Shinkuba Unveiled in Hungary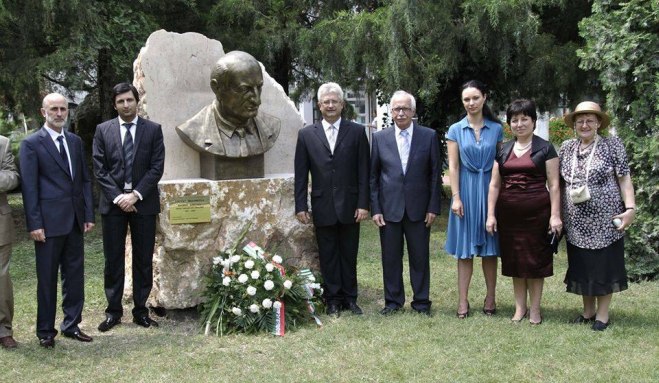 A monument to a People's Poet of Abkhazia Bagrat Shinkuba was unveiled on July 31 in the Hungarian city of Kiskoros, in the homeland of a well-known poet Sandor Petofi within the framework of celebrating Petofi's 161st anniversary. The monument was unveiled on the lane in the Petofi memorial estate where there are busts of the poets who have been translated Petofi's works.
A delegation from Abkhazia, the Minister of Culture of the Republic of Abkhazia Nugzar Logua, the author of the monument, a sculptor Tsira Akhba and Professor Sergey Bebia, has arrived at the unveiling of the monument.
The vice-mayor Laslo Lastovitsa welcomed the guests.
In turn Nugzar Logua, speaking at the ceremony, said that "this is a great event in the cultural life of Abkhazia" and reminded of the old cultural ties between Hungary and Abkhazia: about the Hungarian composer Kovac who has done a lot for preservation of the Abkhaz folklore, as well as about the long-livers ensemble from Abkhazia, that has become famous after its performance at a festival in Hungary where the ensemble won the "Golden peacock" Grand prix.
The opening ceremony was also attended by representatives of public organizations, cultural workers of Hungary, representatives of the Embassy of the Russian Federation to Hungary.At the end of the unveiling ceremony wreaths were laid to the monument to Shinkuba. The city administration gave an official dinner in honor of the guests from Abkhazia.Days of Petofi in Hungary continue.