U.S. has accused Saakashvili of inadequacy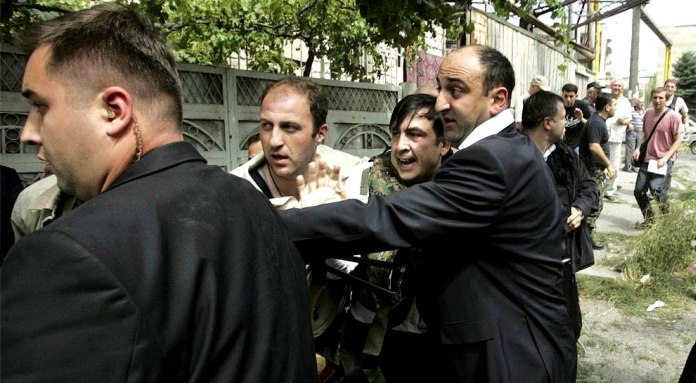 Former U.S. Ambassador to Georgia, the ideologue of the "Rose Revolution" in 2003, Richard Miles, has accused the former Georgian leader, Mikheil Saakashvili, of inadequacy. He criticised him for provoking the five-day war, which took place in August 2008. According to the diplomat, Saakashvili is incapable of finding a common language with anyone. "Saakashvili could have avoided drawing Georgia into armed confrontation with Russia in 2008," declared Richard Miles. He expressed surprise at the inadequate conduct of the former Georgian leader during those events.
"I do not know for what Saakashvili was hoping — did he really believe in success or that the U.S. would openly intervene in this conflict?" Miles mused. He added that he is still amazed, asking "why, after losing the war, Saakashvili did not resign and call for early presidential elections."
However, the former ambassador did not rule out Saakashvili's return to politics insofar as "he is smart and young enough," as "Kommersant" writes. "But he is surely going to have to spend some time in the shade. The question is simply whether he can do this," he added.
The U.S. diplomat considers that the successful rearming of the Georgian army spurred Saakashvili on to the August adventure. "If he had not bought offensive weaponry, self-propelled artillery-pieces, heavy-armoured vehicles, attack aircraft and other equipment, he would not have beeen tempted to draw the Georgian army into military action," Miles noted. He added that he still wonders, "why, after losing the war, Saakashvili did not resign and call for early presidential elections."
The former ambassador also recalled the mysterious death of the former Prime Minister of Georgia, Zurab Zhvania, found dead on 3 February 2005. "I do not know exactly what happened with Zhvania. But many Georgians are convinced that it was not an accidental death," he declared. "Saakashvili had an amazing ability to alienate his supporters."
We note that Miles is called the chief ideologist of those events. In Tbilisi, his statements are deemed to be evidence of U.S. discontent with the behaviour of Mikheil Saakashvili, who immediately after the end of his presidential authority began sharply to criticise the Barack Obama administration.
This article was published by DNI.ru and is translated from Russian.