August 14 Is the Day of Remembrance of the Defenders of the Fatherland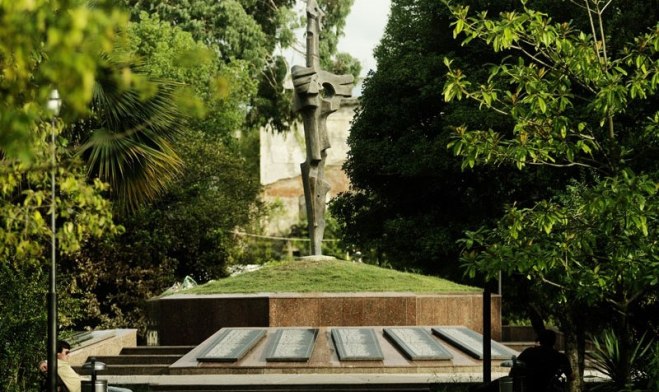 SUKHUM -- August 14 marks the 22nd anniversary of the start of the 1992-1993 Fatherland War of the people of Abkhazia.
In accordance with tradition, today in Sukhum began with the laying of wreaths at the Glory Monument where the defenders of the Fatherland are buried.
Participating in the ceremony were acting President and parliament speaker Valerii Bganba, acting Prime Minister Vladimir Delba, acting Security Council secretary Avtandil Gartskia, acting presidential administration head Astamur Tarba, Russian Ambassador to Abkhazia Semyon Grigoryev, South Ossetian Ambassador to Abkhazia Oleg Botsiyev, Transdniester Republic Plenipotentiary representative in Abkhazia Garri  Kubalba, parliament deputies, members of the government, representatives of the movement  Mothers of Abkhazia for Peace and Social Justice, representatives of veterans' organizations, representatives of all ministries and agencies, students and school-children.
On that hot August day the troops of Georgia's State Council invaded Abkhazia, a bloody war started that lasted for 413 days and ended on 30 September with the victory of the Abkhaz people. More than 12,000 people took part in the fighting.
According to Abkhaz Defence Ministry statistics, more than 2,700 people died and more than 5,000 were wounded. More than 200 are missing, believed killed. Volunteers from the North Caucasus and southern Russia and representatives of the Abkhaz diaspora from the "far abroad" fought for Abkhazia's independence together with her people.
Wreaths and flowers were laid on 14 August 2014 at the monuments to and graves of those who perished in the war. Memorial services are taking place at Orthodox churches.