On the meeting of V.A. Chirikba with the Delegation of the European Union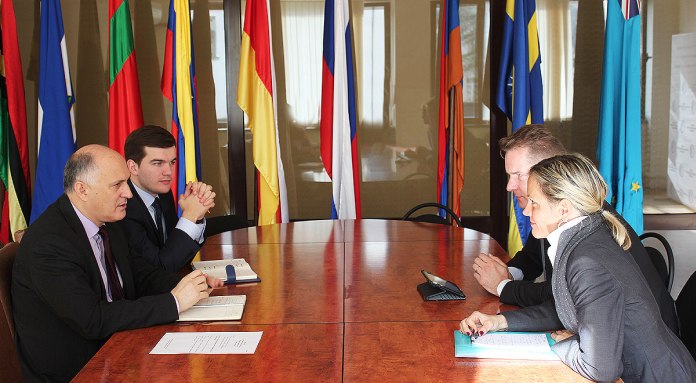 SUKHUM -- Abkhazian Foreign Minister received a delegation from the European Union composed of the Head of the Operations Section of the Delegation of the EU in the South Caucasus and Georgia - Kaido Sirel and project manager Caroline Stampfer - Alisulatnova. The meeting was attended by the Deputy Foreign Minister Kan Tania.
At the meeting were discussed the upcoming projects of the European Union in the Republic of Abkhazia. Head of Operations Division Kaido Sirel told the Minister about the most successful projects carried out on the territory of Abkhazia, with the support of the European Union. A large number of them are carried out in the Gal district, in particular, a project to repair the Ingur hydroelectric power plant, as well as a number of projects aimed at rural development and agriculture in general.
"Now our mission is to identify areas in which the European Union is expected to assist" - said K. Sirel. EU representatives expressed their willingness to increase the number of projects aimed at the development of economically backward regions of Abkhazia.
In turn, the Minister recommended to pay more attention to Tkvarchal and Ochamchira districts, as these areas are in need of more intensive assistance to rebuild the infrastructure. He also noted the need for projects to develop social infrastructure and health facilities.