Viacheslav Chirikba received EU Special Representative for the South Caucasus Herbert Salber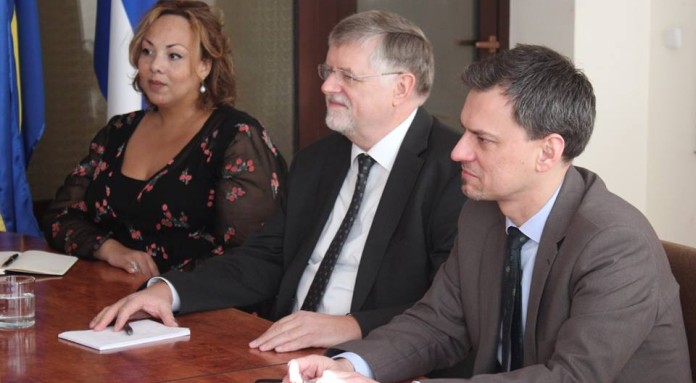 SUKHUM -- The Foreign Minister Viacheslav Chirikba received the Special Representative of the European Union for the South Caucasus Herbert Salber. The meeting was also attended by the Deputy Foreign Minister Kan Tania, Head of Europe, the USA and Canada department Artur Gaguliya and office staff of the EU Special Representative for the South Caucasus.
Participants of the meeting discussed the course of the Geneva talks, as well as humanitarian projects undertaken by the European Union in Abkhazia. According to Herbert Salber, there is a need to develop joint mechanisms for evaluating the primary needs of the population and the problems requiring special attention.
The Foreign Minister stressed the need to depoliticize the relationship between the EU and Abkhazia, transfer them to the humanitarian sphere. In addition, Viacheslav Chirikba again raised the issue of frequent denials of entry visas to the EU countries faced by the citizens of Abkhazia. According to the EU Special Representative Herbert Salber, this problem should be solved step by step, and this requires a constant exchange of information, including within the framework of the Geneva discussions. The parties also discussed other issues of mutual interest.