"Why do 80% of Abkhazians Currently Reside in Turkey?"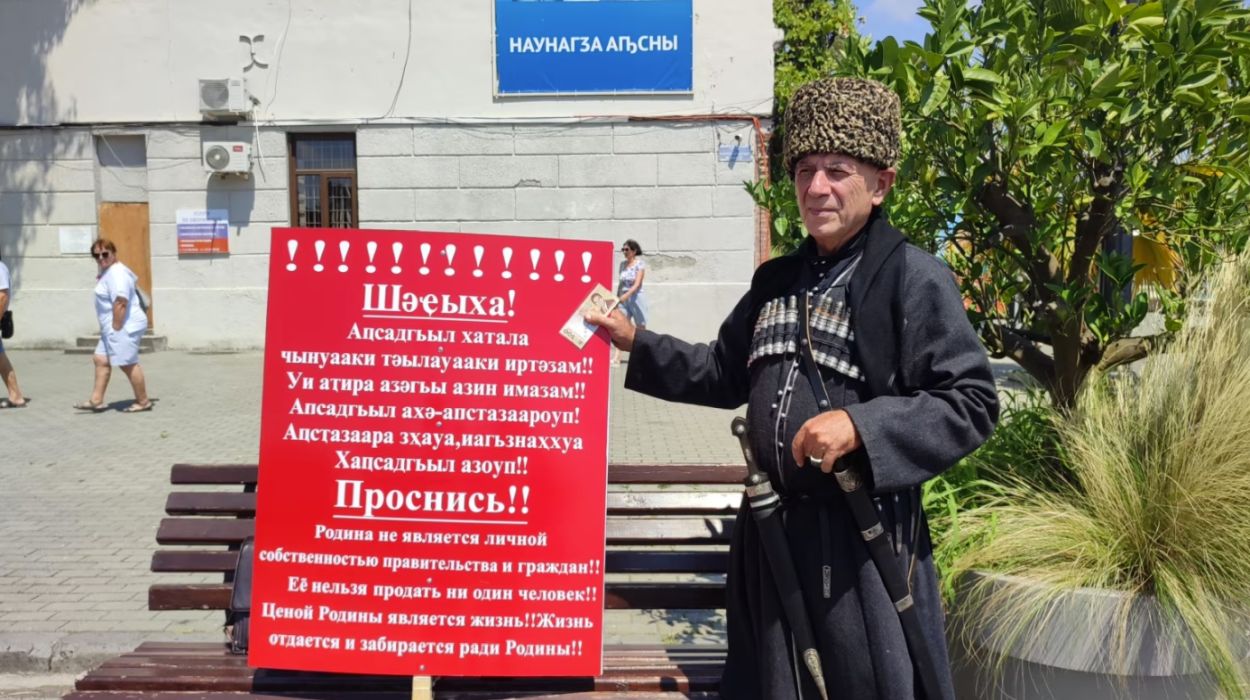 Ekho Kavkaza — Ishak Kaymaz, a repatriate, staged a solitary picket along the Sukhum embankment, voicing his opposition to the apartment law. He shared his motivations for the protest with the  "Ekho Kavkaza" (Echo of the Caucasus). Today, he was joined by Saida Khadzhim, an expert in the Abkhaz language.
In Sukhum, Ishak Kaymaz is actively protesting the proposed apartment law. Over a span of five days, he intends to stage solitary pickets, urging the nation's citizens to join his cause. Beside him, a sign reads: "Wake up! Our homeland isn't a mere asset of the government or its people. It's not for sale. The true value of our homeland is life itself - a life that's both sacrificed and cherished for the sake of our land."
Ishak elaborates on his roots, stating that he descends from the Ubykhs. Prior to settling in Abkhazia, he spent five years in Nalchik, where he taught the Kabardian language. For the past three years, he's made Abkhazia his home and has obtained citizenship. When queried about his reason for protesting, he asserted:
"This is my homeland. Their intentions carry profound implications for our demographic future. Both the Abkhaz and Circassian diasporas yearn to live on their ancestral land. I'm a graphic artist by profession; in fact, just two years ago, I showcased my work in three exhibitions in Helsinki. Though born in Turkey, I spent a significant 25 years of my life working and residing in Finland."
Why did you decide to leave Finland and come to the Caucasus?
— Because I want to live in my homeland. Do you know our history? Do you know why 80% of Abkhazians and Circassians are now living in diaspora?
So, do you plan to stay in Abkhazia?
— Yes, because this is the history of the Abkhazians and Circassians. Why isn't there a Circassia now? Why do 80% of Abkhazians live in Turkey today? Why?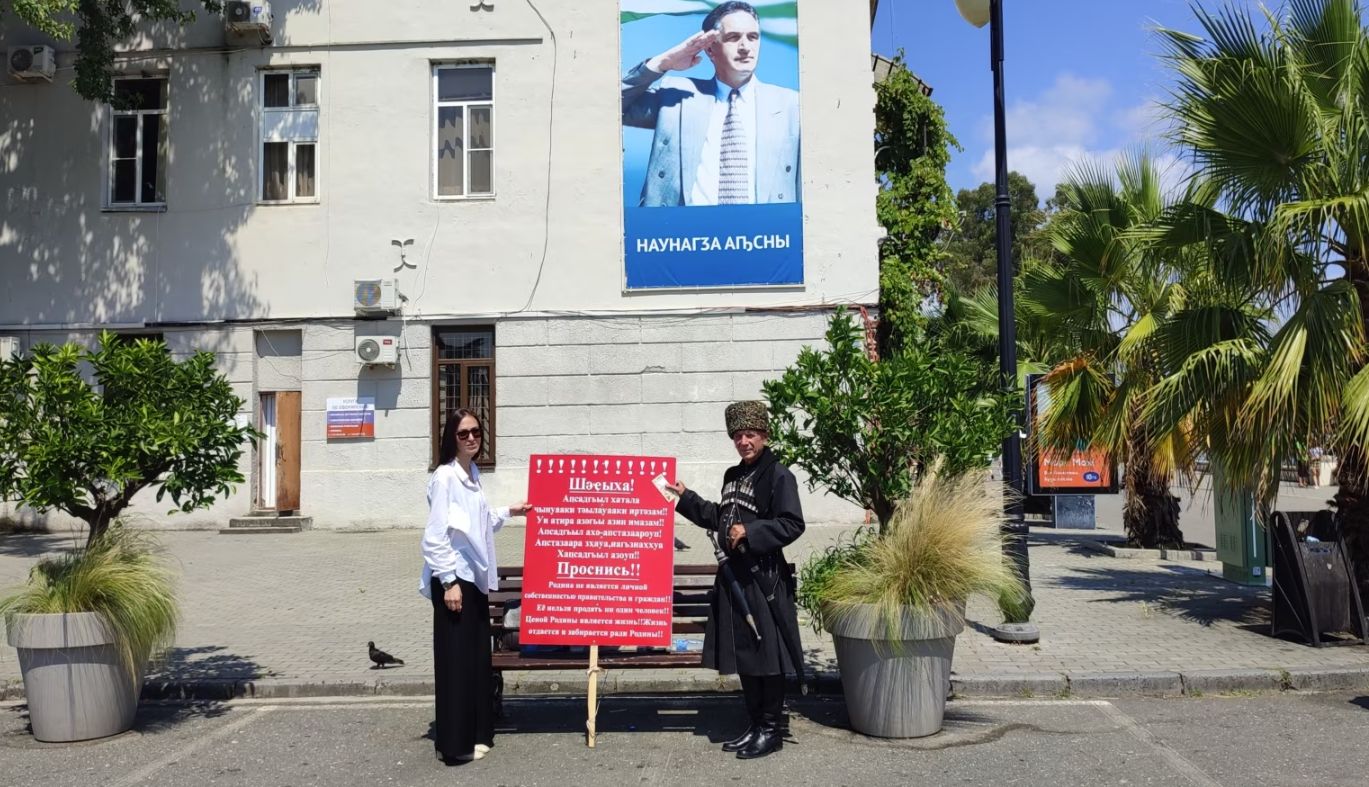 Saida Khadzhim joined Ishak Kaymaz.
Today, Ishak Kaymaz was joined by Saida Khadzhim, a member of the Abkhazian Academy of Sciences and the Abkhazian State University and an expert in the Abkhaz language. She expressed her support for the protest against the apartment law and elaborated on her stance:
"There's a man well-known in Abkhazia and throughout the Caucasus – Aslanbek Mirzoev, a Hero of Abkhazia. Many insights from our conversations linger in my memory, and I often reflect on his words. He once Saida that only 5% of the people shape a nation's history. These are the people deemed eccentric in everyday life. To awaken a nation's consciousness, action is required. And if that action isn't initiated by the state, it must be taken by the people. Our discussions aren't about trivial matters; we're addressing our most pressing issue: our land. It's all we have in this world. We either exist on our land or not at all, as an ethnic group or nation. Hence, every effort to preserve our people shouldn't just be an individual's stance. It should be continued and supported, which is why I'm here today!"

Saida Khadzhim emphasises that she's undaunted by economic hardships. For her, the real fear is losing one's foundation:
"What concerns me most is the attitude of my generation. I'm a child of the besieged Tquarchal. Threats of economic crises, hunger, or cold don't intimidate me. We've endured all of it, and none of it frightens us. Such threats can only scare those who haven't witnessed such hardships firsthand, those who've only heard stories about how terrible hunger and cold can be. The real horror is when enemy helicopters hover overhead, and your only shelter is half a metre beneath a stairwell. The real terror is when the ground slips away beneath your feet, when you realise you're losing your homeland. I wish for everyone to deeply feel that dangerous boundary we're approaching and to act!"
On his first day of solo picketing, Ishak Kaymaz positioned himself on the Sukhum embankment, right by the "Penguin" cafe. The following day saw him at Bagapsh Square. Saida Khadzhim notes that with each passing day, they intend to inch closer to the parliament—the very place where Abkhazia's future will be determined.
This interview was published by Ekho Kavkaza and is translated from Russian.