On the establishment of diplomatic relations between Republic of Abkhazia and Tuvalu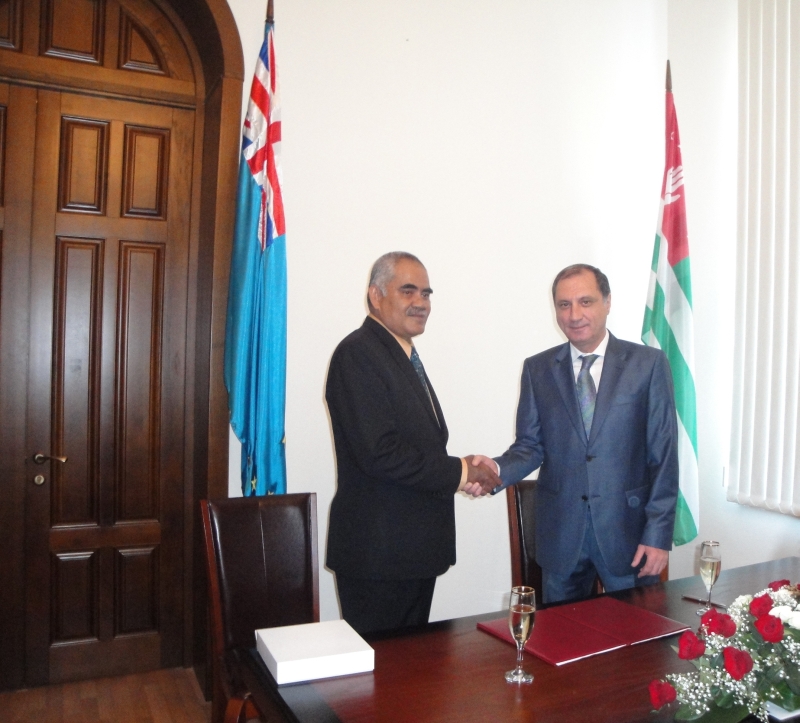 PRESS RELEASE
Sukhum, 20 September 2011
ON THE ESTABLISHMENT OF DIPLOMATIC RELATIONS BETWEEN
REPUBLIC OF ABKHAZIA AND TUVALU.
On the 18th of September 2011 at 11:00 in Sukhum the official ceremony of signing of the Joint Statement on establishment of Diplomatic Relations between Republic of Abkhazia and Tuvalu, took place. Abkhazian side was represented by the Prime Minister of the Republic of Abkhazia Mr. Sergei Shamba. On behalf of Tuvalu the document was signed by the Prime Minister of Tuvalu Mr. Willy Telavi.

The relationships between countries will be based on friendship and spirit of close cooperation in political, cultural and educational spheres. Ministries of Foreign Affairs of both countries will maintain permanent contacts and cooperation in the issues of environmental protection and cooperation on the platform of the International Organizations.
Tuvalu had become third country in the South Pacific region with which Republic of Abkhazia had established official diplomatic relations.
Abkhazian side welcomes this important step and expresses confidence that relations between Abkhazia and Tuvalu will prosper for the benefit of the peoples of these countries.
Source: MFA Abkhazia