A Day in the European Parliament: 'Abkhazia and Europe: paths towards mutual understanding and rapprochement'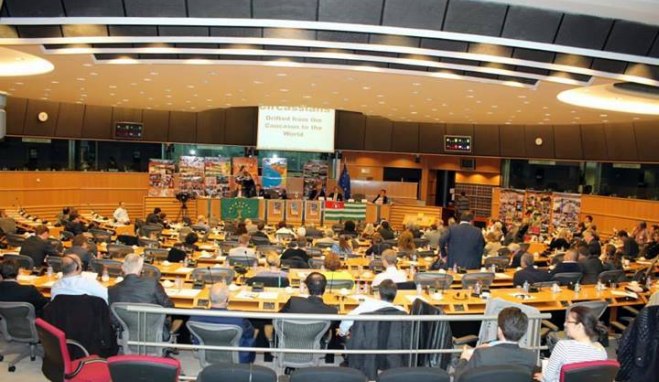 On 27 June Brussels saw the arrival of a large delegation of Abazas and Abkhazians to attend a conference held in the European Parliament, the theme of which special event was: "Abkhazia and Europe: paths towards mutual understanding and rapprochement."
The composition of the delegation was many-sided, including scholars, public and political figures, artists, and entrepreneurs: Beslan Butba, Gennadi Gagulia, Beslan Agrba, Khibla Amichba, Alisa Gitsba, Beslan Kobakhia, Sergej Pazov, Mikhail Tkhajtsukov, Alexandr Berdnikov, Vakhtang Agwkhava, Solomon Gablia, Elene Ankvab, Luka Gadelia, Nana Cherkezia and others. And, what is very encouraging is that the delegation included many young scholars and postgraduate students of various Russian universities: Irakli Bzhinava, Inal Gablia, Milana Vozba, Milana Argun and others. The delegation was headed by the President of the World Congress of the Abkhaz-Abaza (ABAZA) people, academician Taras Mironovich Shamba.

Interestingly, representatives of the Abkhazian-Circassian diaspora as well as of other Caucasian peoples of many European countries (Russia, Germany, France, Spain, Italy, Switzerland, Holland, Poland, Turkey and other countries) participated in the work of the conference. Among them were Abdel Wand, a professor from Germany, Wulf Kopke, Director of the Museum of Ethnography in Hamburg, which last year hosted the day of Abkhazia in Europe, Admiral Dasdemir, Chairman of the Federation of Caucasian peoples of Europe, Frank Schwalbach Hott, a representative of the European Parliament, Mukhamed Pafov, Head of the Resource Centre of Karachay-Cherkessia, Zamir Begiev, Deputy-Chairman of the International Union of Abkhazian-Circassian Youth, Armida Chagova, Chairman of the Cultural Centre of the Abazas of Stavropol and others.

Addressed to the participants of the conference the European Parliament received numerous congratulatory telegrams from the President of the Republic of Abkhazia Alexandr Ankvab, from the President of the International Circassian Organisation Kh. Sakhrokov, and from other Circassian, Abazinian and Abkhazian civil-society organisations. 
---
Photo Credit: Zeki Kapba