The Day of Remembrance of the Victims of the Caucasian War is being Marked Today in Abkhazia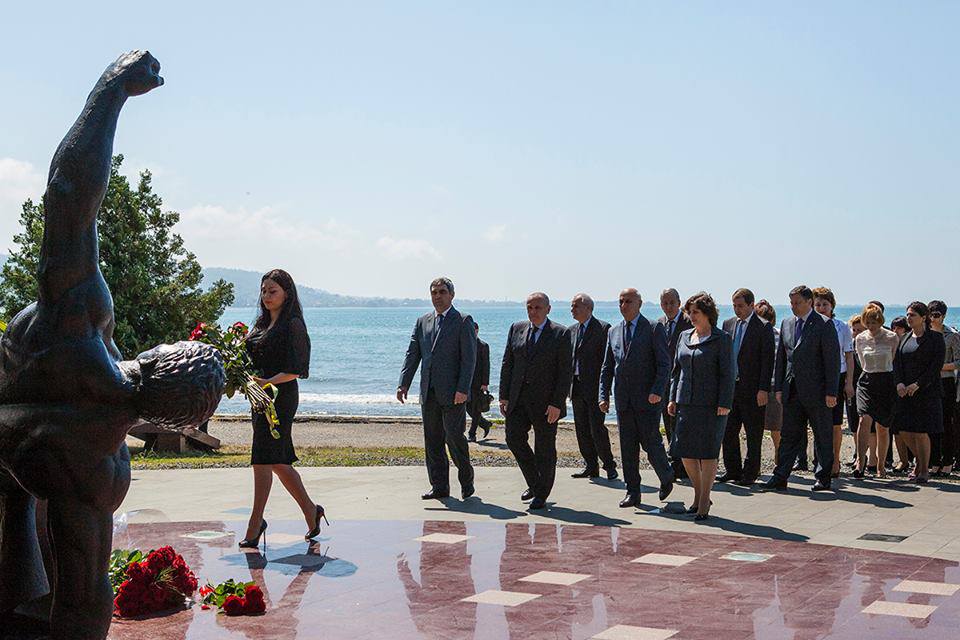 SUKHUM -- The Day of Remembrance of the Victims of the Caucasian War is being Marked Today in Abkhazia. On the Promenade of the Exiles (Mukhadzhirs) in Sukhum there took place a ceremony with the laying of flowers and wreaths at the monument to the Muhajirs.
The ceremony was attended by: President Alexandr Ankvab, Vice President Mikhail Logua, Speaker of Parliament Valeri Bganba, Prime Minister Leonid Lakerbaia, Head of the Presidential Administration Beslan Kubrava, MPs, members of the government, descendants of the (Mukhadzhir) émigrés with their children who have returned to their ancestral homeland from Syria, and school-children.

"It is a special day not only for the Abkhazian people but for the whole Caucasus. God grant that it be the last day of tragedy that we have to mark," said the acting Chairman of the Committee for Repatriation, Akhmat Marshan. "Today the laying of flowers is attended by a large group of our brothers from Syria with their children who have returned to their homeland. And it is important that the children who have come should know what this place is."

Female repatriant from Syria, Khelia Marshan, said that also in Syria the descendants of Mukhadzhirs mark this day. "Our ancestors never forgot where they came from; they would tell us about our historical homeland, about what a beautiful country Abkhazia is, and what nature is like here," she said. Khelia Marshan stressed that there has always been a desire to return to Abkhazia and that it was not the war in Syria which was the cause of their return. "That has long since been in our plans. And thanks to the leadership of the country and the people of Abkhazia who have received us so cordially,"- she said.

"The tragedy of the 150-year-old Exile (makhadzhirstvo) caused huge demographic damage to all the peoples of the Caucasus. In Abkhazia, due to the already small numbers of the Abkhazian people, it was doubly so,"- said member of Parliament, Deputy Chairman of the Committee on International, Inter-parliamentary Relations and Relations with Compatriots, Dmitri Gunba. "Laying flowers at the monument to Mukhadzirs, we thus maintain the continuity of the generations and educate our young people, endowing them with the knowledge and memory of the tragedy."
In the XIX century, as a result of the Russo-Caucasian War, thousands of Abkhazians exiled from their historical homeland and found refuge in Turkey and various countries in the Middle East. The descendants of the Abkhazian Muhajirs live in 50 countries. The largest Abkhazian diaspora is in Turkey.