Turkish Abkhazians enjoying independence of their far away country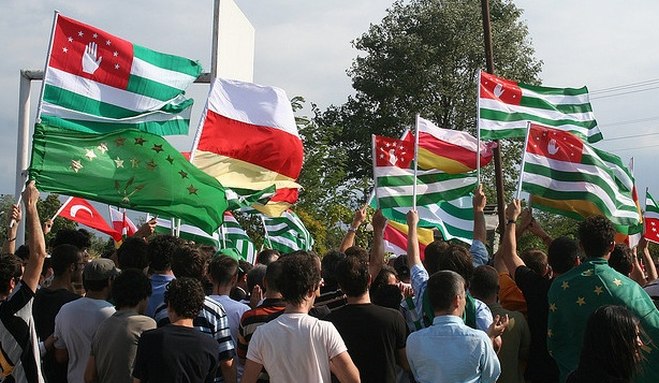 Şafak Timur, Düzce – Turkish Daily News
With a smile on his face, an old gentleman wearing a cream suit and jeff cap held an Abkhaz flag in his wrinkled hands as he watched the cheerful crowd in a village in Turkey's northwestern province of Düzce celebrate Abkhazia's declaration of independence.
"Abkhazia is our country too," said 80-year-old Servet Özdemir, telling about the meaning of this independence for Abkhazians living in Turkey. "My grandfather lies in Abkhazia, but my mother and father are [buried] here," said Özdemir, who is one of eight children of an Ottoman Abkhazian father, expelled to Ottoman soil by Russians in the 19th century, then enslaved on the Caucasian front of the Ottoman Russian war. His father married his mother and they came back to Turkey when Servet was 11 years old.
Around 1,000 Circassians and Abkhazians gathered Sunday in Arap Çiftliği village in Düzce to celebrate the independence declaration of their far away country, when the governor's office of Düzce did not allow them to gather in Düzce. Abkhazians and Adiges hit the road from various cities including Bursa, Ankara, Istanbul and Mersin and arrived to Düzce with Abkhazian, Ossetian and Adige flags. Although the Turkish Abkhazians have lived in Anatolia since the end of the 19th century, they never lost touch with their motherland. They called Abkhazia as their motherland, while they pay attention to not disrespect the country they currently live in.

Many Abkhazians were still surprised about the independence and they can only say that they are so happy about the event.

"This is a very long awaited independence that came at a moment that we did not expect," said Censire Ajhipa, the daughter of Özdemir. Ajhipa has never been to Abkhazia, but she didn't let the detail overshadow her cheer. "I will go at the end of this month [for the celebration ceremonies]," she said.

Zeki Siyokoğlu, a 32-year-old Abkhazian who was born in Turkey said as well they only enjoyed the independence at that moment.

"We cannot overcome the shock yet," he said.

Siyokoğlu said they accepted Turkey as their motherland, too.

"[But] our past wounds due to the great exile [by Russians in the 19th century] are a little bit healed by the independence declaration," he said.

Although there is no official data about the Caucasus-originated people living in Turkey, it is estimated that around 600,000 Abkhaz lives in Turkey, while the Abkhaz population in Abkhazia remains around one-third of it. Meanwhile, estimates of the Georgian population mainly living in Black Sea region range from 200,000 to 1.5 million.

World will recognize Abkhazia

The Abkhazians and Circassians talking to the Turkish Daily News were all demanding Turkey to recognize the independence of Abkhazia.

It was Turkey that recognized Isreal, a country which is hostile against Muslims, said Özdemir.

"I do not understand why they do not recognize Abkhazia," he said. Özdemir also criticized statements supporting the unity of Georgian soil. "Abkhazia has never become a Georgian soil."

Turkey was obliged to recognize Abkhazia, said Enver Erbay, a 54-years-old Turkish Abkhaz.

"Maybe not today, because of some other foreign relations, but it will recognize someday," he said.

Zeki Günbay, another young Turkish Abkhaz said as well that they expected Turkey to recognize the independence of Abkhazia.

"We are a part of Turkey. Maybe currently it needs to wait for its interests, but we expect Turkey to recognize Abkhazia," he said.
Source: Turkish Daily News