Victim of Stalin's Terror Now Oversees Soviet Dictator's Dachas in Abkhazia, by Elizabeth Owen
Eurasianet -- You could call it poetic justice. Thrown out of his own boyhood home in Abkhazia on the orders of Soviet dictator Joseph Stalin, Valery Mizadei now is responsible for maintaining all five of the former Soviet dictator's residences in the sub-tropical Black Sea territory.
Mizadei was two years old when NKVD (People's Commissariat for Internal Affairs) troops burst into his family's house in 1949 and gave everyone 30 minutes to pack for a new life in internal exile in Kazakhstan.
But the affable, grey-haired Mizadei, now director of the de facto Abkhaz government's department of state dachas, is not one to bear a grudge.
"We all blame [Lavrenty] Beria," he said, referring to Stalin's NKVD henchman, who happened to be a native of Abkhazia. Mizadei recently conducted a tour for EurasiaNet.org of Stalin's dacha at Mysra (also known as Myusera), north of Gudauta, on the Abkhaz coast.
Mizadei claims that his family's opposition to the resettlement of ethnic Georgians in Abkhazia -- a sensitive topic to this day -- was the reason for their deportation. Along with 19 other Abkhaz families, the Mizadeis spent roughly three years in Kazakhstan before returning home in 1953, the year of Stalin's death and Beria's execution.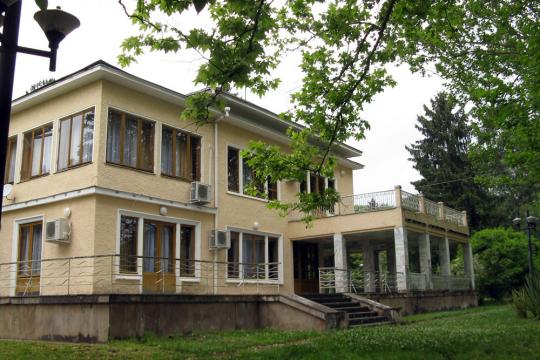 Stalin's Mysra dacha was built on a densely wooded site above the Black Sea.
That tumultuous past seems strangely discordant with the lush setting that envelops the two-storey Stalin vacation home that Mizadei now oversees. The site, set at the end of a twisting 14-kilometer road amid magnolia and honeysuckle bushes and towering trees, exudes tranquility.
Stalin reportedly chose the location, known among locals for its curative effect on asthmatics, after a visit to Mysra with then Abkhaz Communist Party chief Nestor Lakoba. "[A]t the very first glance, he liked it here a lot," Mizadei said.
The de facto Abkhaz government these days harbors no nostalgia for the Georgian-born dictator. Under Stalin, Abkhazia lost its status as an independent republic in 1931 and was turned into an "autonomous republic" of Georgia, a downgrade that fuels much of the separatist region's animosity for Tbilisi to this day. Stalin's Mysera dacha was completed one year later.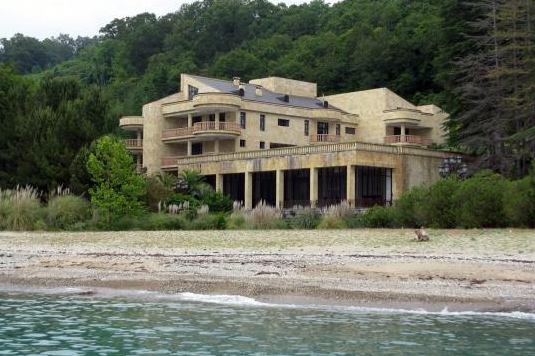 The Gorbachev dacha is a five-floor villa with a 24-meter-long chandelier.
The relatively modest, three-bedroom house offers little visual sense of the Stalin period. A de rigueur set of the complete works of Lenin sits orphaned in a glassed cabinet in Stalin's second-floor office. An armchair with floral upholstery in the foyer is the one piece of furniture mentioned as used by the departed "Great Leader."
Most of the rest of the Stalin-era furniture was redistributed among other state properties during former Soviet President Mikhail Gorbachev's tenure in power, Mizadei said. The furniture that is now in the house -- set off in taupe and mustard tones -- more closely resembles the décor of a 1960s-style motel.
The house's construction design recalls the paranoia of the period. Underground tunnels connected the Mysra dacha to the nearby dachas of Beria and Alexander Poskrybeshev, Stalin's chief of staff. Food was conveyed via another tunnel. Entrances to the tunnels, accessible via the foyer, have since been sealed.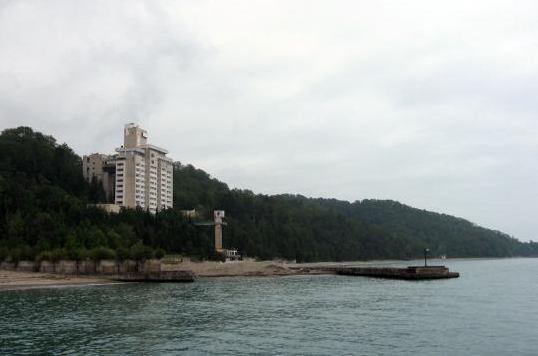 The 17-story skyscraper was built under Nikita Khrushchev for vacationing Soviet big wigs.
Attention to concealment also marks the dacha's interior layout. Each floor features adjoining three-room sets -- a bedroom with bathroom, an office or a work area and a dining room -- that allow for self-contained movement. Another bedroom and bath lie at the end of a separate front hallway.
"He would show the guard that he was sleeping in one bedroom, but, in reality, he'd be sleeping in another," Mizadei said of Stalin. "He was afraid. Was afraid that something could happen to him during the night."
Archives for the dacha remain in Moscow; no effort is underway to retrieve them.
Upon Stalin's death in 1953, the Mysra house and grounds fell into obscurity. Communist Party boss Nikita Khrushchev subsequently stripped the "state dacha" status from the Mysra house, and built a 17-floor vacation resort for senior dignitaries on the seashore below. Today, that structure, still featuring its Soviet-style décor, accommodates tourists for about 800-1,800 rubles ($25-$57) per night, according to one travel site.
Instead, "she said it's better to have a place on the seashore, a small cottage," he recalled. The resulting "cottage" -- a five-floor villa with a 24-meter-long chandelier, down the hill from the Stalin dacha -- now hosts official functions for the de facto Abkhaz government.A chance at a Mysra comeback in the 1980s fell flat. Georgian Communist Party General Secretary Eduard Shevardnadze offered the dacha to Gorbachev as a summer residence after Shevardnadze's appointment as Soviet foreign minister in 1985, but Raisa Gorbacheva, the Soviet leader's wife, "categorically refused," Mizadei said.
While the Gorbachev dacha, bearing breakaway Abkhazia's flag, is less accessible to outsiders, the Stalin dacha at Mysra is "practically" open for tourists, according to Mizadei. Entrance requires permission from the de facto Abkhaz presidential administration.
Meanwhile, back in Stalin's wood-paneled foyer, Mizadei carefully considers his past. A "scientific investigation" is needed to examine the history of Stalin's rule in Abkhazia, he said. Only then, he added, "can we determine" the truth.
Elizabeth Owen is EurasiaNet.org's Caucasus news editor, based in Tbilisi.
Photo Essay: Stalin's Abkhazia Dacha a Modest Retreat (Eurasianet)
Source: Eurasianet