Vyacheslav Chirikba: "Abkhazia without the Abkhaz people would merely turn into a second Sochi or Adler"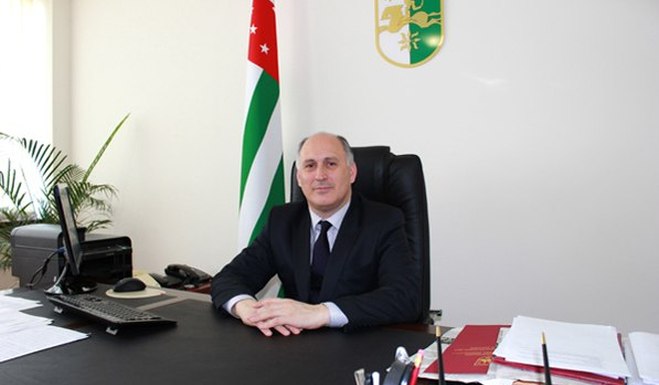 Vestnik Kavkaza
Abkhaz FM Vyacheslav Chirikba told VK about the main vectors of Abkhaz foreign politcies, about its relations with Russia, business connections with Turkey and the prospects of the further recognition of Abkhaz sovereignty.
- After the early presidential elections in Abkhazia there were discrepant rumors about Abkhaz-European relations. So are these relations broadening or widening?
- Today we are living in the time of the flourishing of these relations. Each week we greet a new European mission – and that hasn't happened in a while. Moreover, Abkhazia is an active participant of the Geneva process, so there are really no reasons to think that we are winding up our relations with Europe.
- So how is this process going? Is there any hope of recognition from the part of the European states?
- We are disappointed by the fact that Europe ignores the democratic progress in Abkhazia. One might get the impression that the EU has no interest in the process of democratization of Abkhazia and whatsoever; it is only interested in how soon Abkhazia will be reintegrated into Georgia- which is never, by the way. So our relations with Europe are not being wound up, but there is a sense of frustration on our part. The latest resolutions of the European Parliament demonstrate that the people who don't even know where Abkhazia is formulate resolutions accusing Abkhazia of violating human rights, of conducting ethnic cleansing and so on. European missions come here with moralizing preaching, but that gives nothing – nor financial help, nor visa policy amelioration. after the official proclamation of non-recognition of Abkhaz sovereignty the situation with visas is pretty bad. They don't grant visas to those who wishes to receive medical treatment abroad, to tourists and businessmen. In this case Europe is just hiding behind the banner of human rights while in the same time violating these very rights. And we try to discuss this issue with all European commissions that come here.
- What is the process of non-issuance of visas? It is no secret that the majority of the population of Abkhazia has Russian passports.
- In the Ministries of Foreign Affairs of Western countries a circular is being spread, according to which it is not recommended to issue visas to residents of Abkhazia, despite the presence of Russian passports. It can be found out through the place of registration that a person is living in Abkhazia, and the visa is being issued with difficulty or not issued at all. This, in fact, violates one of the basic human rights - the freedom to leave one's country and return to it. All their talk about human rights is worth nothing, because they violate them flagrantly. It turns to be a kind of collective punishment. The examples of two countries - Northern Cyprus and Kosovo - are indicative. European countries do not recognize their independence, yet give their citizens visas. I am trying to make it clear to our European colleagues, but so far nothing has changed. After the declaration of the policy of non-recognition and involvement, a strange situation emerged: maximal rejection and minimal involvement.
- Hungarian MEP Béla Kovács went to the election as an observer. Was there a discussion on the prospects for the recognition of Abkhazia on the part of Hungary?
- No, there was no talk about it. The current EU is a bit like the Soviet Union - they have a common foreign policy. And despite the fact that some European countries have the right to recognize or not recognize a state, now this is unlikely to happen.
- What are the foreign policy priorities of Abkhazia at the moment?
- We have excellent relations with the Russian Federation, with the Foreign Ministry of Russia. Russia is our strategic partner and a friend, but we try to develop relations also with the countries of the region. Of course, relations with Georgia develop with difficulty, since we are technically in a state of war. We are trying to develop relations with Turkey - we have established strong economic ties; moreover, Turkey has a large Abkhazian diaspora. The relations with Turkey at the moment are mainly economic in nature, although during the visit of Sergei Bagapsh to Turkey other issues were discussed too, including the opening of a ferry service between Abkhazia and Turkey, so that the Turkish Abkhazians would be able to visit their relatives freely. We are also developing relations with our partners - countries that have recognized us. We have recently signed an agreement with the Prime Minister of Tuvalu for visa-free travel.
- What are the relations with the Abkhaz diaspora abroad?
- These issues are dealt with by the repatriation committee, it is their task. Recently, a mission traveled to Syria, and about a hundred people there expressed their desire to return to their historic homeland. They work closely with the Russian embassy in Damascus. We are ready to provide the opportunity to come here for those wishing to do so - there is a program for their resettlement, employment, language training, and subsidies – this is being done by the repatriation committee. And we are helping in political issues and the coordination of this process.
- There is a view, according to which the return of the descendants of Muhajirs may lead to the arrival of radical Islam in Abkhazia. How justified are these concerns?
- There has been no case when radicals came here, all have been law-abiding citizens. I often visit Turkey, and I can say that Turkish Abkhazians are not inclined to religious radicalism. The main threat of Islamic radicalism to Abkhazia comes not from Turkey or Syria, but from the North Caucasus. Political Islam penetrates the North Caucasus, where there is a certain underground and for us it is actually a serious threat. The worst thing for Abkhazia would be a division of society along religious lines. Abkhazian society has always been tolerant, and we have no tradition of religious conflicts.
- Are there any plans to establish contacts with Georgia? Is Georgia undertaking steps in the framework of the adopted strategy for the occupied territories?
- All Georgia's actions in relation to our country have only one purpose - to integrate Abkhazia into Georgia. They did not manage to do it by force, and now they are looking for other ways to try to convince the West that it is possible. We are neighbors, and I am sure that in the long term we will restore good relations. But until the conflict has ended and a peace treaty has been signed with Georgia, we are technically at war. All of Georgia's actions after 1993 were aimed at destabilizing the situation in Abkhazia, and many statements in the Geneva discussions are anti-Abkhazian: Abkhazia has been called a puppet of Russia, occupied territory, and so on. Georgia does not attempt to realistically assess the situation and come to pragmatic solutions. Georgia has driven itself into a corner, and so far we have not seen any figure in the Georgian leadership who would act from a moderate position, not to mention a realistic position. This is a government of revanchists, and while it is in power the conflict will not end. Our goal is to entirely restore relations with Georgia on the basis of mutual recognition, mutual friendship and good neighborliness. Some day it will happen, but so far such a prospect is remote.
- Many experts express concerns about the fact that the major leadership positions in Abkhazia are held by ethnic Abkhaz, while for ethnic minorities it is hard to get into power and financial flows, which are almost entirely in the hands of Abkhazians.
- Yes, the majority of leadership positions in Abkhazia are held by ethnic Abkhazians. But the Abkhazians, in fact, are the majority of Abkhazia's population, according to the latest census. After the war of 1992-1993 the Abkhazians have been and continue to be the most politically active force in Abkhazia. Speaking about the war, most of those who fought and who died were ethnic Abkhazians. Abkhazia without Abkhazians would not exist - it would turn into Sochi or Adler. Moreover, other communities are not so politically active, why this is so is another question. There is a Russian community, but it is small, the Armenian one is partially fragmented - all these factors affect the existing balance of power in varying degrees. We should move to greater diversity in the government, to a more equitable representation of ethnic groups in the government. The present situation is difficult to change by some regulation or law; it must be done in an evolutionary way.
Source: Vestnik Kavkaza