Charlotte Hille: From Abkhaz ASSR to a Democratic Republic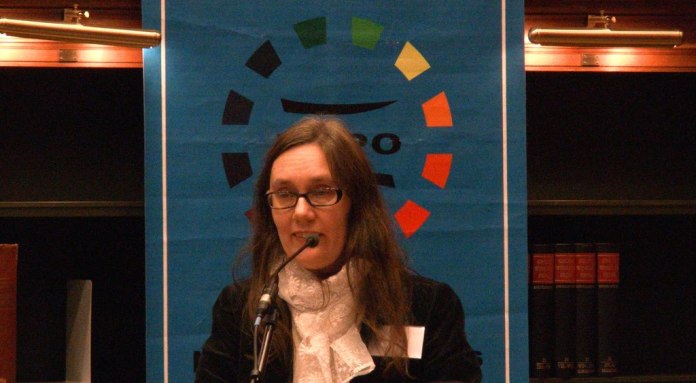 Charlotte Hille: Lecturer at the Department of Political Science, University of Amsterdam (Netherlands). She specializes in conflict resolution, state-building, ethnic minorities and international participation in peace processes. Charlotte Hill is the author of numerous works on Abkhazia, South Ossetia, Javakheti Armenian community and the Circassian issue. In 2010, she published a study "State-building and conflict resolution".
The interview with Charlotte Hille was prepared specially for Caucasus Times by Sergey Markedonov, political scientist, candidate of historical sciences. 
Sergey Markedonov: This September Abkhazia celebrated the 20-th anniversary of its victory in the armed conflict with Georgia. This date is considered to be an important symbol in the Abkhaz society. However during this period this de facto state has been seriously changed. How can you evaluate those changes? In what direction have they developed? What results could be considered as the most important? 
Charlotte Hille: Every conflict, and every ceasefire agreement, has a special meaning for people who are confronted with it. This is also the case with the ceasefire agreement from 1993 between Abkhazia and Georgia. In the past twenty years the Abkhaz have held presidential and parliamentary elections, municipal elections, they have survived economic boycotts and they have rebuild their republic within the means available. The Abkhazian leadership is still strengthening the institutional framework. Within Abkhazian politics we see the development of a multiparty system, and the challenges that the Abkhaz politicians face are similar to those faced by other republics in the South Caucasus, such as the fight against corruption and unemployment. There are important moments to name in those twenty years, such as the referendum on a constitution and on a declaration of independence in 1999, the adoption of a constitution, the recognition of Abkhazia as a de iure independent state by the Russian Federation in 2008, followed by recognition by Venezuela, Nicaragua, Nauru and Tuvalu. An aspect that is important to mention is that during the past elections for the president and parliament, observers from abroad concluded that the election process had been free and fair. This is more than can be said about some other South Caucasian republics. The direction in which Abkhazia is developing is from a communist ASSR to a democratic republic. That is a time consuming process. Other republics like Georgia follow the same path. In the past twenty years the relation with the Russian Federation has become, and always was since 1993, important for Abkhazia. Even though Russia has also boycotted Abkhazia in the 1990s, it also provided peacekeepers along the Abkhaz/Georgian demarcation line, and at the moment Russia is an important ally in economic and strategic matters. 
Sergey Markedonov: In 2008 Abkhazia was recognized by Russia. Nowadays we can see a paradox. On the one side the republic has become far from Georgia and its strategic goal looks to be realized. On the other side the Russian impact has become stronger. In your opinion, has Abkhazia reached its self-determination or on the contrary lost its independence being more dependent on Moscow's will? 
Charlotte Hille: This is a difficult aspect. Although international law does not say anything about the amount of states that need to recognize an entity in order to be a state – which means that even one recognition means that a state is recognized as such – in practice there is a problem for states that are recognized by some, but not by others. Diplomatic relations and acceptance of passports is an issue. Abkhazians with an Abkhaz passport can travel to five states, but not to others with this passport. On the other hand, we have reached a suboptimal situation where Abkhazia has the recognition it has been looking for, but not as broad as it may have wished, and Georgia has no open conflict on its territory, but is discontent with the fact that it has no factual power over the territory of Abkhazia. Both parties can get worse off, although they might also win more than they have now. I think that Abkhazia has certainly reached its self-determination, and it is up to the politicians to decide to what extend the Russian government is asked to support the state. 
Sergey Markedonov:  Electoral procedures in the de facto entities look different from internationally recognized states. The fact of recognition itself is not the only difference. De facto states tend to perceive their elections like competitions with their "paternal states". How can you evaluate this competition between Abkhazia and Georgia? 
Charlotte Hille: The elections for the Abkhaz presidency in 2012 and the parliamentary elections in 2011 were monitored by several non-governmental organisations, such as UNPO, and several governments sent observers. In total there were some 80 observers. The OSCE was not present. This is because the elections were not regarded as legitimate by those who see Abkhazia as part of Georgia, such as the OSCE. But a fact is that the observers present in Abkhazia noted that the process towards the elections was fair and transparent, political parties and presidential candidates had equal right to time on television and radio, to make their programs public. During the election days there were no irregularities noted. This is worthwhile mentioning, since neighbouring republics like Armenia and Azerbaijan have a worse reputation with regard to free and fair elections. This means that though a republic may not be recognized by many states, this does not hamper the development of democratic values. I think there is not really a competition between Abkhazia and Georgia. Both republics develop in their own speed. 
Sergey Markedonov:  The EU offered "engagement without recognition" strategy for Abkhazia. Is it effective in your opinion? If no what ways of effectiveness increasing can you suppose? 
Charlotte Hille: The most important for Abkhazia is that it is included in all peace and development efforts. This means that it is important that international intergovernmental organisations like the EU further develop relations with Abkhazia. If you want to solve a problem, the solution is not to ignore one of the parties to the conflict, or to empower only one party. This has been my position for the last ten years, and fortunately I see that international organisations now do engage into dialogue with Abkhazia. In the peace negotiations the mediators, UN, OSCE and EU, follow UN Security Council resolutions that express respect for the territorial integrity of Georgia. It is understandable that international mediators adhere to resolutions of the UN Security Council, but this also inherently affects their neutral position, and asks for special care for the party that may feel affected by this position. The EU policy "engagement without recognition" offers a possibility to discuss several issues, like security and refugees, without remaining stuck over those aspects that are too complicated to be solved in the short run such as the status of Abkhazia. The EU considers relations between civil society organisations and the government important, and we see that for example the Foreign Minister of Abkhazia, Vyacheslav Chirikba, uses information from civil society organisations among others to formulate his policies. For the time being the policy of the EU is understandable, and we see the possible side effects in the cautious and hesitant position that the Abkhazian president takes towards the EU and Western Europe. It is for the EU to make that the Abkhaz side feels accepted and being taken serious. 
Sergey Markedonov:  The next February Russian popular Black Sea resort Sochi will host the Winter Olympics. How can those Games influence on the Abkhazian development as well as the whole geopolitical environment around it? 
Charlotte Hille: The work that the Winter Olympics create, even if this is for the short term, gives an economic impetus for the region, including Abkhazia. Workers spend money, and later, in February, visitors spend money. It puts the region, even for a short while, in the spotlights, which may have a beneficial economic result. This may benefit the tourism industry also in the longer run. The region, that is known to so few in the West, will get much more media attention. It also means that the region has to be safe and stable, and this may result in many security measures. It is still unclear whether this will have an escalating effect for certain nationalist Circassian or Chechen groups. For Abkhazia it will primarily mean economic spill over effects from neighbouring Sochi.