Misadventures in "Paradise", By Wayne Madsen
Wayne Madsen | Special to Abkhaz World
The South Pacific island nation of Vanuatu is best known to Americans as the scene of one of the "Survivor" television shows. However, its history of diplomatic poker playing between China and Taiwan has made it well-known as a nation that can be swayed easily on the global stage.
In May, when Vanuatu decided to recognize the Georgian breakaway region of Abkhazia as independent, joining Russia, Venezuela, Nicaragua and Vanuatu's South Pacific partner Nauru, alarm bells went off not only in Georgia but in Israel, a close ally of Georgia. A number of dual Georgian-Israeli citizens have served or are serving as members of the Georgian government of President Mikheil Saakashvili and Israel counts Georgia as a major diplomatic ally at the UN.
Almost immediately after the Vanuatu government of Prime Minister Sato Kilman recognized Abkhazia, Vanuatu's ambassador to the UN, Donald Kalpokas, stated that Vanuatu recognized only Georgia and not Abkhazia. It is quite clear that Kalpokas was taking his orders not from his own government but from the US and Israeli ambassadors, Susan Rice and Ron Prosor, respectively, both ardent supporters of Georgia. However, Vanuatu Foreign Minister Alfred Carlot, who had been on a visit to China, confirmed that Vanuatu had, in fact, recognized Abkhazia and appeared on a YouTube video confirming the recognition.
Meanwhile, New Zealand's conservative and pro-Israeli Prime Minister John Key, made some comments about Russian influence in the South Pacific at the same time his Foreign Minister Murray McCully was touring the island states on a mission tied to continued New Zealand economic assistance, a mission that may have been in concert with Germany's threat to withhold aid to nations that voted for Palestinian independence at the UN General Assembly in September. McCully's mission took him to Vanuatu and the Solomon Islands, with Papua New Guinea being dropped at the last minute after its foreign minister was fired.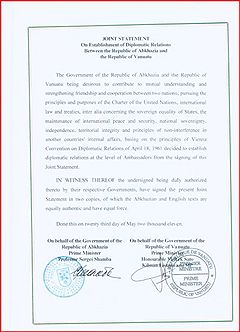 After Abkhazian authorities produced the document, exchanged between the Abkhaz capital of Sukhum and the Vanuatu capital of Port-Vila, signed by Prime Minister Kilman and Abkhazian Prime Minister Sergei Shamba on May 23 and formally establishing diplomatic relations, a funny thing happened to Kilman. The nation's Supreme Court fired Kilman and appointed his predecessor Edward Natapei, dismissed in December 2010 after he lost a no-confidence vote. The court ruled that Kilman's election as prime minister was null and void because the parliamentary vote was by a show of hands rather than a secret ballot.
One of Natapei's first actions was to nullify Vanuatu's recognition of Abkhazia. But there is yet another wrinkle to the ouster of Kilman. Natapei's acting foreign minister Joe Natuman, in "de-recognizing" Abkhazia, also announced that Australian attorney Ari Jenshel, an official with the Australian Agency for International Development (AUSAID), as rife with Australian Security Intelligence Organization (ASIO) agents as the US Agency for International Development (USAID) is with CIA agents, would be welcomed back to Vanuatu after his expulsion by the Kilman government for espionage. Natapei charged that Kilman's government was receiving "bribes" from businessmen from unnamed foreign countries. Jenshel, who is close to Australian Jewish circles, worked for five years in the Vanuatu Attorney General's office under an AUSAID program.
From the Kilman government's vantage point, Jenshel was in a position to rifle through documents and other sensitive material, copy them, and send them to Canberra. The Vanuatu government, in fact, charged Jenshel with copying sensitive documents and sending them to Australia. Jenshel was also accused of copying classified communications between the Kilman government and that of Fiji's military ruler, Commodore Frank Bainimarama. Fiji's vote on Palestine at the UN and its possible following Vanuatu in recognizing Abkhazia may have been the subject of the classified communications, which would have been of interest to ASIO, Mossad, and the CIA.
After his dismissal by the Supreme Court, Kilman was re-elected by the Vanuatu parliament with 29 out of 52 votes, defeating rival Serge Vohor by six votes. Kilman's entire government, including Foreign Minister Carlot, who arranged for the recognition of Abkhazia, was re-instated. There is no indication that the Kilman government will abide by the "de-recognition" decision of interim Prime Minister Natapei and with more evidence surfacing about Australian, Israeli, and U.S. intrigue behind Vanuatu's "constitutional coup," something that Australians are painfully aware of as a result of the CIA's 1975 constitutional coup against Australian Labor Prime Minister Gough Whitlam, Vanuatu may be an example of an intelligence operation "blow back," with Kilman and his South Pacific partners voting for Palestine at the UN General Assembly as a warning to Canberra, Wellington, Tel Aviv, Tbilisi, and Washington to stay out of South Pacific affairs.
But, as is normal, the Obama administration has not gotten the message from the South Pacific. In a throwback to "gunboat diplomacy," it is dispatching the USS Cleveland (LPD-7), a Navy amphibious ship with a Marine contingent, on a "goodwill" tour of Vanuatu, Tonga, Micronesia, Timor-Leste, and Papua New Guinea as part of "Pacific Partnership 2011." The CIA's official diplomatic cover "political officers" will undoubtedly be on hand to ensure that the five nations visited by the ship are "on side" for the General Assembly vote.

Wayne MADSEN (USA) - Investigative journalist, author and syndicated columnist. Has some twenty years experience in security issues. As a U.S. Naval Officer, he managed one of the first computer security programs for the U.S. Navy. He has been a frequent political and national security commentator on Fox News and has also appeared on ABC, NBC, CBS, PBS, CNN, BBC, Al Jazeera, and MS-NBC. He has been invited to testify as a witness before the US House of Representatives, the UN Criminal Tribunal for Rwanda, and an terrorism investigation panel of the French government. A member of the Society of Professional Journalists (SPJ) and the National Press Club. Lives in Washington, D.C. (http://www.waynemadsenreport.com)