Abkhaz Foreign Minister Viacheslav Chirikba met with a delegation from Nauru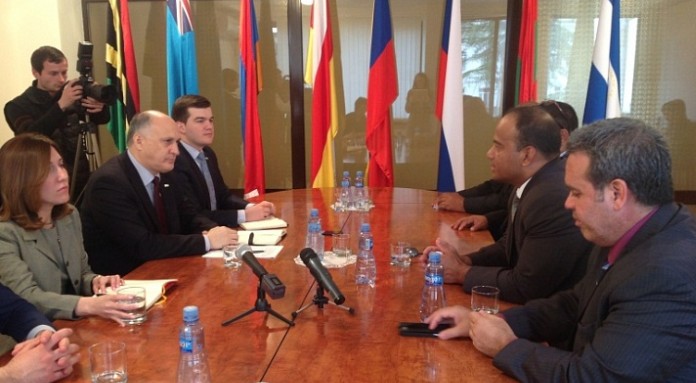 SUKHUM --  At the meeting, the Foreign Minister of Abkhazia noted that among many topics to be discussed, one of the main is close interaction between the two republics. And the first visit of the delegation of Nauru will be a big step in this direction.
Vice-President of the Republic Adeang David Uayau thanked for the warm welcome and noted that Abkhazia and Nauru have a lot of opportunities to establish relationships.
"We are the members of the International Association of Parliaments and the Pacific Asian Union of the Parliaments. If you agree, we would like to represent your interests in these areas", - said the vice-president of Nauru.
Vice-Speaker of the Parliament of Nauru Akua Renin Randolph expressed the need to designate an official representative of Abkhazia in the Republic of Nauru to establish closer contacts.
"We are small countries. And we have common problems that we have to overcome. Our country is recognized by virtually the entire international community, although its territory even less than Abkhazia. We would like to cooperate with you", - he said.
Abkhazian Foreign Minister stressed the importance of the continuation and development of the intergovernmental dialogue with Nauru.
According to the Minister of Foreign Affairs, the small nations understand each other better than big ones. Vyacheslav Chirikba stressed the importance of assistance to Abkhazia in the international arena.