Is Quoting Ardzinba, Iskander, Shinkuba Considered Vandalism?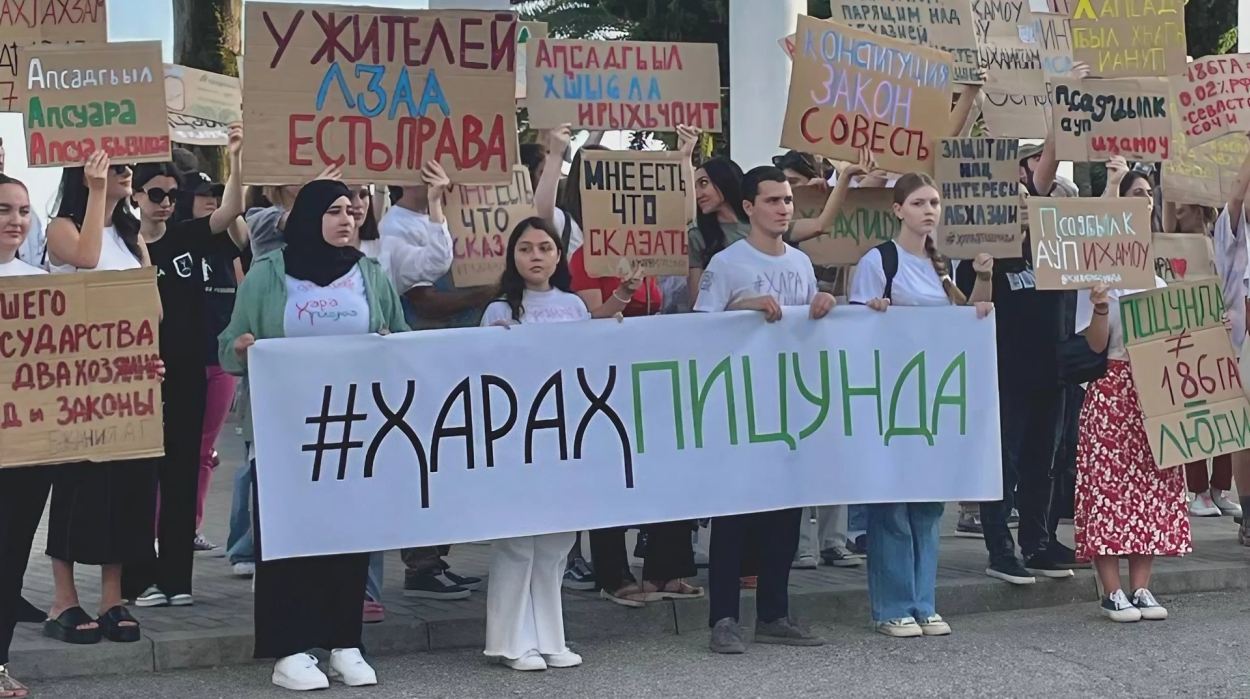 Ekho Kavkaza ― Officers of the Internal Affairs Department in Sukhum detained representatives of the youth movement "ҲараҲПицунда" (Our Pitsunda) as they attempted to hang banners addressing pressing societal issues. Two of them were charged with Article 166 "Minor Hooliganism" for the unsanctioned nature of their actions, with a punishment of a 120 rubles fine. However, neither the human rights ombudsman's lawyer nor the public concur with this classification, deeming it inappropriate to equate expression of opinions with hooliganism.
At 5:30 AM, Internal Affairs Department officers detained members of the "ҲараҲПицунда" (Our Pitsunda) movement while they were hanging banners in the capital. These banners featured quotes from Vladislav Ardzinba, Fazil Iskander, Bagrat Shinkuba, and the Constitution of Abkhazia, aiming to remind citizens of the issues affecting the country's sovereignty and security. The female participants were released after three hours without charges, while two male participants were charged with Article 166 "Minor Hooliganism".
Polite, but Unlawful Encounter

Liya Agrba, a representative of the youth movement "ҲараҲПицунда" and a lawyer, described the event that led to the City Department officers detaining her and other participants:

"We were simply hanging banners. We didn't think it was necessary to coordinate this action, as we have lawyers in our group and had consulted on this issue. We explained this to the officers, who seemed unaware, but now they know that their detention of us was unfounded.
Liya, what was the purpose of your action, and when were you detained?
― We selected locations that we believed would be noticeable without causing significant disturbance. Our intention was to serve as a reminder to people that there are pressing issues that require attention and care. We wanted to remind people that such problems exist."
Were you detained while hanging the banners?
― The participants were divided into several groups; we were detained after hanging one banner on the overpass at the Tourist Base. Another group was stopped before the event began, just as they got into their car and started to drive away.
How many people were brought to the police department?
― Ten people were brought in. We've been here since 5:30.
How did the police officers treat you?
― They were very polite; there was no rudeness from either side. We spoke respectfully to each other, so we have no complaints in that regard. The only issue is that this was all done unlawfully. That's what we want to emphasise.
You were kept for several hours, what was the purpose? Why? What questions did they ask you?
― There were no specific questions. It seemed that their goal was to stop the unsanctioned action. We explained that it didn't require sanctioning, but our words were ignored.
It's now 20 to 10. What about your fellow participants? Where are they?
― Reports are being drawn up for each of the male participants, initially planned for the female participants too, but that was later changed. It's important to note that the boys didn't hang the banners; only the girls did. When they were detained, one boy was sitting in the car and the other was filming. They're currently answering questions from the officers and facing charges under Article 166 ("Minor Hooliganism"). Our banners were confiscated, and they're uncertain about the fate of our posters, whether they'll be returned to us. This is our property and our work; we invested our own resources and effort into it. It's disheartening to be treated this way.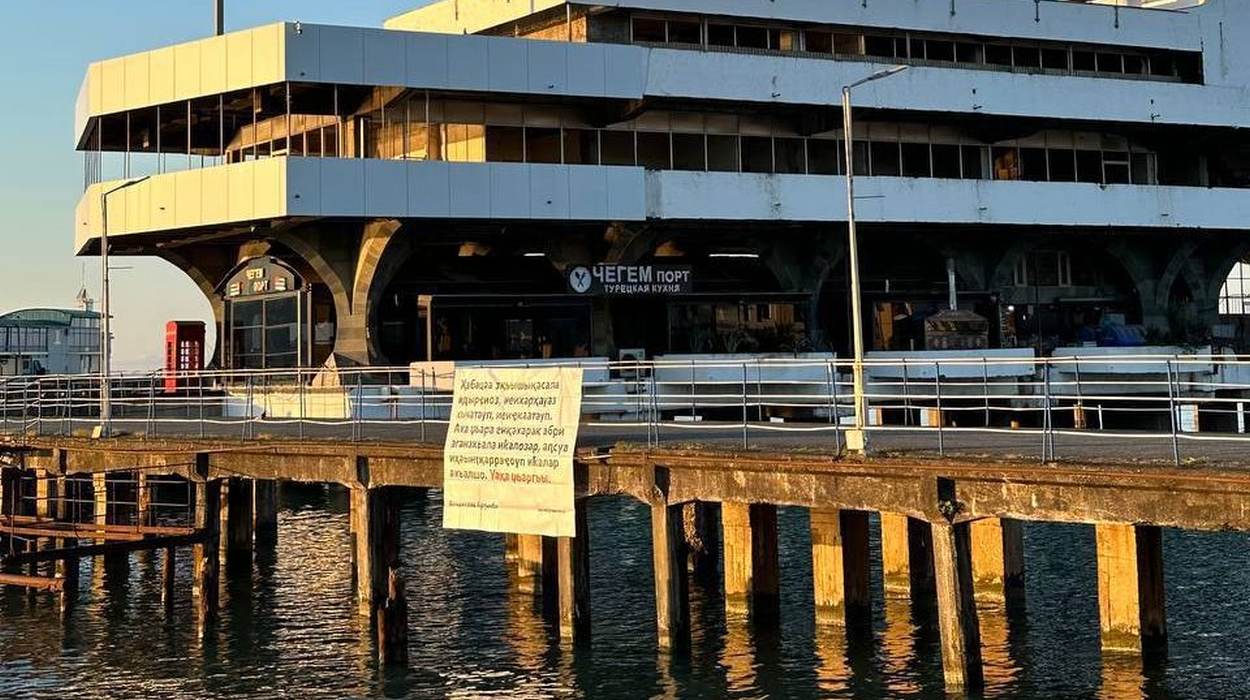 + Activists Detained for Displaying Protest Posters
+ Human Rights Commissioner Condemns Detention of Activists in Sukhum
Can you tell us about the content of the banners?
― The banners contained quotes from several articles of the Constitution, a poem by Lakoba, a quote from Fazil Iskander, and a quote from Vladislav Ardzinba. We also included slogans expressing our stance on pressing issues, like our opposition to the apartment law. Our message aims to remind people that we have a voice and that we have important concerns to discuss. We believe in addressing these issues rather than staying silent; we need to understand and work on resolving them. Our guiding principle is: "We don't keep quiet; we speak!"
Rashid Taniya, another representative of the "ҲараҲПицунда" movement, spent six hours at the police department with investigators. He discussed whether the participants were pressured and the reasoning behind the accusations of hooliganism:
"Psychological stress is unavoidable when you're detained without understanding why, and when they ask you to enter the city police department's yard, you wonder, 'Why?' We didn't even get the chance to hang anything; they stopped us immediately.
You were charged with minor hooliganism; did they explain the specifics?
― When we argued that our actions didn't fall under Article 166 of the Administrative Code, they insisted otherwise, even though we consulted with lawyers who said any person has the right to hang a banner in an unguarded location.
Did you sign the reports?
―  We wrote that we reject the charges brought against us and signed to confirm our refusal."
Rashid also mentioned that the participants chose early morning to avoid creating obstacles and disrupting traffic since they planned to hang some banners along the road.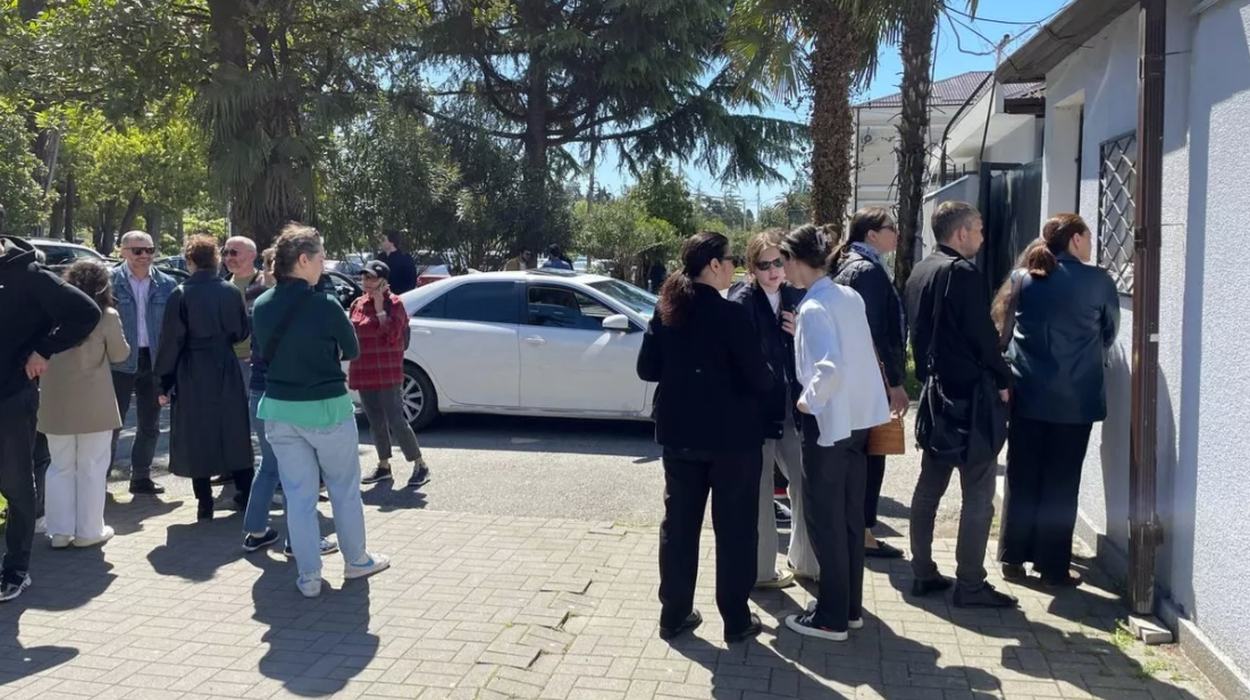 People gather outside the police department building in support of the detained activists.
Police officers violated the law and unjustifiably restricted activists' rights

Human Rights Commissioner Anas Kishmaria quickly responded to the news of the young activists' detention. She spent several hours at the police department and shared her understanding of the situation:
"In the early morning, the participants were detained for hanging posters and banners. The police department charged them with 'hooliganism,' claiming they disturbed public order. The administration was unaware of their plans to hang the banners. The police department will examine the banners and leaflets for compliance with the laws. Generally, the materials contained quotes from our public figures. In the early morning, a group of young people caught the attention of officers who found them suspicious."
As an ombudsman, do you agree that young people shouldn't be walking around at five o'clock in the morning because it attracts police attention?
―  "We will contest this."
By day's end, Human Rights Commissioner Anas Kishmaria released a statement asserting that the police officers' actions towards the "HarakhPitsunda" youth movement members violated the Republic of Abkhazia's legislation, specifically several articles of the Constitution: Article 14 (freedom of thought and speech), Article 16 (freedom of movement), and Article 17 (conducting peaceful actions). The actions of the "HarakhPitsunda" representatives cannot be classified as disturbing public order, and organising this event didn't require local authorities' approval or permission. The activists' right to freedom of thought and speech was unjustifiably restricted by police officers. According to the ombudsman, the "HarakhPitsunda" activists' actions didn't exhibit signs of "minor hooliganism." Anas Kishmaria expressed her willingness to help restore the youth movement members' violated rights.

Asida Shakryl on the detention of activists: "This situation should sober up many people."

Equating expression of personal opinion with hooliganism

Eshsou Kakalia, ex-deputy Prosecutor General and representative of the "Aidgylara" party, deems the "minor hooliganism" accusation illegal and unfair:
"The investigation should be legal and fair. In this case, it is neither. We received a report in which young people were charged with 'minor hooliganism,' but its manifestation remains a mystery to me, honestly. As for the public assessment, when society reaches a point where young people are forced to hang posters with quotes from the president, Fazil Abdulovich, and others, and then get detained and taken to the Department of Internal Affairs, it's a very troubling sign, in my opinion. Now we will gather and consider how to respond and what to do."
Lawyer Said Gezerdava firmly believes that the actions of the "HarakhPitsunda" representatives did not warrant invoking Article 166, and it is unacceptable to equate the expression of one's opinion with hooliganism in Abkhazia:
"If we examine the law and look at the article on mass events in the Republic of Abkhazia, we won't find any related form; this law doesn't apply here, and it's unclear what requires sanctioning. I don't see any elements of hooliganism, as hooliganism entails violating public order and must be expressed in a way that breaches this order. How is it that freedom of expression in our republic is now seen as violating public order? That's the situation we're facing. The issue isn't just about minor responsibility and a fine of 120 rubles; accepting this would be wrong since their actions have been downgraded to minor hooliganism. In my opinion, this should be challenged in court."
This interview was published by Ekho Kavkaza and is translated from Russian.