Foreign Minister met with the Ambassador of the Czech Republic to Georgia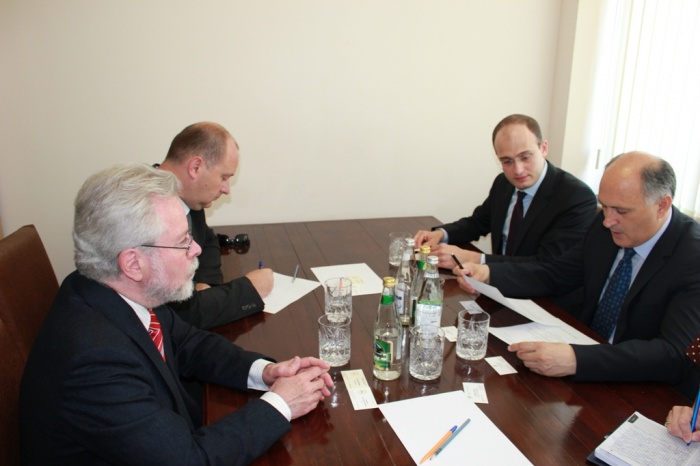 SUKHUM -- Foreign Minister Met with the Ambassador of the Czech Republic to Georgia A delegation of the Embassy of the Czech Republic in Georgia spent a 5-day visit in Sukhum.
Foreign Minister Vjacheslav Chirikba met the Ambassador of the Czech Republic to Georgia, Ivan Estrab, and his Deputy, Miroslav Kozek. The meeting was also attended by Deputy Minister Irakli Khintba.

Welcoming the Ambassador, V. Chirikba declared an openness for dialogue and a willingness to listen to the opinion of the Czech side concerning the possible paths of development. "Abkhazia is part of Europe. We are all for people knowing more about us. You have the chance to see with your own eyes that the republic is living a vibrant, modern life," said Chirikba.
This is the first visit of the Czech Ambassador to Abkhazia. According to Ivan Estrab, his visit has the aim of meeting the heads of several ministries and establishing contacts, and of exchanging views on issues of interest to the Abkhazians and the Czechs. He said that the delegation consisted of staff the development-agency who "will hold meetings with people, familiarise themselves with the needs of the population, and collect data in order to understand exactly what the Czechs might do to help Abkhazia."

Concerning the five-party Gal meetings in the framework of the Mechanism to Prevent and Respond to Incidents /MPRI/, the Ambassador said that they were "more effective at the local level." "The format of MPRI, as we call it for short, is now suspended. We would urge all parties to ensure that the meetings continue. This is the format that we would want to support," said the Ambassador. "The Czech Republic is a Member of the European Union, and our diplomats are actively engaged in discussions on the Southern Caucasus. We also attach great importance to the format of the Geneva talks on security, which allows for an exchange of views and reaching a compromise-solution."

According to the Ambassador, the Czech Republic experienced a period of controversy with many peoples. "As you know, Czechoslovakia no longer exists. There are two states which over time have learned to live in harmony. I hope that your relationships too will reach a point where historical differences will be remembered as the distant past," the Czech diplomat said.

Ivan Estrab shared with the Minister memories of how he had first visited Abkhazia 35 years ago as a tourist, when he was a high-school student. "Very interesting memories remain of the country, of Pitsunda, Sukhum, and Lake Ritsa," the diplomat noted with nostalgia.

V. Chirikba presented I. Estrab with a book about the artists of Abkhazia and other gifts to remind him of his visit.
Source: ApsnyPress