Bagapsh, EU SR discuss Union's policy to Abkhazia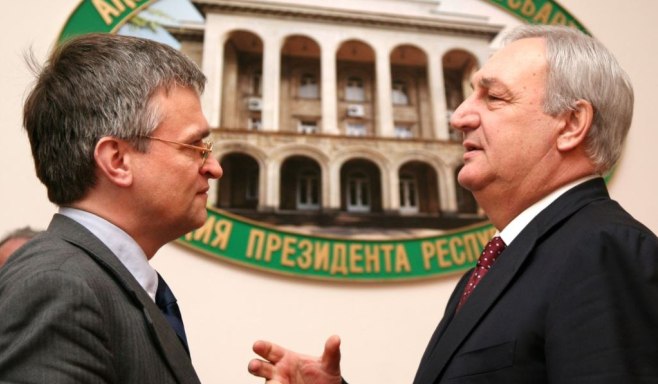 SUKHUM (Itar-Tass) - EU policy towards Abkhazia was in the focus of the talks between Abkhazian President Sergei Bagapsh and EU Special Representative to the South Caucasus Peter Semneby.
The EU official described the meeting with the Abkhazian president as "substantial, fruitful and open". The EU priority is to implement the strategy of "engagement without recognition" in Abkhazia, he added.
"Such contacts are necessary. We are searching for the opportunities to pursue our policy of engagement without recognition in Abkhazia. We talked about the situation in the Gali district. Abkhazia is a European land and it is necessary to find any chances to maintain contacts even without solving difficult political issues," Semneby said.
The EU seeks Abkhazia to resume contacts with Georgia, the EU official said. In his words, it is necessary to create conditions for communication between people and developing mutually advantageous economic projects. There are many interesting moments in Georgia's strategy towards Abkhazia and South Ossetia and the EU considers these moments useful and fruitful, the official said.
Semneby said he is hopeful that the people and the Abkhazian authorities would take into account these moments.
Bagapsh said Abkhazia "understands the EU position on this stage". At the same time, he added that Abkhazia should not be considered part of Georgia. The president stressed, "It is necessary to consider Abkhazia a republic, which is recognised by Russia, first of all, and certain European countries." "We don't demand recognition. We understand the situation. We are open for any dialogue and it is necessary to move forward," the Abkhazian president said.
Commenting on Geneva discussions, Bagapsh said, "Mediators at the talks should take a neutral position and equally treat all participants in the talks. But unfortunately, this does not happen." "If the co-chairmen don't change their attitude and Abkhazia's position is ignored, Abkhazia will stop its participation in the talks," Bagapsh said.
He stressed that Georgia's strategy towards Abkhazia and South Ossetia (Georgian authorities name them "occupied territories") was unreal. "There can't be our participation because we aren't part of Georgia, but we are independent states," Bagapsh said.
Last week, Bagapsh said Abkhazia had suspended its participation in the 12th round of Geneva discussions to allow mediators to prepare concrete proposals.
In his annual nationwide address to the parliament, Bagapsh said Abkhazian representatives continued to insist on "the need to sign agreements on international security guarantees and the non-use of force that will help avoid a new conflict with Georgia".
"But Georgia declines to discuss such document and insists on the withdrawal of Russians troops from Abkhazia and South Ossetia and the deployment of international forces that is absolutely unacceptable for our countries," Bagapsh stressed.
"Moreover, we are sure that Georgia is encouraged by international mediators. We won't be able to take part in the discussions until the situation changes," the Abkhazian president said.
Commenting on the Geneva discussions, Bagapsh said they involved top representatives from different sides. "Apart from security issues and humanitarian projects, Abkhazian representatives have an opportunity to inform European and American partners about their position on a broad range of political and humanitarian problems that makes the Geneva discussions a convenient platform for direct contacts with the European Union, the U.N., the OSCE, as well as with the United States. As of today Abkhazia has no other mechanism for such dialogue," the Abkhazian president stressed.
In his words, "the incident prevention and response mechanism, which was worked out at the 4th round of Geneva discussions, played a certain role in exchanging information on security issues and easing tension on the border. Within this mechanism Abkhazian, Russian and Georgian representatives have regular meetings in Gali in close cooperation with the UN, the OSCE and the EU."