Festive events dedicated to Victory and Independence day of Abkhazia held in hero town of Tkuarchal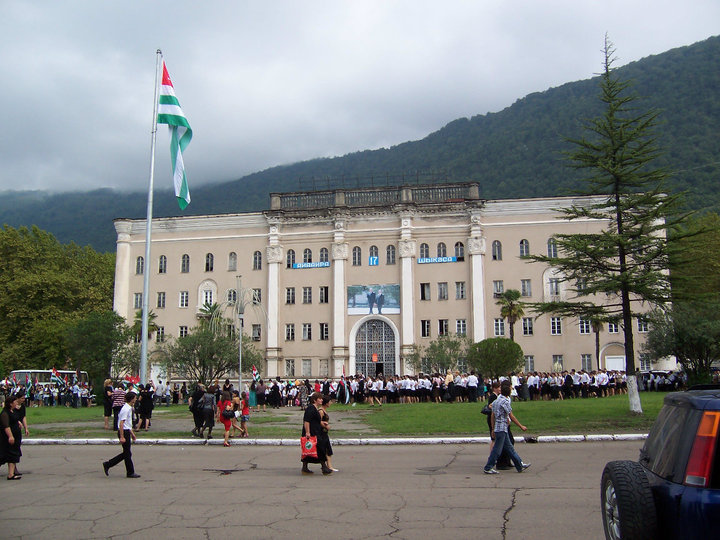 SUKHUM, September 29 -- Festive events dedicated to the 17th anniversary of the Victory and Independence of the Republic of Abkhazia are being held today in the Hero town of Tkuarchal. 

Pupils from town schools made a procession with flags; after that wreaths and flowers were laid to the tombs of the fallen defenders of Abkhazia on Heroes Path. 

On the square in front of the mine administration building the National Flag of the Republic of Abkhazia has been installed. The flag post is 20 meters high, the cloth is 4х8 m.

Financial support to the project initiated by the Committee on Youth and Sports of the Republic of Abkhazia was rendered by the AKVAFON-GSM cellular company.

A similar flag was installed last September on the Sukhum Liberation Day in the capital of our republic above the seaport building and this July in the Hero town of Gudauta. 
The district administration head Timur Gogua, the deputy chairman of the State Committee on Youth and Sports Shamil Adzinba, the general director of "Akvafon" JSC Alkhas Argun spoke at the meeting in honor of raising the flag in Tkuarchal. They congratulated the Hero town residents, who have been in blockade throughout the war, on the Victory and Independence Day that is marked all over the republic on September 30. They wished them peace and prosperity. Tkuarchal schoolchildren recited war verses. 
After the meeting was over, a grand meeting and a concert of Abkhaz variety performers was held in Gulia's Palace of Culture.
---