Abkhazian Delegation Visits the International Exhibition-Fair "Green Week 2014" in Berlin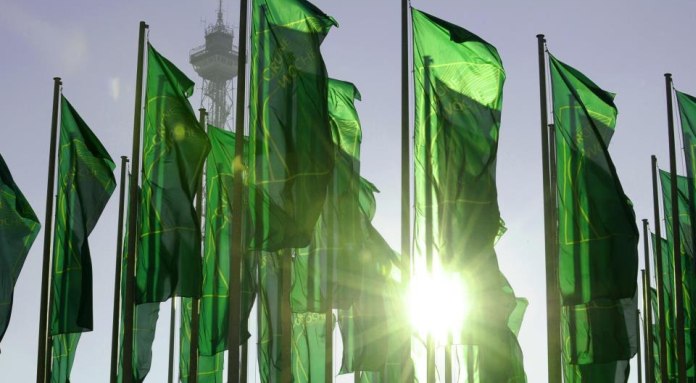 A Delegation of the Republic of Abkhazia, including the sales-representative of the Republic of Abkhazia in the Russia Federation, Oleg Bartsits, and executives of "The International Cultural-Business Centre of the Republic of Abkhazia", Oleg Lakoba and Pëtr Berëz, has over recent days been on a business-trip in Berlin, Germany.
During the working visit the representatives of Abkhazia attended the opening of the international exhibition-fair "Green Week 2014» ("Zelënaja Nedelja", "Grüne Woche"). This is Europe's largest international exhibition of achievements of the food industry, agriculture, horticulture and food-production, and it has been held since 1926.

Official delegations, agriculture ministers from 40 countries, as well as top managers of the world's leading agricultural and food-corporations are participating in the work of the largest European industry-forum.

The total exhibition-area is 114,100 m2, and the number of exhibitors is 1,574 from 57 countries. The number of visitors is about 400,000. The value of the contracts amounted to 42 million euros. In 2013, the exhibition was attended by 220 leading politicians from around the world, 62 ministers, 85 ambassadors and consuls, 40 agricultural attachés from different countries, and 5,150 journalists from 71 countries.

The exhibition presents the whole spectrum of several industries: from tea to wine and strong alcoholic beverages, from meat and sausages to seafood, vegetables and fruits. Besides this, the products of food-, timber- and woodworking industries, landscaping and horticulture, and of the technology of livestock- and poultry-breeding are traditionally exhibited here.

"The purpose of visit of our delegation is detailed acquaintance with the particularities of the organisation and operation of the largest European exhibition. Today's agrobusiness-industry in Abkhazia is going through a stage of active development. The country's leadership attaches great importance to this. The main direction for the activity of our manufacturers of quality and environmentally friendly products is the development of new markets and worthy representation for the country in the international arena," Oleg Bartsits told Apsnypress by phone.