Telegram from the Revolutionary Committee of Abkhazia of March 26, 1921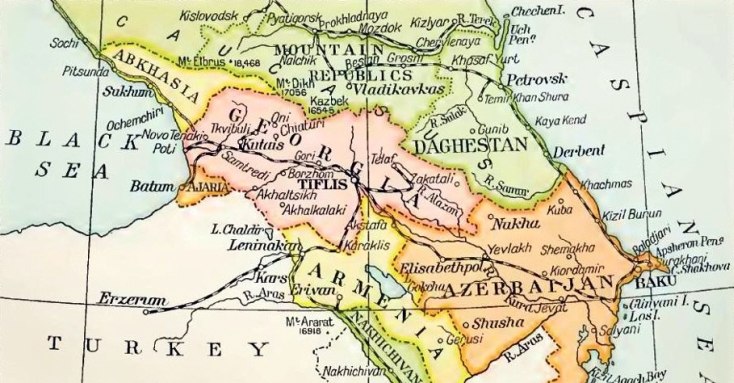 This telegram was sent by Abkhazia's Revolutionary Committee on 26 March, 1921. It reached Moscow addressees on 28 March. On the same day, as is well-known, the Abkhazian SSR was proclaimed.
Moscow. To Lenin, Stalin.
Rostov-on-Don: Kavburo [Caucasian Bureau], Central Committee, note
by direct transmission to Beloborodov.
Tiflis. To Ordzhonikidze.
From 130 PTK 1414 226, 27, 2, 7, to Lenin and Stalin only.
Received. 
Source: GARF [State Archive of the Russian Federation], F[und] 130, op. List 5, F[ile] 740 

TELEGRAM.

Since the restoration of Soviet Power in Abkhazia three weeks have passed. We still have no definite indications as to whether Soviet Abkhazia will be an independent republic or an administrative unit and of what kind Abkhazia's policy should be. Two meetings of senior officials of Abkhazia, with the participation of Comrades Ivanitski (Plenipotentiary of the Caucasian Bureau's Central Committee), [...] Vlasov and [...] Vorobëv, unanimously reached the following conclusion: "Firstly, Abkhazia should be declared a Soviet Socialist Republic. Secondly, Soviet Abkhazia should be directly included in the All-Russian Federation. Thirdly, the general policy of Abkhazia should be moderately cautious with respect to the petty bourgeoisie and the peasantry.
The motives behind these decisions are: Firstly, the tendency towards national self-determination among the Abkhazians, who make up 80% of the population of the Sukhum District, was sparked by the chauvinist policy of the Georgian Mensheviks. Secondly, this same policy has caused among the Abkhazians a massive desire to link their fate directly with the Russian Federation. Thirdly, the declaration of the independence of Abkhazia will consolidate the liberating nature of the Red Army's struggle in the minds of the working people of Abkhazia and in public opinion abroad. Any delay in solving the basic problem will greatly complicate all our work and pose us the question as to whether we can continue to be responsible for it: should no quick response be received, objective conditions will force us to take responsibility for the declaration of the Soviet Socialist Republic of Abkhazia." (Emphasis added). 

Revolutionary Committee of Abkhazia. Eshba, Lakoba, Akirtava. 
Secretary of the Organisational Bureau of the Communist Party, Agniev.
Sukhum, 26 March, with confirmed signatures.
Moscow, Kremlin, 28 March 1921


Телеграмма Ревкома Абхазии от 26 марта 1921 г.

Эта телеграмма была послана Ревкомом Абхазии 26 марта 1921 г. Дошла до московских адресатов 28 марта. В этот же день, как известно, была провозглашена ССР Абхазия.
Москва. Ленину, Сталину,
Ростов Дон Кавбюро ЦЕКА записка
по прямому проводу Белобородову,
Тифлис Орджоникидзе. -
из 130 ПТК 1414, 226, 27, 2, 7 только Ленину и Сталину.
принята.

Источник: ГАРФ, ф. 130, оп. 5, д. 740

ТЕЛЕГРАММА.

С момента восстановления Советской Власти Абхазии прошло три недели. Мы до сих пор не имеем определенных указаний будет ли Советская Абхазия самостоятельной Республикой или административной единицей и какова должна быть политика Абхазии. Два совещания ответственных  работников Абхазии с участием уполкавбюро Цека тов. Иваницкого, Военкомдива и Нач(..)одива XI  Марин(...) Власова Уподревсовета 9 Воробьева единогласно пришли к следующему заключению: "Первое, Абхазия должна быть объявлена Социалистической Советской Республикой. Второе, Советская Абхазия должна непосредственно входить в Общероссийскую Федерацию. Третье, общая политика в Абхазии должна быть умеренно осторожной по отношению мелкой буржуазии и крестьянству.

Мотивами указанных решений служат: Первое, шовинистическая политика Грузинских меньшевиков пробудила тенденцию к национальному самоопределению среди Абхазцев составляющих восемьдесят процентов населения Сухумского округа. Второе, эта же политика вызвала среди абхазцев массовое желание связать свою судьбу непосредственно с Российской Федерацией. Третье, объявление самостоятельности Абхазии закрепит освободительный характер борьбы Красной Армии как в сознании трудящихся масс Абхазии, так и в общественном мнении за-границы. Затягивание решения основного вопроса сильно затрудняет всю нашу работу и ставит перед нами вопрос сможем ли мы дальше нести ответственность за нее: в случае неполучения срочного ответа объективные условия заставляют нас взять на себя ответственность за объявление Социалистической Советской Республики Абхазии (выделено мной).

Ревком Абхазии. ЭШБА, ЛАКОБА, АКИРТАВА.
Секретарь оргбюро Компартии Агниев.
СУХУМ 26 марта с.г.               с подлинным верно (подпись)
МОСКВА, Кремль28 марта 1921 г.