Dominican Republic won the World Championship Domino in Abkhazia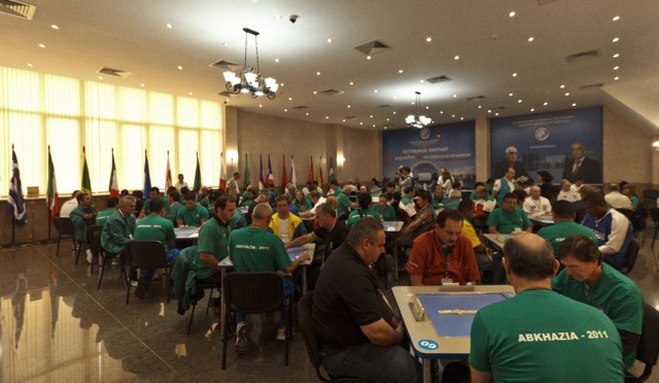 At today's Abkhazia VIII Domino Championships in the individual and the team classification was won by Dominican Republic. Place the second to eighth ranked team from Venezuela. This Latin American country was represented at the World Championship in Abkhazia the largest number of participants. Team Russia-9th place, Abkhazia-United States-14 place at 15. The best women's team recognized team of Venezuela. At the final press conference Domino Federation President United States Manuel Oquendo, passes the "News".
Note that the Championship Prize Fund, which was attended by 312 athletes from 25 countries around the world, stood at $ 100 thousand. The team has won first place in the team classification, received $ 24 thousand and four gold medals, prize for second place was $ 16th and 4 silver medals, for the third place-$ 12 k and 4 bronze medals.
The winner in the individual Championship got $ 8 k and a gold medal, second place-$ 6 k and a silver medal, 3rd place-$ 5 000 and the bronze medal. "It was a very difficult Championship, since each would like to win. Judges judged strictly to won really big, "he said at a final press conference, the President of the Federation of the United States, CEO of Domino Championship Manuel Oquendo.
"I don't see anything strange in that defeated Dominican and Venezuelan doministy. In these countries from infancy to play dominoes and difficult to beat, "said Federation President Domino Russia Vladimir Borzov. In his view, Domino as a sport must be promoted in schools, and then eventually you will be able to compete on equal terms with the strongest.

"I hope that the Federation Domino Brazil reaches the same level as the Brazilian Football Federation, and then you will be able to count on success," said Federation President Domino Brazil Ronaldo Aguiar.

"I would be happy if in Abkhazia was another Championship. With pleasure I will come here again, "said Domino world champion, op Joaquín Martínez. According to him, "Abkhazia has all chances to once again take the World Championship".

"The most important thing that athletes from around the world became friends. We meet twice a year and are always happy to see each other. We all understand each other, suggesting that we are a single family, Domino, "Manuel Oquendo.

As previously reported BakuToday, VIII Domino Championships took place in Abkhazia with 18 on 21 October. The decision to hold the World Championship in the Republic was taken in the spring of 2010, in Las Vegas, where took place the previous Championship. In the State budget of the event were planted 20 million rubles.
Source: Baku Today