Participants in the VIII World Domino Championship arrive in Abkhazia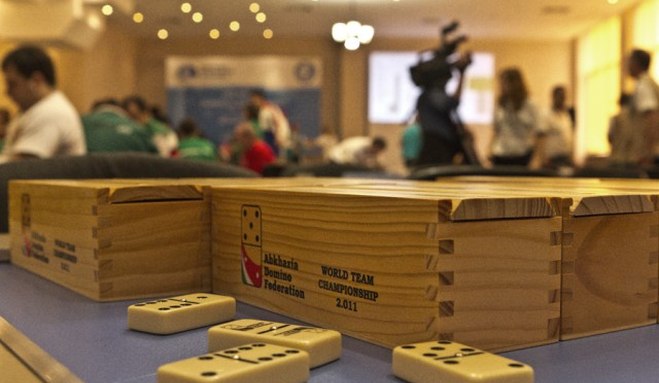 SUKHUM -- 'About 200 participants in the World Domino Championship have already arrived in Sukhum,' Apsnypress announced at the press-service of the Domino Federation of Abkhazia. Among them are delegations from Russia, the USA, Venezuela, Jamaica, etc.
Members of the Committee for the Championship are meeting each delegation at the airport in Sochi, accompany them to the Abkhazian capital, settle them into their hotels.
Registration of participants in the championship begins tonight.

At 5 pm on 18 October, the participants in the World Domino Championship will lay wreaths at the memorial to the fallen in the Park of Military Glory.
At 5.30 pm the ceremonial opening of the Championship will take place in Abkhazia's State Philharmonic Hall.
At 8.00 pm there will be a procession of all the participants in the Championship to Abkhazia's Drama Theatre, on the square in front of which a concert will take place, and then fireworks will light up the sky over Sukhum.

The games of the Championship will be held on 19 and 20 October from 8.00 am to 7.00 pm.

At 4 o'clock in the afternoon on 21 October the awards ceremony will begin in the Philharmonic Hall, culminating in the ceremonial closing of the Championship.

In connection with the Championship, City Committee for Youth and Sport together with the Education Department is organising a number of festive events in the capital of Abkhazia from 17 to 19 October. These include a children's painting competition, a chess-tournament, a photo-exhibition, a sailing regatta, a performance by a quartet in Bagrat Shinkuba Park, interactive games for children and face-painting.
Source: Apsny Press
---