Natural Heritage of Abkhazia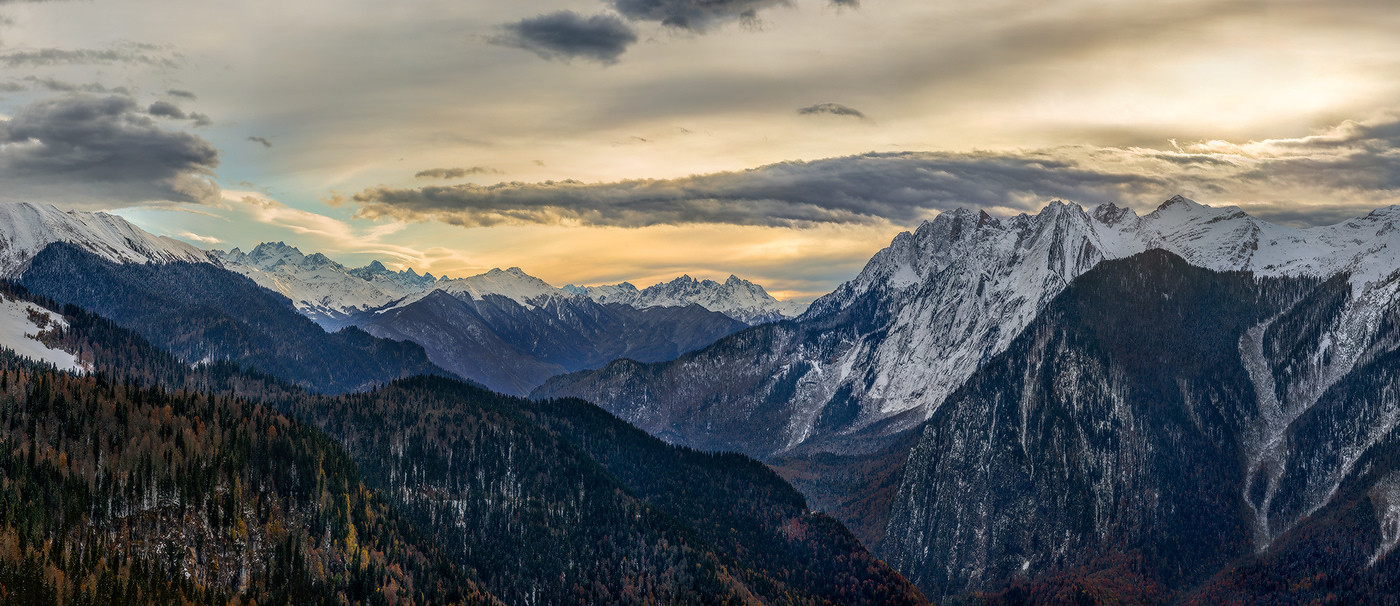 Climate and Weather

Abkhazian natural heritage is magnificent and diverse, unique in its fascinating, harmonious combination of the scenery of the Caucasus Mountains and the Black Sea coast. A stretch only fifty kilometers wide between the shoreline and the Greater Caucasus Mountain Range encompasses all existing climatic zones, from rainforest to perennial snow and glaciers.
The average annual temperature is +15°С. Abkhazian winters are the warmest in all of Caucasus. Snowfall is rare, and the average temperature in January rarely falls below +7°С. In the summer, the average temperature is +27 to 28°С. At Gagra resort, the highest average temperature during the hottest month of the year is +24.5°С.
Average annual rainfall is approximately 1400 mm. Average relative atmospheric humidity in Sukhum is 72%. The number of hours of sunshine in the republic's capital is 2238 hours a year, with maximum hours in the summer (812) and minimum in the winter (317).
Abkhazia's Mountains and Caves
Nearly all of Abkhazia's territory is occupied by tall mountain ranges. Greater Caucasus mountain range on Abkhazia's northwestern border, near the source of Auadhara River, rises 2500 meters above sea level, while on Abkhazia's eastern border, the altitude of the mountain ranges reaches 3500-4000 meters. The highest point in Abkhazia is Mount Dombai-Ulgen, reaching 4048 meters above sea level. In order of receding height, other impressive mountains in Abkhazia are Gvandra (3984 m), Ertsog (3909 m), Psysh (3790 m), Ptysh (3465 m), Agepsta (3256 m), and Khimsa (3032 m).
There are 14 mountain passes in the Greater Caucasus range that lie within Abkhazia's borders, at altitudes ranging from 2300 to 3000 m above sea level. Most of these passes are difficult to access, and are closed for travel most of the year. In centuries past, travel routes through Klukhori Pass, situated on the Sukhum Military Road, and Marukh Pass were actively used as a link to countries on the other side of Greater Caucasus.
Two vast limestone massifs on Abkhazian territory are especially significant: Gagra mountain range (highest elevation: Arabika, 2656 m) and Bzyb mountain range (highest elevation: Napra, 2684 m). The limestone bulk of these ranges is home to Earth's deepest known caves: Krubera (Voronya, or Crow's) Cave, with explored depth of 2080 m, Sarma Cave (1543 m), V. Pantyukhin's Cave in the Gagra mountain range (1480 m), Snezhnaya (Snowy) Cave in the Bzyb mountain range (1370 m), and New Athos (Novoafonskaya) Cave, with a colossal volume of 1.5 million cubic meters.
Abkhazia's Rivers
The perennial snows crowning Abkhazia's mountaintops year-round are spread out over an area of 77 km. sq. Over the summer, the snows melt partially, filling the river beds of Abkhazia's many streams with the purest water. There are approximately 120 rivers, 186 mountain lakes, and 170 mineral springs in Abkhazia. It's an interesting fact that, despite Abkhazia's small size, all of its rivers in their entirety, from source to mouth, together with their basins, and with the exception of the two border rivers, are completely contained within the country.
Abkhazia's most famous mineral water is Auadhara, flowing from a spring in Auadhara river valley. Hot springs in Primorskoye village (Gudauta District) and Kyndug village (Ochamchira District) are also widely popular.
Abkhazia's portion of the Black Sea coast is renowned for its wide pebble and sand beaches and pure seawater. The coastline is 210 km long. The composition of the sea water is rich and diverse, containing approximately 60 various mineral salts, although Black Sea water salinity is half that of the Mediterranean. The Black Sea is home to approximately 250 species of seaweed, 180 species of fish, more than 200 species of crustaceans, several species of jellyfish, shrimp, crabs, and three dolphin species, a list that doesn't begin to sum up all of its animal and plant life.
Abkhazia's Plant Life
Abkhazia's plant life is represented by approximately 3500 species, 180 of which are trees and shrubs, more than 500 species are medicinal plants, and more than 600 are relict species preserved from ancient geographical epochs. About 400 plant species are endemic for the Caucasus, and more than 100 species are found nowhere outside of Abkhazia. The species distribution area for some of the endemic species is no larger than just a few dozen square meters, such as, for instance, Campanula Paradoxa bellflowers from the Bzyb River Gorge, or Aquilegia Gegica columbines growing on the walls of the Gega Waterfall.
466 thousand hectares (52% of the country's territory) is covered with forest, which is home to more than 30 valuable species, including relict yew, Greek strawberry tree, and others.
Abkhazia's Animal Life
There are 440 species of vertebrates and 277 bird species in Abkhazia.
Abkhazia's lakes, streams, and sea are populated by great sturgeon, common sturgeon, mullet, Black Sea salmon, Pontic shad, five species of mullet, European plaice, Atlantic horse mackerel, spiny dogfish, mullets, European anchovies, and other fish species. A considerable amount of Black Sea salmon is spawned in Abkhazia's pure streams. Salmon and brown trout are the most traditionally and widely fished species.
One of major bird migration routes on the Eurasian continent lies above Abkhazia. There are 294 bird species registered here, including rare and endangered species: golden eagle, bearded vulture, cinereous vulture, peregrine falcon, great white pelican, swan, great egret, and others.
Abkhazia's predators include the brown bear, wolf, jackal, fox, lynx, marten, badger, otter, a Caucasus subspecies of the European mink, and least weasel. Besides the West Caucasian tur, other ungulates, or hoofed animals, including red deer, roe deer, and chamois. Wild boars are also rather common.
Abkhazia's many caves are home to approximately 24 species of bats. Endemic invertebrates deserve special attention. For instance, the New Athos cave is the only place where the cave-dwelling Troglocaris shrimp and the cave-dwelling Jeannelius ground beetle are found.
Vast conservation areas have been created in Abkhazia to preserve its wildlife: Ritsa-Auadhara National Park, and Pskhu-Gumista and Pitsunda-Myussersky nature reserves. Altogether, no less than 10% of the country's area is protected, one of the highest percentages in the world.