Former Abkhaz President Dies After Protracted Illness, by Liz Fuller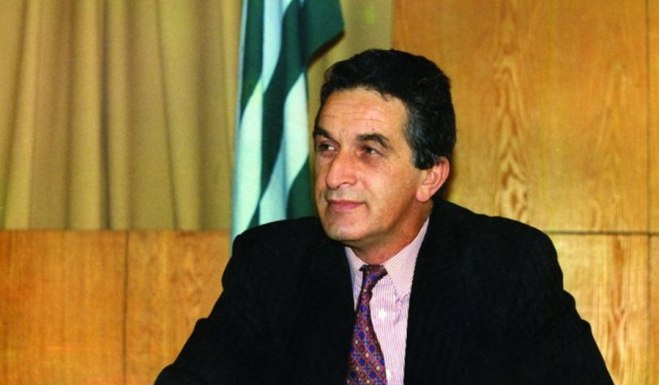 RFE-RL -- The death was announced today of Vladislav Ardzinba, who spearheaded Abkhazia's campaign in the 1990s for independence from Georgia. He was 64, and had been suffering for over a decade from a progressive degenerative disease that left him confined to a wheelchair.

Ardzinba was born in the village of Eshera in May 1945 and graduated in 1966 from the historical faculty of Sukhumi Pedagogical Institute. He studied in Moscow as a graduate student at the Oriental Institute under Yevgeny Primakov, who later served as Russian foreign minister.
Ardzinba's political engagement began in 1989, when he was elected to the USSR Congress of People's Deputies -- the new-look legislature established by then-Communist Party General Secretary Mikhail Gorbachev at the peak of the glasnost/perestroika era. In that capacity, British professor George Hewitt points out in a personal tribute, Ardzinba achieved national prominence across the entire Soviet Union for his eloquent articulation of the problems facing that state's ethnic minorities and their hopes for the future.
One year later, Ardzinba was elected a deputy, and then chairman, of the Abkhaz Supreme Soviet.
After Georgia repeatedly rejected Abkhaz offers to negotiate a formal agreement on federal relations, the National Guard under loose cannon Tengiz Kitovani invaded Abkhazia on August 14, 1992. Ardzinba coordinated the defense of Abkhazia from Gudauta, the coastal town to which the republic's leaders retreated as the Georgians advanced on and then occupied Sukhumi.

When the Abkhaz forces and their North Caucasus allies retook Sukhumi and the war ended on September 30, 1993, Hewitt writes, a leaflet was prepared on Ardzinba's orders for distribution in the areas that had been under Georgian occupation during the war, urging Abkhaz there to show magnanimity and not to engage in acts of vengeance against either Georgian soldiers laying down their arms or members of the civilian population.

Having won its war of secession, Abkhazia then found itself subjected to years of isolation and an embargo imposed in 1995 by the Commonwealth of Independent States. In 1994, Ardzinba oversaw the promulgation of a new constitution for Abkhazia that defined the republic as a sovereign, democratic, law-based state and a subject of international law. Ardzinba was elected president on November 26, 1994.

Sporadic initiatives first by the Russian Federation and then by the United Nations to mediate a formal agreement between Abkhazia and Georgia that would preserve Georgia's territorial integrity made little headway, especially after the spectacular failure of an incursion by Georgian guerrilla formations into Abkhazia's southernmost Gali district in May 1998.

Ardzinba himself was constantly vilified by Georgians, not least because of unanswered questions about his role in the execution shortly before the Georgian evacuation from Sukhumi in September 1993 of Zhiuli Shartava, head of the pro-Tbilisi occupation government.

Abkhazia finally formally declared its independence from Tbilisi in 1999. In October of the same year, Ardzinba was reelected unopposed for a second presidential term. The first rumors of his illness surfaced in the Georgian media in early 2001, and he was constrained to travel repeatedly to Moscow for extended periods of medical treatment. In the final years of his presidency, according to Hewitt, his duties devolved on then-Vice President Raul Khajimba, who worked closely with Ardzinba after the latter withdrew from public politics.

Ardzinba reportedly hoped that when his second term expired in October 2004, Khajimba would be elected to succeed him. But Moscow's overt lobbying on Khajimba's behalf proved counterproductive, and the standoff that followed the election was ended only when senior Russian politicians persuaded Khajimba and his close rival Sergei Bagapsh to run as a team in the repeat vote.

Hewitt, who has known Ardzinba for several decades, characterized him as "a distinguished academic, an eloquent advocate of both Abkhazian rights in particular and minority rights in general, an inspiring war leader, a patriotic politician and president, with whom Tbilisi could actually have worked," had Georgian leaders sincerely wanted a peaceful solution to the conflict.

Russian political scientist Aleksandr Krylov described him as "not a typical politician -- he was too gentle and too intelligent -- but in a critical situation he was capable of the most decisive actions to defend national interests."

Speaking on Abkhaz television on March 4, Bagapsh, who was himself reelected for a second term last December, praised his predecessor as "a national hero" and "an outstanding historical figure."
Source: RFE/RL