Saakashvili, Falling Star, by Jeremy Druker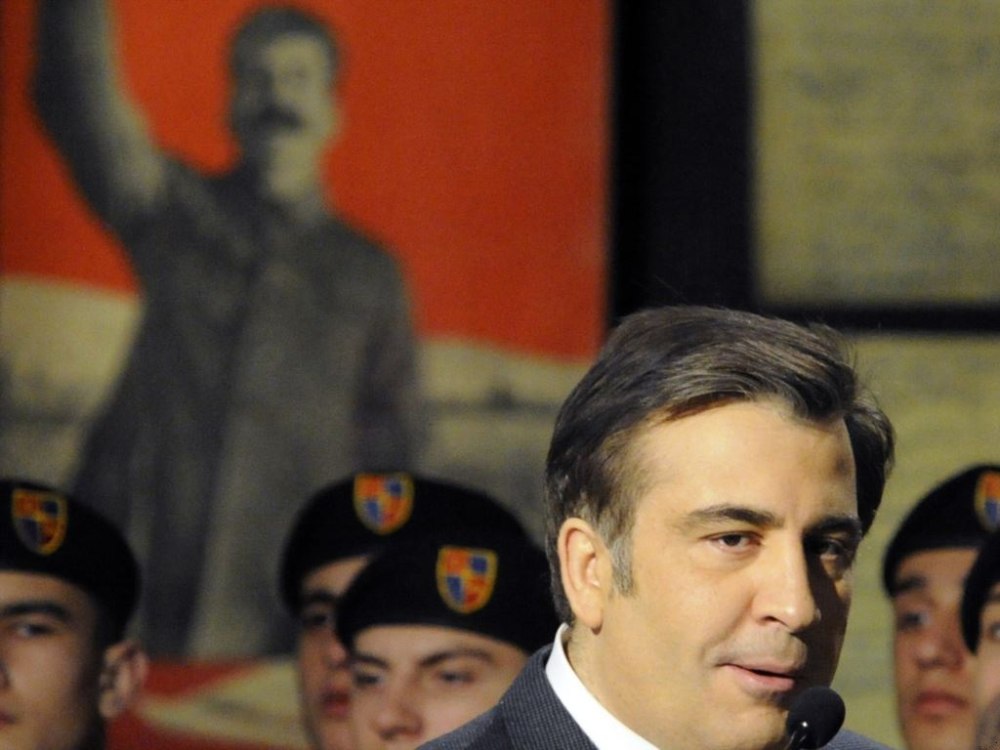 ISN Security Watch 
Once a favorite of the Bush administration, Georgian President Mikheil Saakashvili is not faring well under a change of US leadership; and an EU report on the Russian-Georgian war will have a humbling effect, Jeremy Druker comments for ISN Security Watch.
"Even where I come from, a billion dollars for five million people is a lot of money," remarked US Vice President Joe Biden on a July trip to Tbilisi.
His mission was mainly to reassure Georgians that the US had not forgotten about them in the move to improve relations with Russia. Yet the comment, just a few minutes before Biden departed from pleasantries and momentarily assailed the state of democracy in the country, also suggested that Washington needed to see more in return for that enormous investment.
Last week, a 1,000-page, EU-sponsored report on the 2008 Georgian-Russian war may have served as a further blow to Georgian President Mikheil Saakashvili's already shaky relationship with officialdom in Washington.
The report's authors aimed to dig deeper than any previous inquiry and figure out, as definitively and independently as possible, what happened during those five fateful days of last year's conflict. They ended up essentially damning both sides.
Moscow had set the stage for the conflict with "years of provocations, mutual accusations, military and political threats and acts of violence," the report read. Russian then acted with force and aggression incompatible with the real threat to its peacekeepers, including illegal excursions into undisputed Georgian territory.
Georgia had, however, fired the war's first shots, shelling South Ossetia – an unjustified act according to international law because of the failure to substantiate proof of a real Russian invasion.
The relationship with the US had already soured long before the results of the report confirmed the generally accepted version of events in Washington. Gone are the days when Georgia was the 'star' of the post-Soviet space, with a western-educated, English-speaking president who had come to power in the wake of the pro-democracy, anti-corruption 'Rose Revolution.'
George W Bush's departure from the White House has been a key reason for the changed dynamics, as Saakashvili was one of Bush's favorite poster children for his democracy promotion efforts and the two had a reportedly close, personal relationship.
While publicly, US policy hasn't shifted much with the new administration (and Biden and Secretary of State Hillary Clinton are seen as Georgia boosters), the individualized nature of recent relations is a thing of the past. Obama and Saakashvili haven't met yet, not even at the recent UN General Assembly meeting.
Lower down the policy hierarchy in Washington, mid- and lower-level US officials dealing with the South Caucasus speak openly — but off the record — that Georgia might be better off without 'Misha,' that he causes too many problems and has lost his luster as a reformer. They have few hopes that the country will make a significant turnaround before the next presidential elections in 2013.
The Georgian president's performance both before, during and after the war with Russia also has a lot to do with the general disappointment — especially Saakashvili's willingness to let himself get provoked into the attack on South Ossetia, which was followed by the predictable over-reaction of Russia, a lack of military intervention from the West, and the loss of a further chunk of this small country's territory.
How the report figures into all of this remains unclear. On one hand, as Lincoln A Mitchell, a Georgian expert who teaches at Columbia University, tells ISN Security Watch: "The report just confirms what has come to be conventional wisdom on the part of the US and Europe. There is nothing there that is going to counter what reasonably informed journalists and policy officials in America and European already know."
Yet public confirmation by an independent committee that Georgia has officially misrepresented its war-time actions might be just what those bureaucrats in the US State Department need to humble the notoriously arrogant Saakashvili — and yet another reason for giving Georgia a more modest (and appropriate) place in US foreign policy and not the centerpiece prominence it once had.

Jeremy Druker is executive director, editor-in-chief and one of the founders of Transitions Online.
Source: ISN Security Watch