Victims of Geopolitics: Young Generations in Abkhazia Struggle with Lack of Travel and Education Opportunities Abroad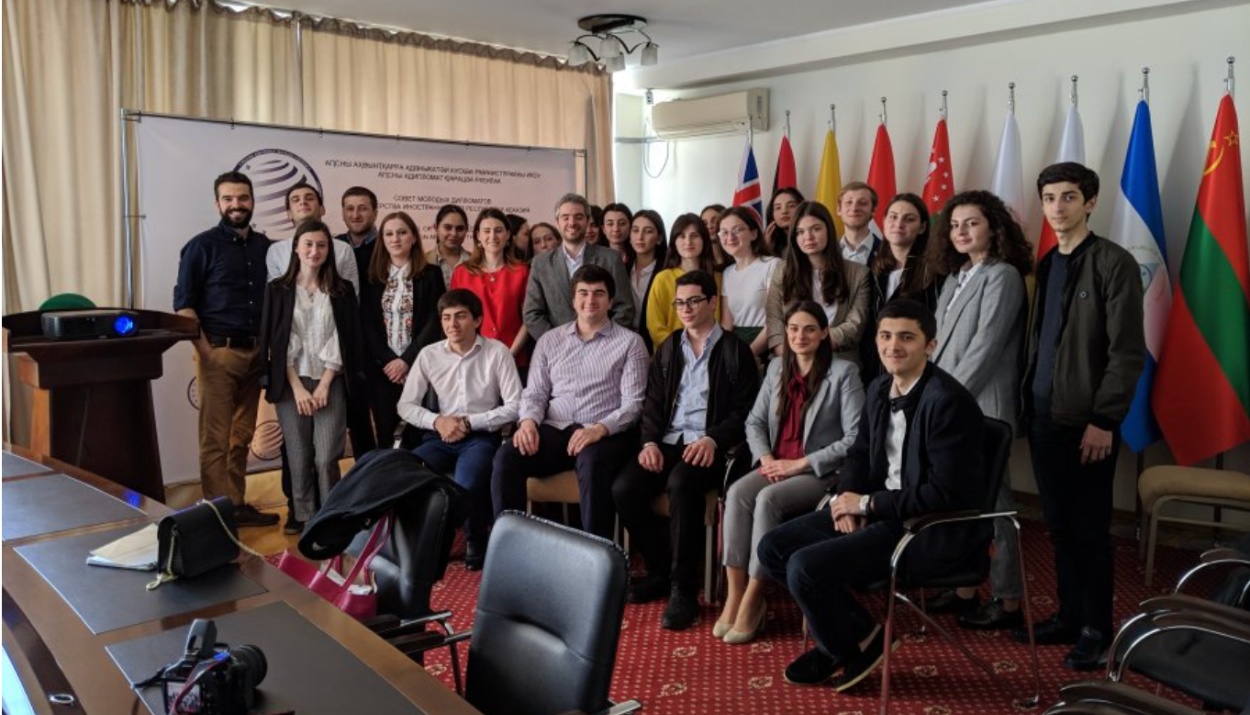 by UNPO

Trapped by geopolitics. For almost three decades now, Abkhazia has been kept isolated from the international community. Troubled by competing spheres of influence and the prolonged standstill of the peace negotiations under the framework of the Geneva International Discussions, the status quo today benefits no one. For Abkhazia, this means being locked out from major multilateral organisations and being blocked from access to international trade and aid. Often regarded by the media as an occupied territory or "a country that does not exist", Sukhum struggles to overcome the stigma of belonging to the list of states with limited recognition.
In this context, 250.000 people in Abkhazia live their lives under severe limitations. Part of this issue, the lack of internationally recognized travel documents and diplomas affect the young generations in particular. Regardless of ethnic, national or religious affiliations, these citizens are the ones paying the price for the unresolved status of another "frozen conflict", a legacy of the disintegration of the Soviet Union and lethargy of the international community. In order for these individuals to enjoy fundamental rights in accordance to the United Nations Sustainable Development Goals, the European Union should resume the design and implementation of pragmatic solutions of engagement with Abkhazian citizens that do not depend on the resolution of the political status of the territory.
While recognized by most of the world as a de jure part of Georgia, including the European Union, Abkhazia has been effectively managing its own affairs for almost thirty years, dating back to when both were inside the Soviet Union. Currently, only Russia, Nicaragua, Venezuela, Syria and Nauru have formally acknowledged Abkhazia as an independent state. The limited political recognition limits the rights of Abkhazians, as they can't enjoy the privileges that the inhabitants of any other UN member state take for granted.
Recognition of Travel Documents
Among the many byproducts of such exclusion, the lack of internationally recognized passports prevents the younger generation from effectively participating in the global community, as they can neither explore the world through travel nor engage in cultural or education exchanges beyond the five states that recognize Abkhazia. According to the Ministry of Foreign Affairs of Abkhazia, the state has mutual visa-free agreements with the Russian Federation, the Republic of Nicaragua, the Republic of Tuvalu, Transnistria and South Ossetia. According to Freedom House, about 70 percent of Abkhazia's residents hold Russian passports, whereas the other 30 percent of its inhabitants possess just largely unrecognized Abkhazian passports.
This first period of Russian passportization came during the collapse of the Soviet Union, when Russia conceded citizenship to former Soviet citizens until 2002. In the aftermath of the war fought between Sukhum and Tbilisi in the early 90's, many Abkhaz citizens rejected Georgian documents. At the time, Russia set temporary offices in six districts of Abkhazia to receive applications and thousands of passports were sent to Abkhazia. In a short period of time, Russian passport holders in Abkhazia increased from 20 percent to more than 80 percent by January 2003.
Moscow stopped issuing documents in Abkhazia when Russia recognized the state in 2008. Today, Abkhazians can only obtain Russian citizenship by effectively residing in Russia and going through the official procedures. As a result, the younger Abkhazian generation that did not benefit from Russian passport issuing have been unable to travel anywhere abroad beyond Russia. Today, those holding Russian documents issued in Sukhum cannot obtain Schengen visas, as European consulates in some cases require the applicant to provide a Russian passport with a residence permit in the Russian Federation.
In July 2011, the Georgian government introduced 'status-neutral' passports to facilitate travel for people living in Abkhazia. Some countries such the Czech Republic, Slovakia, Latvia, and Lithuania recognized these documents, but very few Abkhazians accepted them due to issues of national identity and fear of stigmatization by their local community. These status-neutral passports do not carry Georgian state symbols but do have a Georgian-issued international code and must be collected on Georgian-controlled territory.
On 27 February 2017, the European Council adopted a regulation on visa liberalization for Georgians traveling to the EU for a period of stay of 90 days. In this regard, Georgian President Giorgi Margvelashvili remarked that people living in the Abkhazia and South Ossetia would also be able to travel to Europe without a visa, as they are perceived by Tbilisi as citizens of Georgia. In response, Abkhazia's Foreign Minister published a statement clarifying that Abkhazians were not eligible to enjoy the visa free movement granted to Georgia, as they are citizens of Abkhazia. At the time, Abkhazia claimed that the statements from Georgian officials were an attempt to mislead Abkhazian citizens.
In practice, for Abkhazians to travel, the main route to the world goes through Russia. In addition to severe limitation related to travel documents, residents of Abkhazia rely heavily on Russia's Sochi International Airport, as the long-closed airport in Sukhum remains nonoperational.
+ Abkhazian children are victims of the 23rd April
+ "Cards" instead of visas, by Demis Polandov
+ KVN team from Abkhazia failed to come to festival in Jurmala because Latvia refused to give visas


Obstacles to Cultural and Educational Opportunities Abroad
In 2013, children from an Abkhazian dance group were invited to participate in the International Children's Festival, in Turkey. Initially, the minors were presented as members of the Republic of Abkhazia. Georgia complained and the organizers changed the name of the Republic of Abkhazia to Abkhazia Autonomous Republic-Georgia, causing protests among the invited troupe. The Festival resolved the issue removing Abkhazia from the country-list, impeding the children to travel to Turkey.
On June 2015, the Hungarian Embassy to Russia refused a Schengen visa to the Abkhazian National football team players to participate in the European football championship of the Confederation of Independent Football Associations (ConIFA) in Hungary. The Foreign Ministry of Abkhazia saw the visa denial episode as a systematic strategy applied by Georgia and its allies to further isolate Abkhazia and considered the decision politically motivated.
Not being acknowledged by the international community also causes great hardships when it comes to education. In most cases, Abkhazian students, as opposed to their European recognized counterparts, are unable to study abroad and hold unaccepted diplomas, which further hinders their opportunities outside the country.
The Abkhazian State University (ASU), which is located in Sukhum, is the only university in Abkhazia. It was founded in 1979 and has over 3.000 students. ASU's issued diplomas have restricted validity beyond Russia. Countries that do not recognize the Republic of Abkhazia do not accept any certification or qualification issued by the local authorities. Moreover, the Abkhazian State University is not part of international educational systems such as Bologna and therefore is not subject to international educational assessments and has no collaboration with mobility schemes such as Erasmus.
A low percentage of Abkhaz students have been able to study in foreign countries other than Russia in recent years, albeit with many practical constraints. Besides the aforementioned travel obstacles, those wishing to pursue an education abroad need to take an English language test in an internationally recognized center. There are no such places in Abkhazia, which limits the already very few existent opportunities. There is high demand for learning English, but the territory's isolation to international visitors poses many problems. The students' lack of access to technology and research methodology skills are also seem as impediments to applying for international educational schemes.
During interviews conducted by the UNPO in May 2019 with students and staff members of the Abkhazian State University (ASU), a large number of talented graduates revealed how promising opportunities to participate in events and scholarship programmes abroad were thwarted by the lack of recognized travel documents and/or diploma. One student had her application at an European Mathematical event confirmed based on her high marks, only to be rejected later due to issues with her inability to use the Abkhazian passport to travel to the hosting country. Another student from the department of law had scored all the necessary marks required to participate in a workshop in Germany, but was later unable to proceed with his plans for the same reason. Obstacles also affect staff members of the university, who are restricted to establishing educational networks beyond Russia.
As a result, many Abkhaz students choose to leave the country and seek education opportunities in neighbouring Russia, contributing to depopulation and a worrying brain drain. In 2018, it is estimated that almost 1.700 young Abkhaz were enrolled in Russian universities, 782 of whom subsidized by the Russian Federation government.
Inspiration from Successful Programmes
Before the Georgia-Russia War in August 2008, a few successful cases were in place. The US Future Leaders Exchange (FLEX) program, for instance, used to operate in Abkhazia, sending two or three students to US high schools for one academic year.
In December 2008, two students, each from Georgia and Abkhazia, travelled to the United Kingdom to do an internship with the independent organization Conciliation Resources. The project was designed for bringing people from the South Caucasus together and involving the younger generations in finding peaceful roads ahead. Since the mid-1990s, Conciliation Resources has been working on initiatives to establish connections between the opposing parts in safe and neutral environments through workshops and study visits.
In 2017, the German Academic Exchange Service (DAAD) funded a one-month research stay in Germany to one Abkhaz and one Georgian to address the topic of multi-lingual language education in conflict-affected regions. It was done through the Corridors Fellowship program which offers to young and established scholars from conflict-affected societies in the post-Soviet space the opportunity for a research stay at German Universities and Research Institutes.
In 2014, the Free University of Brussels ran the Abkhaz University Project whereby four European academics visited the ASU and taught courses, and four academics from the ASU visited European universities in Belgium, the Czech Republic and Italy.
The British-funded Chevening Scholarship authorize Abkhaz students to apply for fully-funded grants to pursue a one-year master's degree in any subject at any UK university. In 2005, the program introduced 'South Caucasus' in the list of countries eligible for applying, effectively including students and young professionals from the region who don't identify themselves with Georgia, Armenia or Azerbaijan. The scheme is considered to be a success, since Abkhaz students can interact with international students as well as Georgians while studying. It is important that both sides of the conflict are academically and professionally prepared, in order to engage in effective processes in pursuit of peace. However, personnel involved in the Chevening program admit that it will be difficult to bring more local students, since, as stated before, most of them are not sufficiently well-prepared when it comes to academic standards and English proficiency.
The Role of the European Union
Today, the already limited opportunities for Abkhazian students to study and engage abroad are diminishing even further. The lack of progress in the Geneva International Discussions, the increasing isolation of the country by the international community and the lack of institutional incentives could all lead to a new era of hardening national identities in region. On the other hand, the moment represents a renewed opportunity for the EU to embrace young Abkhazians who have no memories of the war. Through cultural and educational opportunities, Brussels could play a key role in building peace in the South Caucasus, as part of its broader mission to contribute to democracy, human rights and the rule of law in other countries.
In practice, there are many examples where national passports of partially recognized states are used as the travel documents. The position of Slovakia, which, while not recognizing Kosovo's independence, recognized Kosovo passports as travel documents - on which citizens of Kosovo have the opportunity to obtain a Slovak visa - can serve as a vivid example. At the same time, the official representatives of Slovakia point out that the recognition of Kosovo passports does not mean recognition of Kosovo's independence and that, in fact, such policy is solely based on humanitarian considerations.
Source: UNPO