Khibla Gerzmava - International Abkhazian Artist (Soprano)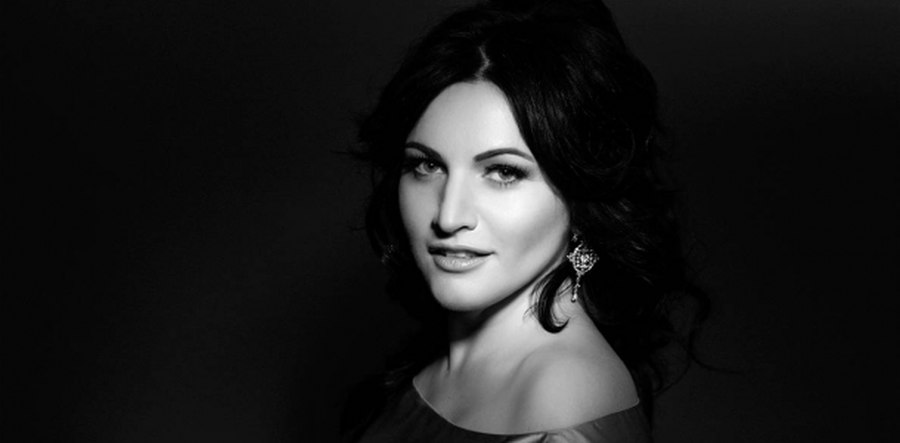 Khibla Gerzmava was born in Pitsunda, Abkhazia on January 6, 1970
People's Artist of the Republic of Abkhazia. Honoured Artist of Russia.
Winner of International vocal competitions, the Grand Prix of the Xth Tchaikovsky Competition.
Khibla Gerzmava graduated from the Vocal Department of the Moscow Conservatory in 1994, and finished her post graduate course at the same Conservatory in 1996. Since 1995 she has been the soloist of the Stanislavsky&Nemirovich-Danchenko Musical Theatre in Moscow.
She has also performed at the stages of the Mariinsky (St.Petersburg), the Champs-Elysées and the Chatelet Theatres (Paris), Il Teatro Communale di Firenze, the Sofia Opera and Tokio Bunka Kaikan.
The repertoire she sings at the Stanislavsky&Nemirovich-Danchenko Musical Theatre includes such parts as Ludmila (M.Glinka's "Ruslan and Ludmila"), the Swan-Princess (Rimsky-Korsakov's "The Tale of Tsar Saltan"), the Shemakha Queen (Rimsky-Korsakov's "The Golden Cockerel"), Louisa (Prokofiev's "The Betrothal in the Monastery"), Rosina (Rossini's "Il barbiere di Sivigla"), Adina ("L'elisir d'amore" by Donizetti), Mimi and Musetta ("La bohème" by Puccini), la Nimphe ("Daphne" by Gagliano), Adele ("The Fledermaus" by J. Strauss), Violetta ("Traviata" by G.Verdi).
Among the roles she has sung on other stages there are Violetta ("La Traviata" by Verdi), Lucia ("Lucia di Lammermour" by Donizetti), Zerlina ("Don Giovanni" by Mozart) and Parasha ("Mavra" by Strawinsky).

Shish Nane, Lament of Exile, Abkhazian / Alisa Gitsba & Hibla Gerzmava
Khibla Gerzmava has taken part in the tours of the Stanislavsky & Nemirovich-Danchenko Musical Theatre in South Korea and Japan (1997, 2003) and the USA (2002, 2004) and in the tours of the Kazan Opera Theatre in the Netherlands in 2005.
She has toured with recitals in Sweden, France, Netherlands, Austria, Belgium, Spain, Greece, the USA, Japan and Turkey. In 2002 and 2003 she took part in the Ludwigsburg Festival (Germany) where she sang Eva in "Die Schopfung" by Haydn and the Angel in the "Rappresentazione di Anima et di Corpo" by E. de Cavalieri.
Khibla Gerzmava is often invited to take part in oratorio concerts. She has sung soprano parts in Mozart's Requiem, Mass C minor, Coronation Mass, Vesperae solennes de confessor, in Beethoven's Fifth Symphony and Verdi's Requiem.
Khibla Gerzmava is the promoter and one of the organizers of the Classical Music Festivals in Sukhum (Abkhazia).
She has recorded several CDs: "Ave Maria" Khibla Gerzmava. DICJ-25008; Khibla Gerzmava sings Russian Romances. DMCC — 26015; Oriental Romances Hibla Gerzmava. DICC — 28006; World Premiere. The Music of Aldo Finzi. Bel Air Music BAM 2029; Musical Assemblies at the Tretiakov's House, Musica Viva, 2002.
Offical Web Site of Hibla Gerzmava
Personal:
Surname: GERZMAVA
First name: KHIBLA
Voice: Soprano

Born on January 6, 1970 in Pitsunda (USSR)
Nationality: Russia/Abkhazia

e-mail: This email address is being protected from spambots. You need JavaScript enabled to view it.
Position held:
1995 - p/t - Stanislavsky and Nemirovich-Danchenko, Moscow academic Music Theater. Soloist
Education:
1996 - p/t - Studying the opera parts with professor E. Arefieva
1994 - 1996 - Postgraduate course of the Moscow Conservatoire (teacher - professor E. Arefieva)
1989 - 1994 - Moscow State Conservatoire. Graduate diploma. Principal study: singing. Teachers: professor I. Maslennikova, professor E. Arefieva)
1985 - 1989 - Music College in Sukhumi (Abkhazia). Principal study: piano.
Teachers:
Professor Evgenia Arefieva (Russia)
Professor Irina Maslennikova (Russia)
Madame Josephine Mbumburidy (Greece)
Competitions/Awards:
1994

International Tchaikovsky Competition. Moscow (Russia). The Grand Prix Winner.
32nd International Francisco Vinas Competition. Barcelona (Spain). 2nd Prize Winner.
The International Rimsky-Korsakov Competition. St.-Petersburg (Russia). 2nd Prize Winner.

1993

33rd International Competition «Voci Verdiani». Busseto (Italy). 3rd Prize Winner.

2001

«The Golden Orpheus» Opera Festival. Moscow (Russia). The Best Singer Award
Conductors (selected):
Valery Gergiev (Russia)
Vladimir Fedoseev (Russia)
Mikhail Pletnev (Russia)
Vassily Sinaisky (Russia)
Alexander Rudin (Russia)
Vladimir Spivakov (Russia)
Wolfgang Gonnenwein (Germany)
Helmuth Rilling (Germany)
Antoni Wit (Belgium)
Mats Liljefors (Sweden)
Javier Perez Batista (Spain)
Alexandros Symeonide (Greece)
Kazuhoko Komatsu (Japan)
Kazuyoshi Akiyama (Japan)
John Giordano (USA)
OPERATIC PERFORMANCES:
G. Verdi - «La Traviata» (Violetta Valery), 2004 (September - October, 12 performances in all). The US tour of the Stanislavsky Opera, organized by CAMI
G. Donizetti - «Lucia di Lammermoor» (Lucia). 2005 (February) Amsterdam (The Netherlands), 2003 (December 17) Saint-Petersburg (Russia). The Mariinsky Theatre
G. Rossini - «Il Barbiere di Siviglia» (Rosina). 2003 (October), Moscow (Russia), The Stanislavsky and Nemirovich-Danchenko Moscow academic Music Theatre
N. Rimsky-Korsakov - «The Golden Cockerel» (The Queen of Shemakha), 2003 (December 26), Saint-Petersburg (Russia), The Mariinsky Theatre
2003 (April), Moscow (Russia), The Stanislavsky and Nemirovich-Danchenko Moscow academic Music Theatre
J. Strauss - «Die Fledermaus» (Adele) 2001 (February), Moscow (Russia), The Stanislavsky and Nemirovich-Danchenko Moscow academic Music Theatre
S. Prokofiev - «Wedding in the Monastery» (Louise) 1999 (September), The Stanislavsky and Nemirovich-Danchenko Moscow academic Music Theatre
G. Donizetti - «L'Elisir d'amore» (Adina) 2005 (March 7 - May 1), Gran Teatro de Liceo, Barcelona (new production), 1998 (July), Moscow (Russia), The Stanislavsky and Nemirovich-Danchenko Moscow academic Music Theatre
G. Puccini - «La Boheme» (Musetta), 2003 (November), Seoul (Korea), Seoul Arts Center (Opera House). The guest performance of the Stanislavsky and Nemirovich-Danchenko Moscow academic Music Theatre, 1997 (October, 30), Seoul (Korea), Seoul Arts Center (Opera House). The guest performance of the Stanislavsky and Nemirovich-Danchenko Moscow academic Music Theatre, 1996 (January), Moscow (Russia), The Stanislavsky and Nemirovich-Danchenko Moscow academic Music Theatre
G. Puccini - «La Boheme» (Mimi), 2003 (November), Seoul (Korea), Seoul Arts Center (Opera House). The guest performance of the Stanislavsky and Nemirovich-Danchenko Moscow academic Music Theatre, 2002 (February), Sofia (Bulgaria), National Opera, 2002 (December), Tokyo, Maebashi, Kofu (Japan) Tokyo Bunka Kaikan
Rimsky-Korsakov - «The Tale of Tsar Saltan» (The Swan), 1997 (October), Firenze (Italy), Teatro Comunale di Firenze, 1997 (August) The Stanislavsky and Nemirovich-Danchenko Moscow academic Music Theatre
Glinka - «Ruslan and Ludmila» (Ludmila), 2004 (May), St-Petersburg (Russia), Mariinsky Theatre, (broadcasted on TV), 2004 (May, June), St-Petersburg (Russia), Mariinsky Theatre, 2002 (February), St-Petersburg (Russia), Mariinsky Theatre, 1996 (November) Moscow (Russia), The Stanislavsky and Nemirovich-Danchenko Moscow academic Music Theatre
Stravinsky - «Mavra» (Parasha), 1995 (March, 15), Paris (France), Theatre des Champs Elysees
W. A. Mozart - «Don Giovanni» (Zerlina), 1993 (July) Moscow (Russia) Moscow State Conservatoire, the Grand Hall. With the Symphony Orchestra of the Moscow Conservatoire. Conductor: V. Kataev
ORATORIOS, CHORAL, OPERA CONCERT PERFORMANCES:
G. Verdi. «Requiem», 2005, July 7, 9. Tokyo, Japan
O. Respighi, «Il Tramonto», 2004, July 3. Colmar, France, 16 Festival International de Colmar, Eglise St. Matthieu. With «Virtuosi di Mosca». Conductor: Vladimir Spivakov
E. dei Cavalieri. «La Rappresentazione di Anima e di Corpo», 2003, July 9. Ludwigsburg, Germany Ludwigsburger Festspiele, Schlosstheater. With the Ludwigsburger Festspiele Orchestra. Conductor: Theodor Kourentzis
G. Puccini. «La Boheme» (Musetta), 2003, June 7. St.-Petersburg, Russia St.-Petersburg Philharmonic Society, Grand Hall. Conductor: Alexander Kantorov
Hayden. «Die Schopfung» (Eva), 2002, July 14. Ludwigsburg, Germany. Ludwigsburger Festspiele, Klosterkirche Beuron Beuron. With the Ludwigsburger Festspiele Chorus and Orchestra. Conductor: Wolfgang Gonnenwein.
G. F. Handel. Judas Maccabaeus, 2001, December 16. Moscow, Russia. Tchaikovsky Concert Hall. With the Moscow chamber orchestra «Musica Viva». Conductor: A. Rudin
I. S. Bach. Coffee cantata, 2000, September 26. Istanbul, Turkey, The Festival «Bach is in Istanbul». St. Irene Cathedral. With the Moscow chamber orchestra «Musica Viva». Conductor: A. Rudin, 1996, October 12. Hohenems, Austria. The Hohenems Palace «Rittersaal». With the «Arpeggione» chamber orchestra. Conductor: A. Rudin
J. Haydn. Die Fahreszeiten. 1996, Hohenems, Austria. With the «Arpeggione» chamber orchestra. Conductor: A. Rudin
L. Beethoven - «Symphony N9». 1995, December 29. Tokyo, Japan. The Santory Hall. With the Tokyo Symphony Orchestra. Conductor: Kazuyoshi Akiyama.
G.Verdi - «Falstaff» (Nanetta). 1994, March. Moscow, Russia. Moscow State Conservatoire, the Grand Hall. With the Russian National Orchestra. Conductor: M. Pletnev
W. A. Mozart - «Requiem». 1992, October 10. Moscow, Russia. Moscow State Conservatoire, the Grand Hall. With the Symphony Orchestra of the Moscow Conservatoire. Conductor: H. Rilling (Germany)
CONCERT ENGAGEMENTS:
PARTICIPATION IN THE GALA CONCERTS
2005, March 2. The Moscow Conservatoire, Grand Hall, Concert with «I Virtuosi di Mosca», conductor V. Spivakov
2004, November 5. New Brunswick, NJ, USA. The US tour of the Stanislavsky Opera, organized by CAMI
2004, July 3. Colmar, France. Concert with «I Virtuosi di Mosca», conductor V. Spivakov
2003, December 31. The Moscow International House of Music With the National Philharmonic Orchestra of Russia, conductor Vladimir Spivakov
2003, December 16. The Moscow Conservatoire, Grand Hall. Concert with the Moscow Chamber Orchestra «Musica Viva». Conductor: A. Rudin.
2002, May. The Moscow Conservatoire, Small Hall. Moscow Easter Festival 2002. Concert with piano
2001, October 9. The Moscow Conservatoire, Small Hall. Anniversary of S. S. Prokofiev. Concert with piano
2000, January 13. Paris, France. The UNESCO' Small Hall. Concert with piano.
1997, June 11. Moscow, Russia. The Moscow Conservatoire, Grand Hall. Concert with the Moscow Chamber Orchestra «Musica Viva». Conductor: A. Rudin.
1996, January 25/28. Tokyo, Japan. The Santory Hall. Concert with the Moscow Philharmonic Symphony Orchestra. Conductor: V. Sinaisky.
1996, January 12. Tokyo, Japan. The The Santory Hall. The Tokyo Symphony Special Concert. Conductor: Kazuyoshi Akiyama.
1995, August 26. Karlstad, Sweden. Varmland Classic Festival. Concert with the «Hermitage» orchestra. Conductor: M. Liljefors.
1994, November 20. Barcelona, Spain. «De la Musica Catalana» Palace. Concert with the Gran Teatre «Del Liceu» Orchestra. Conductor: Javier Perez Batista.
1994, October 21. Tokyo, Japan. The Tokyo Metropolitan Art Space. Concert with the Tokyo City Philharmonic Orchestra. Conductor: Kazuhoko Komatsu.
1994, October 14. Athens, Greece. The Megaro Concert Hall. Concert with the Athens Kpatikh Symphony Orchestra. Conductor: A. Simeonide.
1994, September 30. Brussels, Belgium. Palais des Beaux-arts. Concert with the National Orchestra of Belgium. Conductor: A. Vit.
1994, September 24. Fort Worth, USA. The Tarrant Country Convention Center. Concert with the Fort Worth Symphony Orchestra. Conductor: John Giordano.
1994, January 24. St.-Petersburg, Russia. The Mariinsky theater. Concert with the Mariinsky theater orchestra. Conductor: A. Anisimov.
1993, June 26. Busseto, Italy. Piazza G.Verdi. Concert with the «A. Toscanini» Symphony Orchestra of the Emilia-Romagna Province. Conductor: F. Monica
SOLO RECITALS WITH ORCHESTRA
1995, June 1. Stockholm (Sweden). The Royal Palace. Concert with the Royal Swedish Chamber Orchestra. Conductor: Mats Liljefors.
1994, September 14. Moscow, Russia. The Moscow Conservatoire, Grand Hall. Concert with the Moscow Radio Grand Symphony Orchestra. Conductor: V. Fedoseev.
1993, November 5. Moscow, Russia. The Moscow Conservatoire, Grand Hall. Concert with the Russia Radio symphony orchestra. Conductor: A. Mikhailov
PIANO RECITALS (the most important)
2005, March 5. The Moscow International House of Music
2004, July 10. Colmar, France. Chapelle St. Pierre.
2003, February 27. Moscow, Russia. The Residence of the Ambassador of France in Moscow.
2000, December 15. Tokyo, Japan. Kioi Hall.
2000, December 16. Tokyo, Japan. Oji Hall.
1998, February 22. Nagoya (Japan). Aichi Prefectural Art Center.
1998, February 17. Tokyo (Japan). Tokyo International Forum Hall.
1998, February 11. Osaka (Japan). The Tojo Cosmic Hall.
1998, May 21. Moscow, Russia. The Moscow Conservatoire, Grand Hall.
1996, June 4. Ankara, Turkey. Art Museum Operal Hall.
1996, May 28. Istanbul, Turkey. Ataturk Culture Centre.
1996, February 3/5. Tokyo, Japan. The Santory Hall.
1996, January 19. Tokyo, Japan. The Nikkei Hall.
1995, October 11. Paris, France. Theatre du Chatelet.
1995, January 23. Hague, Netherlands. The Koninklihk Conservatorium Hall.
1994, October 25. Tokyo, Japan. The Tokyo Metropolitan Apt Space
RECITALS WITH ORGAN
1997, February 11. Moscow, Russia. The Moscow Conservatoire, Grand Hall
1990, June 14. Pitsunda, Abkhazia. The Temple
RECORDINGS CD:
Solo:
«Ave Maria» Khibla Gerzmava, ATCO - 1024 Japan, Japan Arts
Khibla Gerzmava sings Russian Romances DMCC - 26015 Japan 2000 DML Classics
Oriental Romances Hibla Gerzmava DICC - 28006 Japan 2000 DML Classics
Participation in the mixed programs:
World Premiere. The Music of Aldo Finzi. BAM 2029 Digital Recording, Moscow Radio Studio 5, 6/2002
Musical Assemblies at the Tretiakov's House. Recorded in Moscow at the concerts in the Vrubel Hall of the State Tretiakov Art Gallery. Copyright - Musica Viva, 2002
REPERTOIRE:
OPERA:
Mozart, «Don Giovanni» - Zerlina
Mozart, «Requiem»
Verdi, «La Traviata» - Violetta
Rossini, «Il Barbiere di Siviglia» - Rosina
Puccini, «La Boheme» - Mimi
Puccini, «La Boheme» - Musetta
Donizetti, «L'Elisir d'Amore» - Adina
Donizetti, «Lucia di Lammermoor» - Lucia
Glinka, «Ruslan and Ludmila» - Ludmila
Rimsky-Korsakov, «The Tale of the Tsar Saltan» - The Swan
Rimsky-Korsakov, «The Golden Cockerel» - The Queen of Shemakha
Stravinsky, «Mavra» - Parasha
Prokofiev, «Wedding in the Monastery» («The Duenna») - Louise
J. Strauss, «Die Fliedermaus» - Adele
CHORAL, ORATORIOS
E. dei Cavalieri, «La Rappresentazione di Anima e di Corpo» - Angel
J. Haydn, «Die Schopfung» - Eva
J. Haydn, «Die Fahreszeiten»
G. F. Handel, «Judas Maccabaeus»
I. S. Bach, «Coffee cantata»
L. Beethoven, «Symphony N9»
W. A. Mozart, «Requiem»
LIEDER AND ART SONG REPERTOIRE
R. Schumann, «Frauen-Liebe und Leben». Op. 82.
N. Myaskovsky, «Madrigal» suite. Op. 7
M. Ippolitov-Ivanov, «Five poems by R. Tagor»
S. Prokofiev, «Five poems by A. Akhmatova». Op. 27
M. Glinka , Romances
P. I. Tchaikovsky, Romances
N. Rimsky-Korsakov, Romances
S. Rakhmaninov, Romances
Plans for 2005 include:
G. Donizetti - «Lucia di Lammermoor» (Lucia), 2005 (February) Amsterdam (The Netherlands)
G. Donizetti - «L'Elisir d'amore» (Adina), 2005 (March 7 - May 1), Gran Teatro de Liceo, Barcelona (new production)
G. Verdi. «Requiem», 2005, July 7, 9. Tokyo, Japan
Participation in the Gala-concert with «I Virtuosi di Mosca», conductor V. Spivakov, 2005, March 2. The Moscow Conservatoire, Grand Hall
Solo recital with piano, 2005, March 5. The Moscow International House of Music
Plans for 2006 include:
Solo recitals with orchestra, conductor Alexander Lazarev. 2006, May. Tokyo, Japan (+ several other cities in Japan)