In the centre of Sukhum, the lights on the main New Year tree have been lit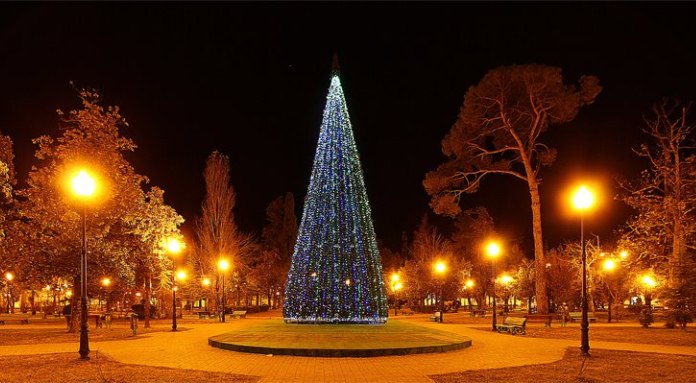 In the centre of Sukhum, the main New Year tree has been garlanded in lights. Its height reaches almost 20 metres. It is decorated with beautiful, large New Year toys: balls, bells, bows, glittering garlands. Around the New Year tree gather young parents with children, grandparents with their grandchildren, couples, guests of the capital. The Central Park, where the tree is installed, has become a favourite place for celebrations. It gets particularly crowded here in the evenings.
Soon, New Year performances will start by the main tree.
The city administration's Committee on Youth and Sport has prepared a special entertainment-programme. Every day from 25 to 30 January, from 3 to 6 p.m., Santa Claus and the Snow Queen will be waiting by the tree for Sukhum's small residents. Under their guidance, the children will not only perform dances around the Christmas tree, but they will also participate in various games and competitions. They will be offered the opportunity to cut out figures from paper, paint magnets, sing, and read poetry. Mobile-operator "A-mobile" and the Committee on Youth and Sport have prepared gifts for them. All guests will be offered hot tea, cocoa and pancakes. And in the evenings in an open-air the children will be shown cartoons, whilst for adults there will be films on the theme of New Year.
And immediately following the arrival of the New Year, in the evenings from 1 to 3 January, cartoons and films will continue to be shown.
Many New Year events are being prepared for Sukhum's small citizens. In all schools and kindergartens special morning assemblies are being held. The Administration's Department of Education has bought a thousand tickets for performances at the Russian and Abkhazian State-theatres, which will be held on 27 December in the building of the State Committee for Repatriation and on 30 December at the Philharmonic Hall. Sukhum's small citizens always enjoy attending the exciting, fun-filled and colourful performances of the actors at these theatres.
On 28 December, at 1 p.m. in the State Philharmonic Hall Sukhum's auxiliary school will present the play "A Winter's Tale." It is designed for children, mostly from low-income families and those with a large number of children.
Madona Kvitsinia, Head of the Department of Information and Public Relations in Sukhum's Administration.