Abkhazia Heads Into A Turbulent Summer, by Liz Fuller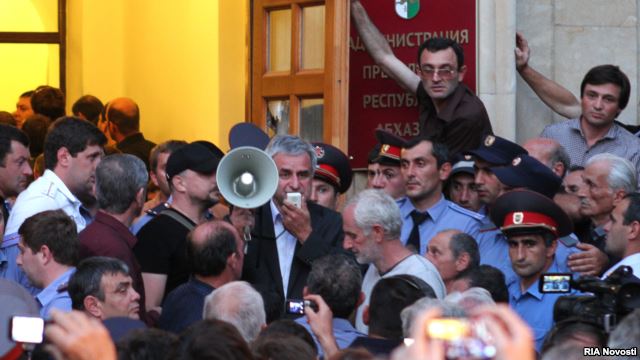 RFE/RL -- The June 1 resignation of Aleksandr Ankvab as de facto president of Georgia's breakaway Republic of Abkhazia has resolved one major domestic political standoff. But there is little likelihood that the run-up to the preterm presidential ballot scheduled for August 24 will be smooth, and its outcome is currently impossible to predict.
 
One of the demands put to Ankvab in late April by the Coordinating Council of 11 opposition parties established last year was the passage of constitutional amendments that would transfer to the parliament and prime minister some of the powers currently invested in the president. This is now impossible, however, because the acting president is not empowered by the Republic of Abkhazia constitution to initiate such amendments.  It will therefore be up to whoever wins the August ballot to initiate those amendments, after which he risks playing second fiddle to whichever of his supporters he has appointed as prime minister.
 
That constitutional conundrum may partly explain why none of Abkhazia's most influential political figures has yet expressed the intention of putting forward his presidential candidacy. Ankvab's longtime rival, Forum of National Unity of Abkhazia Chairman Raul Khadjimba, who played a leading role in the events of the past week that culminated in Ankvab's resignation, has said that at present he has no intention of running. Khadjimba placed second to incumbent Sergei Bagapsh in the December 2009 presidential ballot and third in the August 2011 election necessitated by Bagapsh's untimely death in May 2011. On the first occasion, he garnered 15.4 percent of the vote; on the second, 19.83 percent.
 
Valery Bganba, the agronomist and former parliament speaker whom lawmakers chose on May 31 as acting president, has similarly made clear he will not run. Bganba placed last of five candidates in the December 2009 presidential ballot with just 1.5 percent of the vote.
 
Other possible candidates are former longtime Foreign Minister Sergei Shamba, who served during Bagapsh's second term as premier and who placed a distant second to Ankvab in the August 2011 ballot; wealthy businessman Beslan Butba, who heads the Party of Economic Development of Abkhazia; and Vitaly Gabnia, chairman of the organization Aruaa representing veterans of the 1992-93 war that ended in Georgia's loss of control over Abkhazia.
 
The second potentially destabilizing factor is tactical disagreements within the opposition as a whole, which brings together "young idealists and bureaucrats from the previous government," and specifically the 21-member Provisional Council of Popular Trust set up last week and headed by Khadjimba. Writing for the website kavpolit.com, Anton Krivenyuk does not rule out the emergence within the Coordinating Council of new rival power groupings.
Source: RFE/RL