Shamba: negotiations with Georgia will yield results after signing a peace-treaty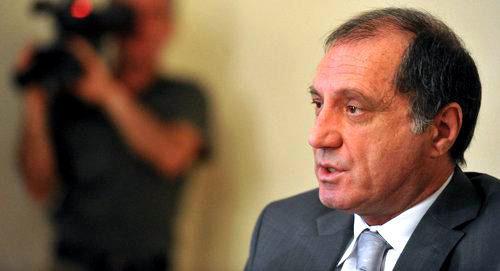 SUKHUM -- The leader of the United Abkhazia party Sergey Shamba commented on the possibility of negotiations between Abkhazia and Georgia.
Sergey Shamba said that, in order to establish political contacts with Georgia, it is necessary to sign a peace-treaty.
"The Foreign Ministry's statement correctly stated that, in order to establish political contacts and obtain tangible results, it is necessary to sign a peace-treaty and abandon the kind of politics where Abkhazia is styled an 'occupied territory' and they [sc. the Georgians] want to present everything as if our actions were dictated by Russia. We have agreed an agreement with Russia, and we will act according to it. When such a time comes, there will be a real result. And to say now that dialogue is not needed is silly. I can't imagine how smart people can say it," said Shamba.
According to him, the countries have been negotiating at various levels since the end of Abkhazia's Patriotic War [sc. between the peoples of Abkhazia and Georgia in 1992-93]. The politician cited as an example the memorandum on the non-use of force and threats of the use of force, signed by Vladislav Ardzinba and Eduard Shevardnadze in 1997, and various meetings of the parties at the level of public diplomacy.
"We are neighbouring countries and, of course, we need somehow to find a common language," said Shamba.

In May 2006, Foreign Minister of Abkhazia Sergey Shamba and Georgian presidential envoy for the conflict, Irakli Alasania agreed to restart a Georgian-Abkhaz council suspended since 2001.
On 17 January a statement appeared on the official website of the Ministry of Foreign Affairs of Abkhazia in connection with "the reaction of Georgian officials regarding proposals on the need to start a dialogue between the two countries emanating from some socio-political figures of Abkhazia."
The Foreign Ministry expressed "surprise" at the information "about the sudden readiness of the Georgian authorities to start a direct dialogue with the Abkhazian side."
In a statement, the Foreign Ministry noted that it favours the possibility of resuming the bilateral format of negotiations which include discussion of: the problems of the republic's isolation, regional security, the environment and other issues that are directly related to humanitarian cooperation.
The topic of the political status of Abkhazia is not the subject of any negotiations, the Foreign Ministry emphasized.
"The process of normalizing relations between the two states and discussing the feasibility of other forms of dialogue between Sukhum and Tbilisi will become possible only after signing a document that legally obliges the parties not to use military force against each other," the Foreign Ministry concluded.