Commentary of the Ministry of Foreign Affairs of the Republic of Abkhazia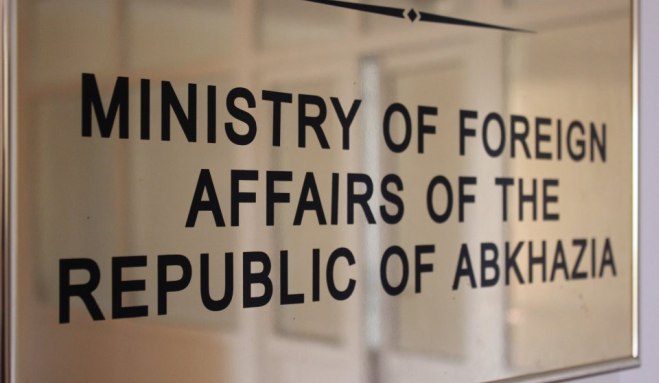 The Ministry of Foreign Affairs drew attention to the reaction of the Georgian officials regarding the proposals on the need to start a dialogue between the two countries, received from some socio-political figures of Abkhazia.
In this regard, we cannot fail to note the astonishment regarding the information on the sudden readiness of the Georgian authorities to start a direct dialogue with the Abkhaz side. In turn, we support the possibility of resuming of the bilateral format of negotiations, which include a discussion of the problems of the isolation of the Republic of Abkhazia, regional security, the environment and other issues that are directly related to the theme of humanitarian cooperation.
At the same time, we especially note that the topic of the political status of our state, based on the will of the people of Abkhazia and enshrined in the Constitution of the Republic of Abkhazia, is not the subject of any negotiations.
It should be recalled that the Republic of Abkhazia led a negotiation process with Georgia, held under the aegis of the UN, with the mediation of Russia and several other countries from 1994 to 2008. In this negotiation format, Abkhazia acted as a party to the conflict, which had a positive effect on the achievement of the certain political and diplomatic results.
The Geneva International Discussions (GID) on Security and Stability in the Transcaucasia were opened, subsequently, as a result of the armed conflict in South Ossetia in 2008 and the recognition of the independence of the Republic of Abkhazia and the Republic of South Ossetia by the Russian Federation. GID - the most important international forum to ensure the predictability of the situation in the region as well as maintaining the political dialogue of Abkhazia and South Ossetia with Georgia.
This format involves the representatives of Abkhazia, Georgia, South Ossetia, Russia, the United States under the co-chairmanship of the EU, UN and OSCE. We consider the dialogue within the framework of the Geneva Discussions useful and advocate for its continuation.
Taking into account the foregoing, we consider it necessary to note that the process of normalizing of the relations between the two states and discussing the expediency of other forms of dialogue between Sukhum and Tbilisi will become possible only after signing of a document legally obliging of the parties not to use military force against each other.
Source: MFA Abkhazia