Inal Ardzinba in Moscow: Heated Controversy Erupts Over "The Great Game"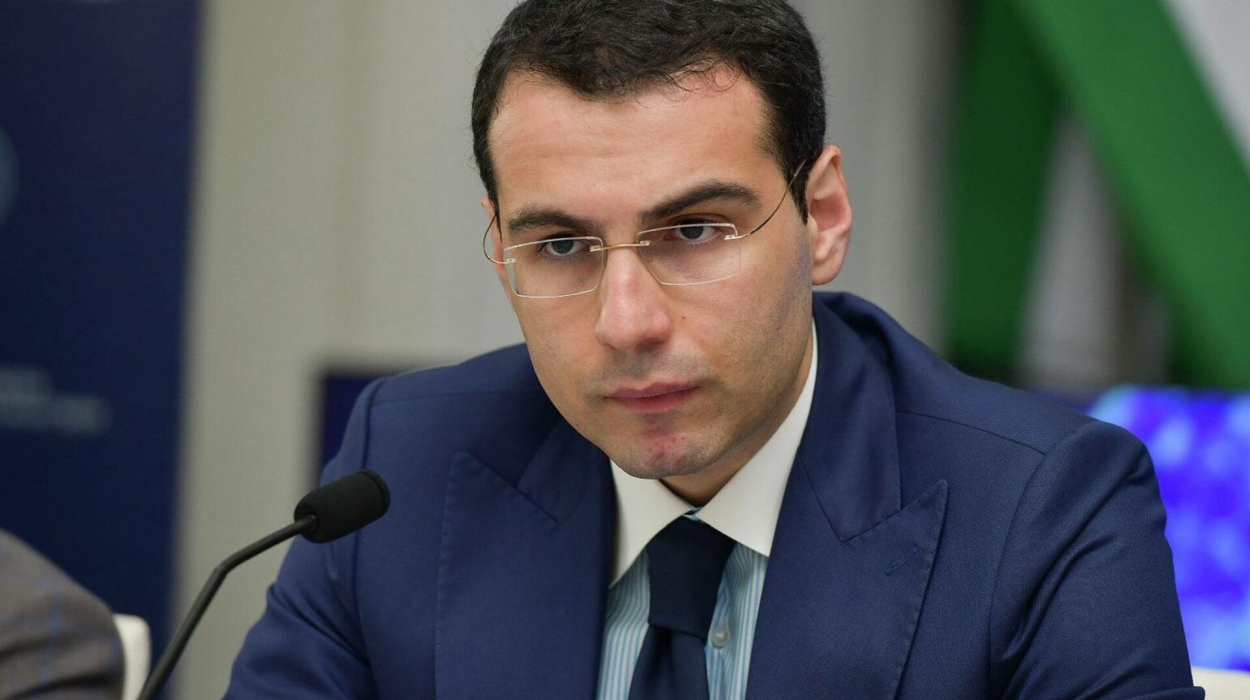 Vitaly Sharia | Ekho Kavkaza  —  A significant outcry was sparked in Abkhaz society late last week following a broadcast of "The Great Game" on Russia's Channel One, which featured Abkhazia's Foreign Minister, Inal Ardzinba. The public-political talk show aired late on Thursday evening, and the foreign minister responded to questions posed by the host, Dmitry Saims.
The 18-minute broadcast contained two significant exchanges that have perhaps generated the most heated discussions. The minister initially addressed expectations that certain global forces may prompt Georgia to open a so-called 'second front' against Russia, and continued:
"We are on high alert for provocative, destructive actions from the United States, and we will be keeping a close watch on developments.
So, are you expecting these actions, or is something already happening?
— Well, there are some early indicators. For instance, in Abkhazia, the United States is working on establishing a network of non-governmental organisations. Initially, they aim to exert influence through 'soft power.' For us, these are clear warning signs that we are monitoring closely. We do not want potential risks to escalate into threats, and threats to erupt into war.
Just how active are these non-profit organisations in Abkhazia and to what extent are they influenced by the collective West and Georgia?
— They are, in fact, quite active. They are currently focused on conducting humanitarian activities, much like the situation in Ukraine. At first, NGOs are used to create a favourable impression, expand a network of contacts, and recruit bloggers, journalists, public figures, and politicians. Then, the tactics shift to more direct, radical actions. This is the sequence of events we witnessed in Ukraine, particularly in Kiev. Therefore, we don't want to see this network of contacts proliferating, nor will we allow a transition to radical actions. Currently, we are in what the United States might view as a preparatory stage, but rest assured, our department, the Ministry of Foreign Affairs of the Republic of Abkhazia, will keep a vigilant eye on the activities of NGOs within its purview to prevent any radicalization in our region."
Yet, an egregious error committed by Channel One evoked a notably negative reaction among viewers in Abkhazia, including those who typically hold NGOs in low regard. As part of the interview, footage of an opposition rally, organised in Sukhum on May 30th, which bore no relation to NGOs, was erroneously presented as the accompanying video.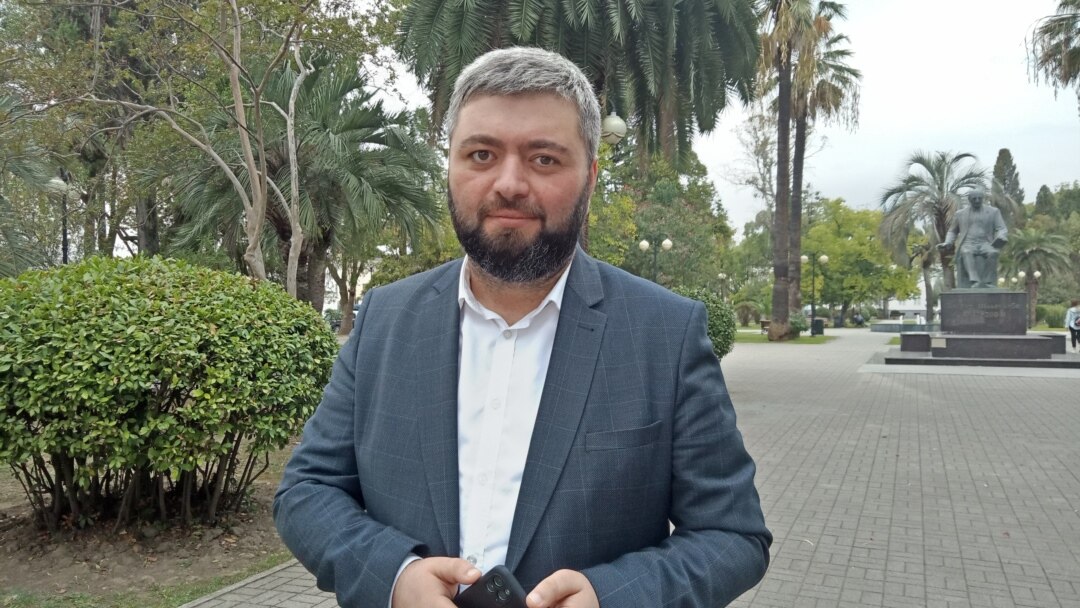 Astamur Logua
Astamur Logua, a member of the Public Chamber of Abkhazia, expressed his reaction to the broadcast in a Facebook post on Friday:
"It's sadly often the case in Abkhazia that the ruling elite seeks to prove to its allies that it is the most pro-Russian force in the nation. I am adamant that there are no anti-Russian sentiments in Abkhazia, and it's unnecessary to suggest otherwise. While NGOs may be viewed as an 'impure force', I want to point out that nearly all the women who currently work in the NGO sector were featured in the AGTRK broadcasts dedicated to the tragic date of March 16, 1993. To me, and to the vast majority, they are strong, courageous women who have stood up, and continue to stand up, for Abkhazia on various platforms. I refuse to believe that such individuals could cause harm to our country. In these trying times, we must forge stronger connections with our compatriots, engage more proactively in repatriation and demographic processes. This is the very national, state agenda that public organisations have been advocating for."
Among the reactions to the post were:
"What 'destructive activities' are NGOs partaking in? Is it because an organisation constructed a lavatory in a rural school when the previous one collapsed on a student? Or is it because students were given the opportunity to study in London as representatives of Abkhazia, not Georgia? Or is it due to the fact that NGOs provide financial support to villagers for the development of the agricultural sector?"



"After such a public affront and humiliation, the minister should step down, not on his own accord or due to health conditions, but by command of the Prime Minister, on the orders of the President of the Republic of Abkhazia!"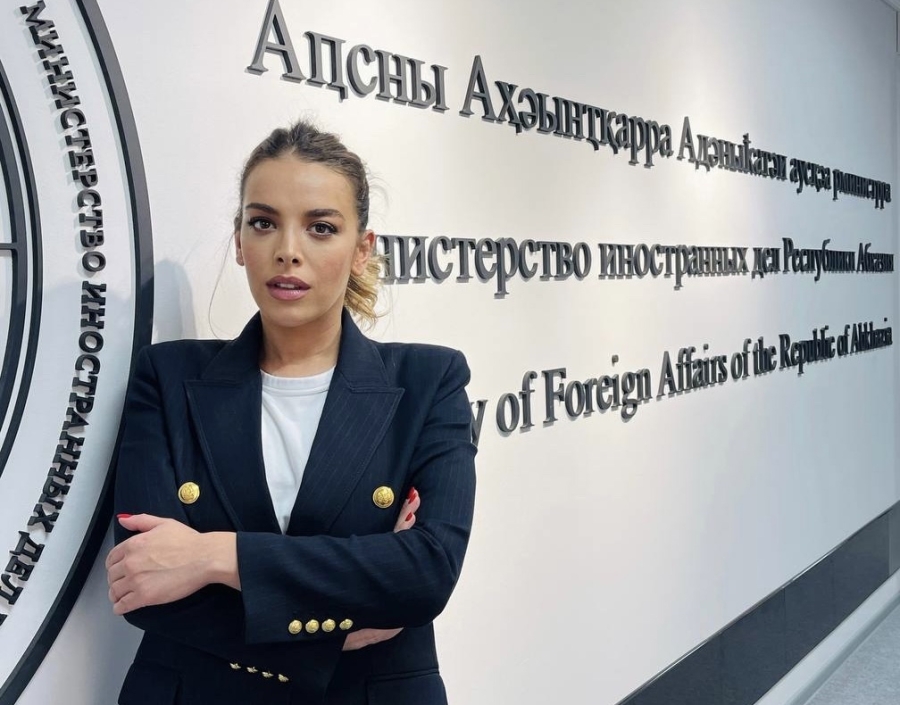 Milana Tsvizhba
However, the discussion also included a comment from Milana Tsvizhba, the head of the press service for the Ministry of Foreign Affairs:
"In the statement made by Inal Ardzinba, the Minister of Foreign Affairs of the Republic of Abkhazia, on the 'The Great Game' program broadcast on June 8, 2023 on Channel One, not once were our fellow citizens mentioned in the context of the so-called destructive activities of international NGOs in Abkhazia. The discussion revolved, and always does, around foreign citizens who operate within the territory of the Republic of Abkhazia, who are official employees representing the interests of international non-governmental organisations. The use of footage from certain rallies during the broadcast is solely at the discretion and right of Channel One's editorial board, of which the head of the Abkhazian Foreign Ministry is not a part. We'd like to underline that in response to the host's question, the minister emphasised the absence of anti-Russian sentiments among our citizens and the unity of the Abkhazian people in matters of foreign policy. This statement directly contradicts Georgia's President Salome Zourabishvili's claim that there are hostile sentiments against Russia within parts of Abkhaz society. Evidently, some less reliable sources of information rely on a skewed interpretation of reality and poor-quality information analysis, attempting to leech off the patriotic agenda. We recommend that these sources pay closer attention, so as to avoid further discrediting themselves."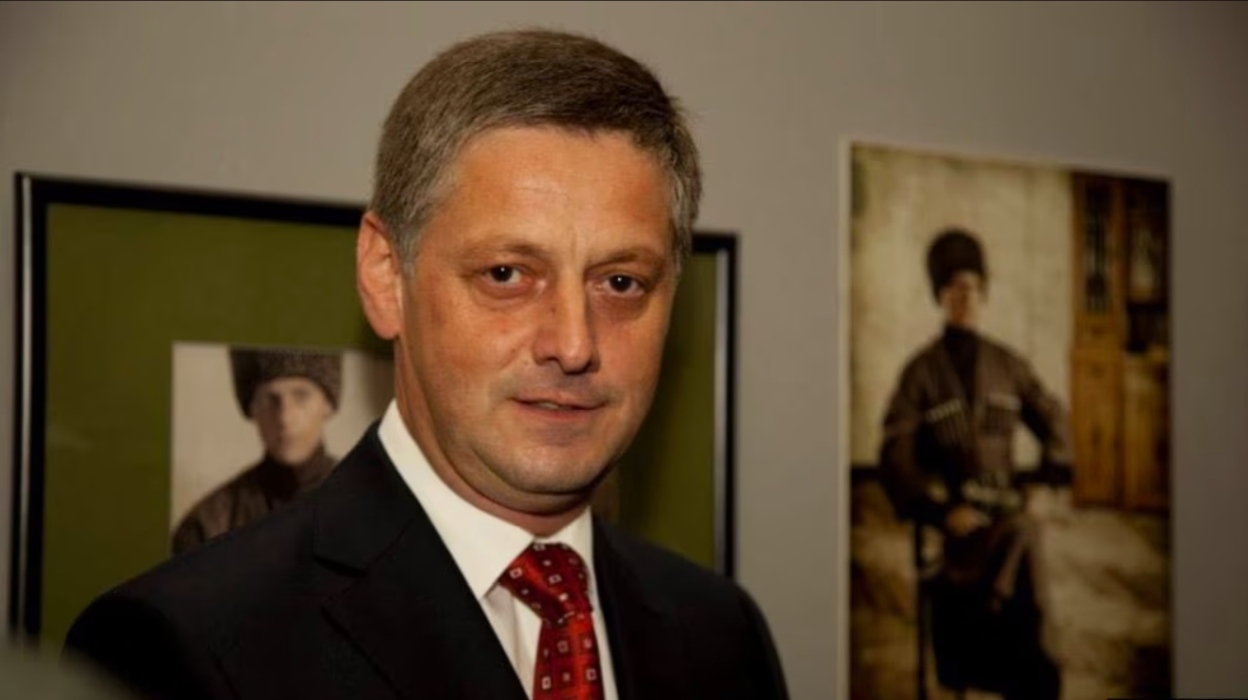 Akhra Aristava
However, many remained unconvinced by this immediate response. Here are a number of reactions that surfaced over the following days. Notably, economist Akhra Aristava wrote:
"I can't discern the intended audience of these alarming narratives about U.S. influence through NGOs in Abkhazia, comparisons with Ukraine, and other baseless predictions... Thus, any suggestion that someone is trying to incite upheaval here through some proxy shows a complete ignorance of the reality and of our people."
The long-standing NGO "Aruaa" responded to this broadcast with an open letter addressed to the Extraordinary and Plenipotentiary Ambassador of the Russian Federation to the Republic of Abkhazia, Mikhail Shurgalin:
"Dear Mikhail Alexandrovich, in a recent 'The Great Game' program aired on Channel One, the guest was the head of the Abkhazian Foreign Ministry, Inal Ardzinba. During the program, he shared his views on the role of NGOs in Abkhazia, which, he alleges, are executing U.S. plans to destabilise the region surrounding Russia and to further Georgia's revanchist ambitions. Concurrently, footage of a public rally held in Sukhum on May 30, 2023, directed against the policies of the current Abkhazian authorities, was displayed on screen. We perceive the inclusion of this video in the context of comments about NGOs as a gross distortion of facts, committed by the official Russian media during post-production. We are openly critical of the current government's policies in the Republic of Abkhazia and some of its initiatives, which we firmly believe to be misguided and harmful. For example, we are opposed to the construction of apartments in Abkhazia, the privatisation of crucial energy infrastructure, trade with Georgia, and other actions that disregard the long-term interests of the Abkhazian people. Furthermore, we believe that the promotion of such initiatives only serves to hamper the friendly, collaborative relations between Russia and Abkhazia... The contrived 'anti-Russian sentiments' attributed to the organisers of the May 30, 2023 rally in Sukhum is a calculated attempt to discredit Abkhazian society, which is unafraid, and has never feared, expressing its views on pressing issues related to the establishment of an independent state... Dear Mikhail Alexandrovich, we strongly urge you to exercise your authority to appeal to the leadership of Channel One and other central channels - asking them to exercise greater diligence in their coverage of events in Abkhazia and to prevent such incidents from recurring."
Meanwhile, a social media user under an alias commented:
"This attempt at evasiveness is comical! Here's the crux of it: the minister didn't utter a word against our compatriots working in NGOs, they are 'good'; he was referring to foreign individuals, who are initially used to create a semblance of a favourable image... But this 'initial stage' has already dragged on for nearly thirty years! And if Western NGOs are indeed planning some sort of colour revolution in Abkhazia, it implies they must have a base in the local 'third sector.' Therefore, there are our compatriots working in NGOs who are suspicious, aren't there? Those who, following the minister's logic, envision Abkhazia as part of Georgia?"
In the same evening when the program "The Great Game" featuring Inal Ardzinba aired on "Abaza-TV", the channel continued its broadcast with a documentary by "Panorama" studio titled "NGOs in Abkhazia. Who are they?". For over half an hour, the film explored the activities of civil society in Abkhazia dating back to the late 1980s, and included interviews with representatives of today's NGOs who were prominent figures in the Abkhaz national liberation movement... I'll share a quote from the documentary by the former foreign minister of the Republic of Abkhazia, now an advisor to the president of Abkhazia on international issues, Maxim Gvindzhia: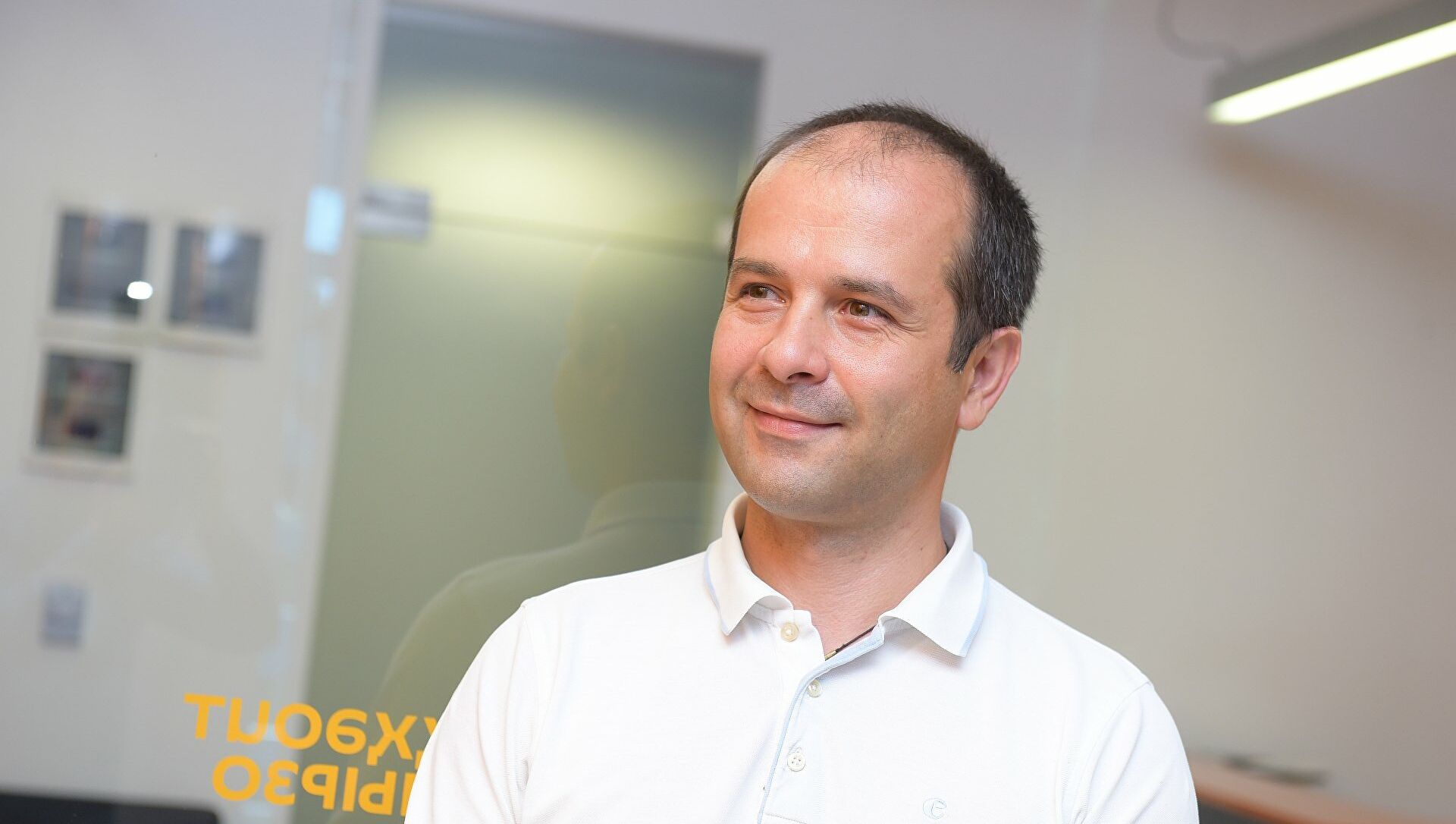 Maxim Gvindzhia
"When we were grappling with immense unresolved issues, international organisations were operational in Abkhazia. Had we approached those problems back then as we do now, questioning whether we need NGOs in Abkhazia... Let's recall how the International Red Cross supported solitary elderly people. Without the assistance of the Red Cross, these elderly individuals would have faced starvation, abandoned and unfed. Or, consider the 'Halo Trust' demining organisation. It accomplished an immense amount of work, without which we wouldn't have been able to clear the country of landmines. Had we started to question their necessity, had we started to meddle and obstruct their operations... Where would we be today?"
This article was published by Ekho Kavkaza, and is translated from Russian.