Interview with Gunda Hewitt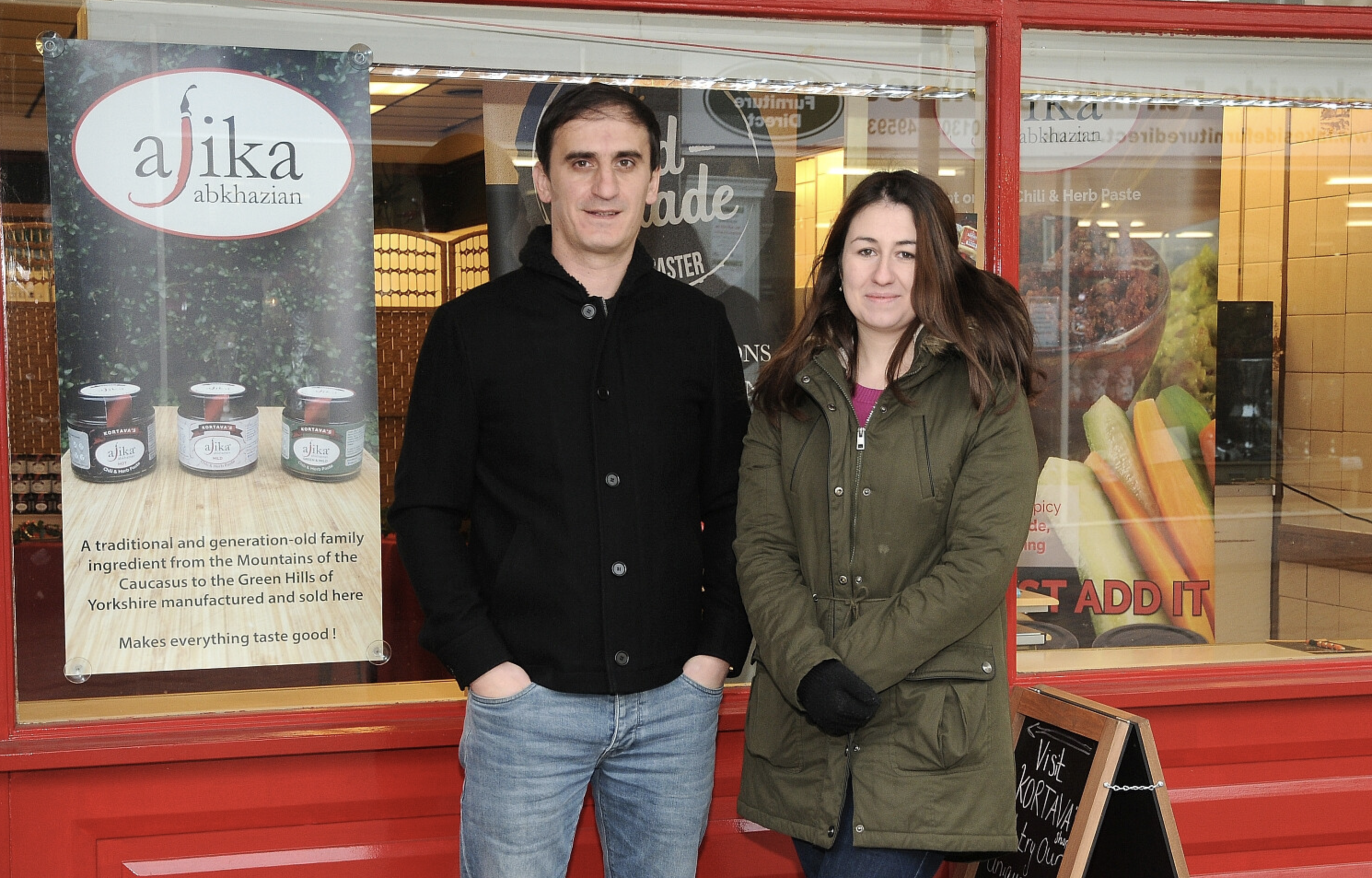 Gunda Hewitt first moved to her mother's native country of Abkhazia, which is wedged between the gentle waters of the Black Sea and the lofty heights of the Caucasus Mountains. Little did she expect on her return journey to the UK, was to be accompanied by an Abkhazian husband and to have acquired a new-found knowledge and passion for the country's delicious cuisine.
One of the most popular and natural seasonings of cooking in the South Caucasus is Ajika, a delicious chilli paste and an essential ingredient and condiment that Gunda was determined to introduce to the UK.
AbkhazWorld: First of all, can you introduce yourself to our readers?
Gunda Hewitt: I'm the co-founder of Kortava's, a UK-based family-business that manufactures authentic Abkhazian Ajika pastes and products. We're also just about to open a weekly supper club concentrating on Caucasian cuisine that will showcase the amazing richness of food from the South Caucasus.
AW: For those who aren't familiar, can you tell us about Ajika (Adjika)? What is the origin of this product?

GH: Ajika is essentially a spice, or some may even think of it as a flavoured salt, as in the Abkhaz language the word ajika, quite simply, means 'salt'. As the name suggests, Ajika's roots lie in the ancient Caucasus region of Abkhazia, a small country bordered by Russia, Georgia and the Black Sea. The neighbouring territories have adapted Ajika over time to suit their own palates, but the original and most authentic varieties are found in Abkhazia and Georgia's western province of Mingrelia.
AW: How is this product made?

GH: Traditionally, Ajika was always made by hand by (especially elderly) Abkhazian women from the local villages. They would use a slab of stone with a hollow in the centre (in Abkhaz ahaqʲ'a) and a smooth grinding pebble, which worked much like a modern day pestle and mortar, and these tools allowed them to make batches of Ajika by simply grinding all the fresh ingredients together until a smooth paste, bursting with incredible flavours, was produced. The process was long, but the results were sensational in every way — from the aroma, to the flavour and versatility of usage. Nowadays, we have technology to make the job easier, and by employing a very specific blend of aromatic herbs and spices, we were able to recreate this magic ingredient here in the UK, something we never thought would be possible.
AW: What is it traditionally made from and what makes your sauce the best that's out there?
GH: Without giving away too many trade-secrets we have stuck to the most traditional recipe of Ajika, which has been passed down the family through generations. One of the difficulties we thought we'd have when we started experimenting with the recipe was sourcing the ingredients and the specific blend of dried herbs and spices needed so that our variety matched the Ajika any visitor to Abkhazia would find in the local markets and restaurants. If we had been unable to make it without adding some artificial ingredients, preservatives or additives, perhaps we would not have started the business because it was really important to us to keep it as natural as possible. Luckily, we were able to source the exact ingredients and blend of spices that make Ajika so special, and that's why our range is the best and most authentic on the market.


+ Pepper and Stone: how to 'produce' Abkhazian ajika 

+ Adjika: Sauce of Glory, Pride of Abkhazia, by Oliver Bullough 

+ Spicy Sauce Proves To Be Recipe For Success 

+ Abkhazian Cuisine


AW: How can you use it in your cooking? Do you have a favourite recipe?

GH: Ajika can be used in a myriad of ways as a condiment, seasoning for curries, pasta-sauces, stews and soups, or as a marinade for meat. My most typical use for Ajika is to use the hot variety as a rub on roast chicken. This is a traditional way of cooking chicken in Abkhazia, and for me, it's the best way, and so this would have to be my favourite use of the paste. However, the list of ways to use Ajika is endless. I also like to make dips with Ajika by combining them with ingredients such as cream-cheese, houmous, natural yoghurt or soured cream. Ajika is so quick and easy to use, it makes cooking simple and gives delicious results.
AW: And what made you passionate about it?

GH: Ajika is something with which my family and I have grown up and which we always enjoy in our meals. Over the years we have also seen people from all over the world try it and love it, and so when we moved back to the UK form Abkhazia and found it wasn't something we could easily obtain, we decided that there was a definite gap in the market that we could fill. It was very experimental in the beginning, but I suppose the passion grew from the customers who were giving us enthusiastic feedback and kept returning for more. It was obvious that a great number of people were starting to appreciate it and use it just as much as we always have, and that's why we strongly believe it deserves to be readily available to consumers on a national level.

AW: Do you sell it only in the UK or do you have customers across the world?

GH: We sell mainly in the UK, and we supply shops like Fenwick Food Hall in Newcastle, Henshelwood's Deli in York, The Chilli Shop in Leeds and The Jam Horse in Doncaster as well as other small independent shops across Yorkshire. Our most recent stockist is The Artisan Bakehouse Ltd in London. We have several cafes and restaurants which also use Ajika in their menus as we also offer larger catering sizes, but we enjoy most of all our sales through our own e-commerce website and on Amazon, where we get orders from the UK, Germany, France and other EU countries. We also get direct orders from America and Australia, since this type of authentic Ajika, for those who have tried it before, is just not available anywhere else.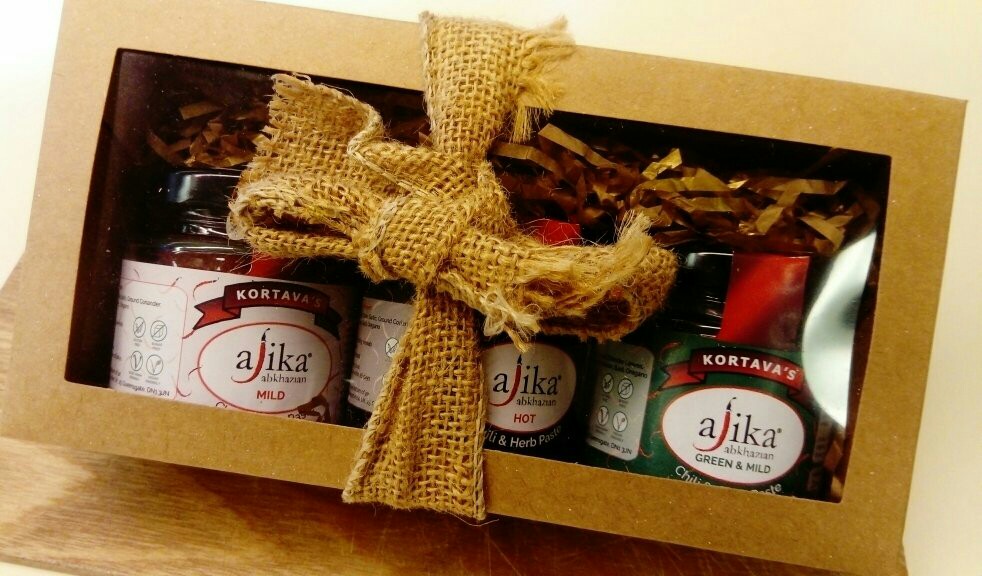 www.ajika.co.uk
AW: Last week you were in London for the Food Matters Live 2019. How was the exhibition?

GH: We had a superb opportunity to take part in this event. I was approached by one of the organisers at the beginning of 2019 asking if I would be interested in having our products judged by a panel of food-industry experts who would give their feedback on the potential of the products entered in terms of their future as a UK brand. If we were to be selected, it would mean being given the opportunity to take part in Food Matters Live at a discounted price with some free marketing and advertising thrown in. In any case, it would be interesting to hear the opinion on our products regardless of whether or not we were selected for the event. A month after having sent off the products, we learned that we had been selected as one of the 30 businesses chosen out of 200+ applicants for the event and would be given a stand as part of the UK Brands pavilion. The panel of judges, in their feedback, said that even though the spice market is very competitive, the originality and great taste of Ajika make it stand out, and for those reasons it showed great promise as a UK brand of the future.

The show itself was fantastic; we were approached by such big-name businesses as Tescos, Holland and Barret and Unilever. All of their representatives tried our products, and their reactions were great to see. So we hope to keep in contact with them, and then we'll see where it goes. We also had interest from smaller independent shops and have already started receiving some new orders from them. Therefore, all in all, it was a huge success, but we have to say a big thanks to Aquafon GSM, the Abkhazian mobile network company, which kindly agreed to sponsor us for the event.
AW: Tell us about your new products. We heard that it's now available in more sizes?

We currently have three flavours of Ajika pastes: hot, medium and green, each in 110-gram jars, but for some time now, we have also been able to offer 600-gram catering sizes, as several cafés and restaurant use Ajika in their menus in all sorts of wonderful ways. We receive a lot of return custom from the caterers using our products, which makes us think that the catering service could be another route through which the word about Ajika could spread, because, once people try it and see how different it is, they can't get enough and always come back for more. Apart from this, we are working on some product-development to add an authentic tomato and Ajika sauce to the range, which we think will be just as popular as (if not more so than) Ajika already is among our target-market.

AW: What are your future plans for the UK market?
GH: We plan to go big with Ajika and hope to turn it into a national, if not international, kitchen- cupboard staple.