Abkhazia feels calm about power change in Georgia: Interview with Irakli Khintba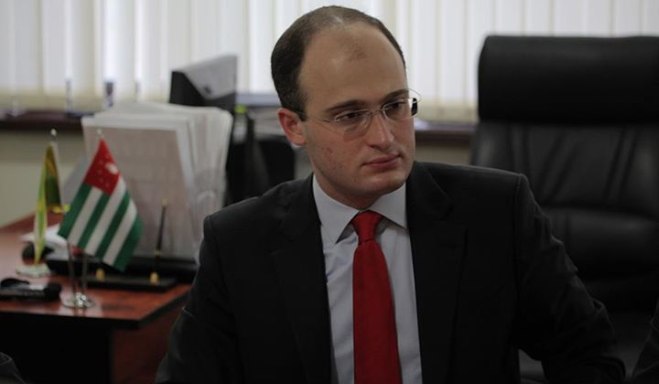 Abkhaz Deputy Foreign Minister Irakli Khintba explains what actions by the new Georgian authorities could solve the conflict between Sukhum and Tbilisi.
The political situation in Georgia is being monitored particularly closely in Abkhazia. Even though [Georgian President] Mikheil Saakashvili is gradually ceding power, Sukhum remains cautious in its assessment of "Georgian Dream." 
Abkhaz parliament Deputy Speaker Emma Gamisonia has already said that Georgia's new leadership should prove itself not in words, but by its actions. First and foremost, by signing a peace treaty with Abkhazia. Only after that, according to Gamisonia, can we talk about whether relations between the two countries will become warmer.
Republic of Abkhazia Deputy Foreign Minister Irakli Khintba told Golos Rossii what consequences Abkhazia expects from the regime change in Georgia.
- Is everyone in Abkhazia so sceptical about the advent to power of "Georgian Dream"? Are there really doubts whether anything will change in Georgian-Abkhaz relations?
- I would not say that people in Abkhazia are following the regime change in Tbilisi with great interest in terms of the general situation, security in the region, from the point of view of resolving and achieving a final settlement of the Georgian-Abkhaz conflict. It plays a certain role, but it is too early to talk about this today. The new government is only just being formed, and the transition of power is not yet complete. We have not yet seen or received any specific proposals or significant political signals.
- That is understandable for the simple reason that the regime change is not yet complete. But what kind of signals would Abkhazia like to receive?
- The Saakashvili regime distinguished itself by painting itself into a corner in its efforts to resolve the conflict with Abkhazia and South Ossetia. Abkhazia and South Ossetia are recognized as independent sovereign states, and today any kind of negotiations with Georgia are possible provided that Abkhazia is treated as an official party to those negotiations. Any talks can pursue one goal – creating conditions for the recognition by Georgia of the independence of Abkhazia and South Ossetia. In principle, if Tbilisi demonstrates readiness for such talks, we too are ready to move in this direction.
- Speaking objectively, is it possible to reach an agreement on this issue, given that Ivanishvili not only has not turned his back on the American vector in his policy, but on the contrary, continues to adhere to it? Is it nonetheless possible to reach agreement? Is it possible that sooner or later Georgian will recognize the independence of Abkhazia?
- I think everything is possible. If Georgia's new political leadership shows the necessary pragmatism and takes into account the current reality, this would benefit Georgia in the first instance. By recognizing Abkhazia and thus resolving the Georgian-Abkhaz conflict, and doing the same with regard to South Ossetia, Georgia will free itself from a serious political burden that today is an obstacle to its integration into Europe and NATO, and to the solution of its internal problems.
I have the impression that some of Mr. Ivanishvili's advisers now understand that it is impossible to continue the policy that was formulated and implemented by the Saakashvili regime: the isolation of Abkhazia, refusal to recognize it as a party in negotiations, the use of such epithets as "occupied territories," and offloading on to Russia the entire responsibility for everything that is happening both inside the country and in relations with Abkhazia and South Ossetia. I think the new Georgian elite will try to walk away from those negative components.
This interview was published by Radio "Voice of Russia" (Golos Rossii) and is translated from Russian.