Time To Turn Crisis Into Stability? By Dieter Boden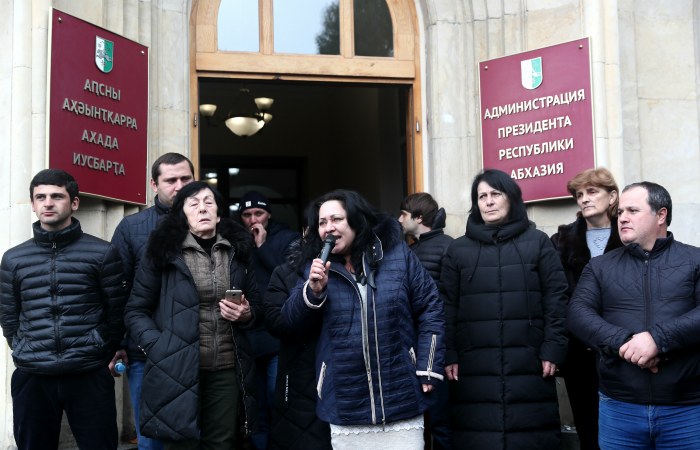 Dieter Boden | Special to Abkhaz World
Once again Abkhazia has confirmed its reputation for being a difficult state to govern. The beginning of the New Year witnessed an outburst of public protest in Sukhum, followed by the storming of the Presidential office on 10 January. Raoul Khadjimba, re-elected as President in a much disputed vote of 9 September last year, fled to his dacha outside the capital. The same day Abkhazia's Supreme Court ruled that these elections had been illegal. At this point Moscow saw a need to interfere; as a result Khadjimba had to resign on 13 January. 
There can be no doubt that Abkhazia, a potential paradise on the Eastern shores of the Black Sea, has slipped into another domestic crisis. Its root-causes are all too obvious. Khadjimba had failed to deliver on a number of issues: Abkhazia's continuing isolation in the international arena; stagnation of efforts to reform state institutions, to fight administrative mismanagement and corruption; stagnation and lack of investment also in the economic field; widespread unemployment as a consequence; but above all virtually no progress on conflict-resolution with Georgia. After more than 50 rounds of meetings the Geneva international discussions mandated since 2008 to produce valid solutions remain deadlocked. 
What could be the way out of the current crisis? To be sure, there can hardly be an easy solution. New presidential elections have been scheduled for 22 March. The listing of candidates has begun. Among them there is one name which inspires expectations — that of Aslan Bzhania, member of the Abkhazian parliament and president of the Apra foundation. In the 2014 elections he had been Khadjimba's main opponent but lost by a narrow margin. Since then he had profiled himself as Khadjimba's smartest opponent. But in May 2019 Bzhania suddenly had to be hospitalised due to poisoning; he underwent urgent medical treatment in Moscow and in Munich. It is commonly assumed that Khadjimba was behind this intrigue, which eliminated Bzhania from the presidential elections of 9 September. 
Meanwhile, it is Bzhania who has started the election-campaign with a press-statement which immediately provoked a stir not only among the Abkhazians but also in the Georgian public. He spoke out in favour of initiating a bilateral dialogue with Georgia, which should start with confidence-building and economic cooperation. In a later comment he recalled the fact that even former President Ardzinba, the father of Abkhazian independence, had thought it useful to go to Tbilisi in 1997 to negotiate a deal with Georgia. Bzhania equally referred to the Coordinating Council, an instrument created by the UN in the 1990s to bring together the two sides to the conflict at the level of Prime Ministers in order to find solutions for problems arising from the conflict in the security, humanitarian and economic areas, whilst leaving out the matter of political status. Bzhania was supported by former Prime Minister Sergey Shamba, an experienced negotiator with Georgia in the past: "We have to sit down and talk. There are different formats for this."
The Abkhazian MFA published a statement striking a note of caution: any dialogue between Sukhum and Tbilisi would only be possible after signing a document that legally obliged the two parties not to use military force against each other. 
This exchange has certainly created a new momentum in the relations between Tbilisi and its secessionist republic. Reactions in Georgia were cautiously agreeable. Prime Minister Gakharia commented that there was no other way but to negotiate leaving open any modalities or preconditions. Motivated by an awareness that the current state of play is highly unsatisfactory, a discussion has been kicked off for the first time in a long while on how to initiate direct contact on bilateral matters of mutual interest. Why not start new initiatives to unfreeze the atmosphere and prepare the ground for normal neighbourly relations? This would definitely be to the benefit of people living on both sides of a border which is still perceived as arbitrary, particularly in Abkhazia's southern Gal District. 
Absent an agreement settling the future political and juridical status, such bilateral talks could conveniently be based on the model of the former Coordinating Council. The UN could be asked to serve again as facilitator. There is every reason to believe that results could be of substantial value in promoting the work of the Geneva forum and help lead it out of its current deadlock. 
Dieter Boden
Former Special Representative of the UN Secretary General for the settlement of the Georgian-Abkhazian conflict.