Dieter Boden: 'Abkhazians are Europeans'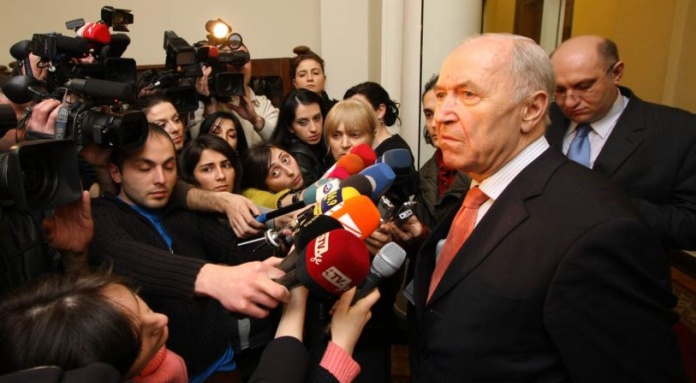 Former Special Representative of the UN Secretary General for the settlement of the Georgian-Abkhazian conflict, and now a professor at the University of Potsdam, Dieter Boden, arrived in Sukhum at the invitation of the German "Berghof" Foundation. In 2001 he presented his vision for a peaceful settlement of the conflict. However, at that time the document called "The Boden Plan" proved unacceptable to Abkhazia and Georgia. In an interview with "Echo of the Caucasus" the diplomat said: "We must do everything possible to restore more life to Abkhazia's relations with Europe." 
Anaid Gogoryan : Mr Boden, please tell us about the purpose of your visit to Abkhazia. 
Dieter Boden: I came here this time at the invitation of the German "Berghof" Foundation to take part in a Biographical Salon. It was with pleasure that I came. I was here last year, and it is interesting to follow the development of the city, how it is being constructed, how life in Abkhazia is returning to normal. Of course, I love this country. I took an early-morning swim in the sea, and now it has been a great pleasure to meet friends in the framework of this interview. 
AG : Have you met any of the politicians in Abkhazia during your visit? 
DB: Every time such meetings take place. On this occasion, this is precisely why I'm really here. Of course, there were meetings with friends better to understand the situation in the country. This provides me with very important information. At home in Germany, there is a lack of information about Abkhazia. So I'll try after returning to talk about it and to inform people there. 
AG: How do you assess the international situation in relation to Abkhazia? 
DB: It must be said that there was a bitter conflict, an actual war in the nineties. Now, it seems to me, there are no more military operations, there are no major incidents in the conflict-zone, but still this is not enough. The situation is not entirely normal. When I cross the Ingur, I see that there is there a somewhat abnormal situation. This requires further efforts by the whole international community to restore some sort of normality. Abkhazia is in a kind of isolation. Still, I think that the Abkhazians are a people close to us, they are Europeans, and they belong to Europe. We must do everything possible to restore more life to Abkhazia's relations with Europe. We know that this is a political problem. Everything should be directed towards bringing about a more normal situation. 
AG: How would you evaluate the role of the EU in the region, in particular in Abkhazia? What can be done to change the isolation which presently exists in Abkhazia? 
DB: It's true that Europe is engaged in this issue, is engaged in various aspects; technical problems relating to type of visa play a role there — it is necessary to open a path. It seems to me that the Europeans also feel, in my opinion, an obligation to make efforts there. I think that everyone is called to action. 
AG: Was there no desire on your part again to become a mediator in resolving the conflict? 
DB: I think that to repeat once more what was in the past is out of the question. The role of intermediaries in the framework of an international organisation ... I would not want to do this a second time — once was enough. I want to be part of the efforts being made by international organisations, individual countries, and non-governmental organisations to improve the situation. I do not think that this depends on any particular will. You can think of many things, but to repeat what was in the past would be wrong for me. To contribute actively and further — this is my wish, of course.
This interview was published by Ekho Kavkaza and is translated from Russian.