"Gumista Ballad" Performance Shown at Abkhaz Drama Theater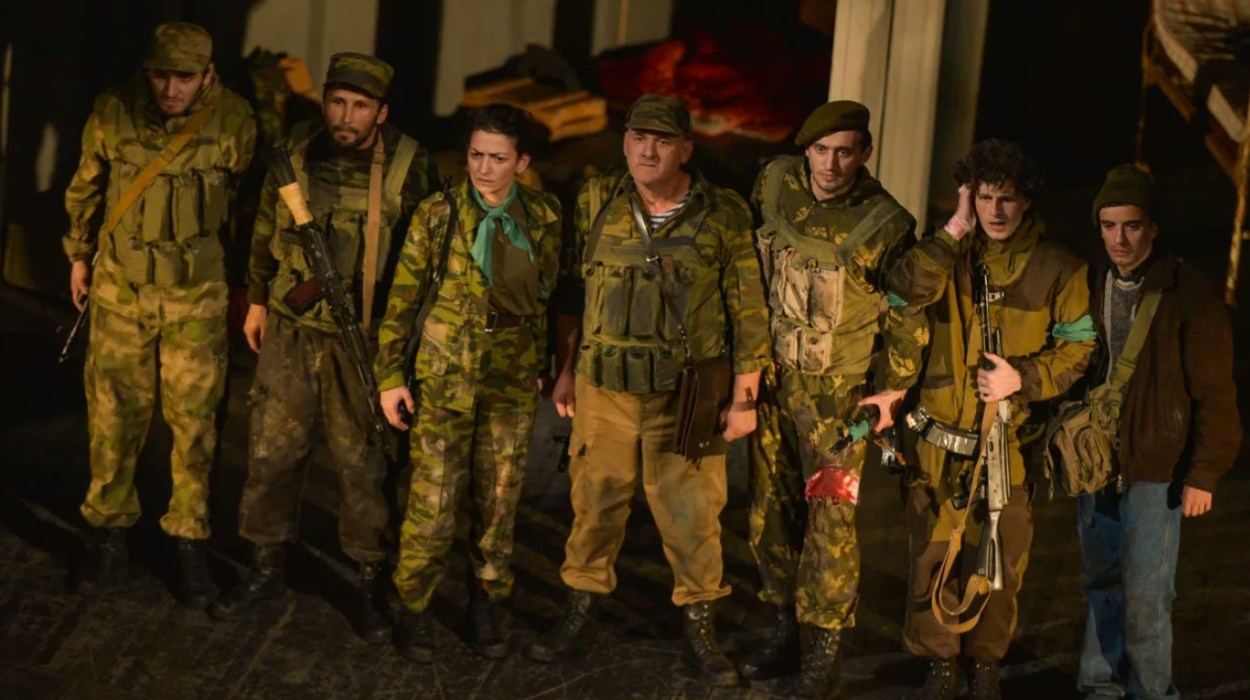 SUKHUM / AQW'A — On the 30th anniversary of the March Offensive in the Patriotic War of the people of Abkhazia in 1992-1993, the Abkhaz Drama Theater showcased the play "Gumista Ballad" directed by Madina Argun based on the play by Anzor Mukba.
The plot of the play is based on real events that occurred on the night of March 15-16, 1993, when the Gumista Front launched an operation to liberate Sukhum. The Abkhaz fighters were initially successful in breaking through the enemy's first line of defense and crossing the Gumista River. However, the Georgians deployed artillery and began firing, cutting off the attackers from the second echelon, resulting in a failed offensive operation.
The production portrays the fate of one of the assault groups in the area of the "Green House," which was waiting for reinforcements from the second echelon. The soldiers fought bravely for three days before they were ordered to retreat.
+ Memorial Events for 30th Anniversary of March Offensive Will Be Held on March 15-16
+ On the Other Side of Gumista: The Harsh Lessons of the March Offensive
+ Visiting Hell: How Relatives Identified the Dead in the March Offensive
One of the production's heroes, named Mancha, died heroically during the offensive. Doctors were unable to save him as they lacked medicine. Mancha was in love with a girl named Madina, who was in Sukhum occupied by Georgian troops. He promised to meet Madina in the liberated city, but he was not able to fulfill his promise. Before dying, he asked the nurse to convey his apology to his beloved.
Overall, the performance effectively tells the story of the Gumista Front's operation, highlighting the bravery of the soldiers and the sacrifices they made for the liberation of their country.
On March 15, 1993 formations of the Abkhaz army crossed the Gumista river and captured strategically important heights near Sukhum. During the March battle for the capital of Abkhazia, 222 fighters of the Abkhaz Army perished, several hundred people were injured and 23 people were missing.