Inal Agrba Needs Our Help!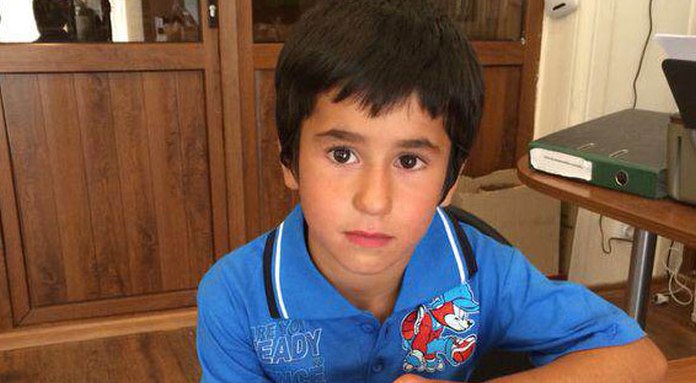 Inal Agrba needs our help! It seemed like a normal April day in 2014, but not for Vitalii Agrba's family. For Agrba's family April 22 was a fateful day that they look back on with horror. On that day misfortune befell their younger son … Six-year-old Inal and his older brother Osman were fooling around with needles, and Osman accidentally grazed his little brother's left eye. The boys decided to conceal the incident from their mother, but within two days the eye was visibly badly reddened and the boys had to tell their mother what had happened and how. Out of her mind with despair, the mother immediately grabbed her son and took him to the Sukhum Eye Hospital, where the child was given the necessary medical aid, but it transpired that the eye was badly inflamed and the retina was damaged. The course of treatment did not help, and the child's vision deteriorated with each passing day… The doctors at the clinic advised the parents to take him abroad as soon as they could.
There was no time to waste, in Inal's case time was working against him. Screwing up all her will-power, Inal's mother appealed for help to the Ashana Cultural-Benevolent Fund, she took them all the [medical] records and told them what had happened. The Fund's employees took swift action in response to her request and almost immediately sent the child to the Helmholtz Scientific Research Institute of Eye Diseases in Moscow. An examination showed that the boy needed a vitroectomy in order to prevent a detached retina, but that operation costs 200,350 rubles. Without it, the retina will become detached and the child will become completely blind. At the age of six he will become an invalid for life.

There are four children in Inal's family, which lives in Verkhnii Kelasur. The parents do not work because of poor health, they live on what they can grow on their plot of land, and 200,350 rubles is a huge sum for them.

Inal is six years old and his biggest dream is to start school on September 1 together with his contemporaries. His greatest fear is to lose his sight. So let's ensure that the child's dream comes true and his worst fears are left far behind. Today it depends on you and us together whether or not Inal will be able to see! Let's help Inal together!

Dear compatriots! If you decide to help, don't be daunted by the cost, any contribution you make will be received with great gratitude. For mobile phone subscribers in Abkhazia, send an SMS with the text ДОБРО or DOBRO to the number 5050.The cost is 20 rubles, and there is no limit to the number of SMSs you can send.

The Transfer Balance – Charitable Donation service: subscribers of A-Mobile or Aquafon can make a donation to the fund by texting *147*the amount of the donation# You can send from 30-500 rubles per day.

Charitable donations can be made at any branch of Sberbank of Abkhazia or Garant-Bank. The bank employees will help you. For other ways to help, phone 773-50-50 or 921-03-03, or go to the website www.ashanakbf.com.