To Walk Without Crutches: Funds For Medical Treatment For Anita Kharchilava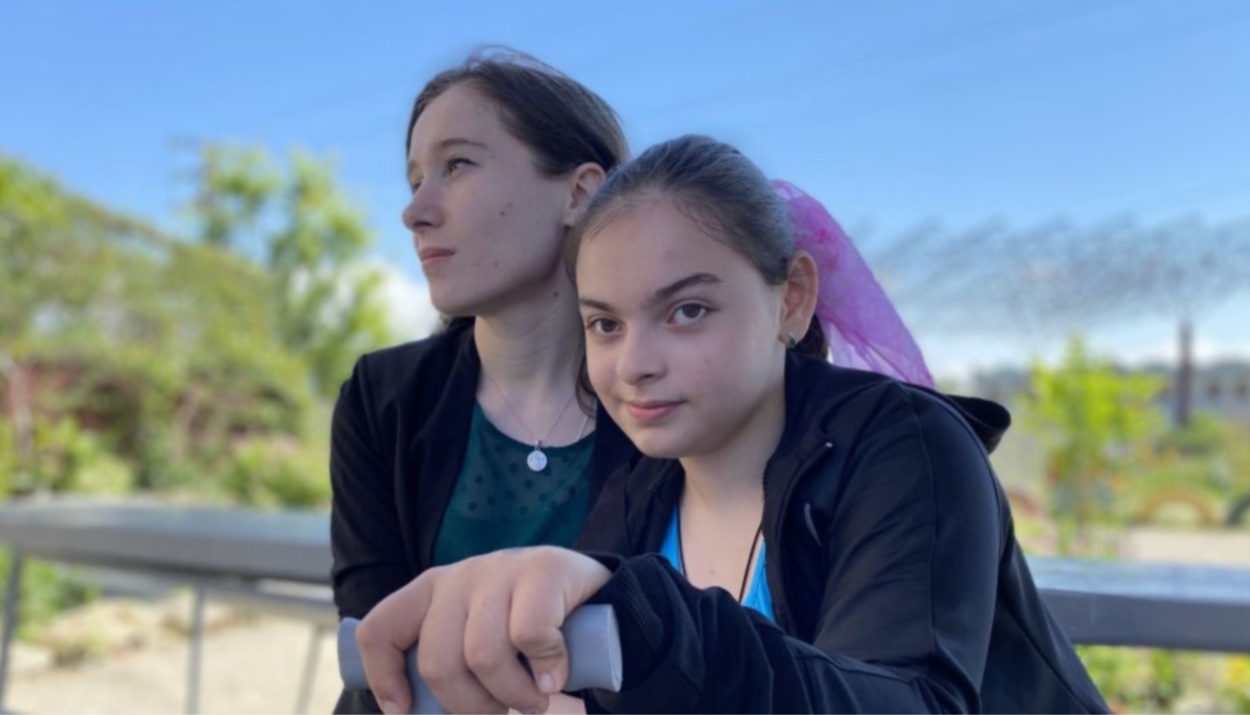 SUKHUM / AQW'A -- The Cultural and Charitable FoundatioN "Ashana" has announced it has begun raising funds for a routine examination and further treatment for Anita Kharchilava in the Russian capital. The sum needed is 250,000 rubles ($3,410).
Nine-year-old Anita Kharchilava was diagnosed with cerebral palsy at the age of 11 months. After many courses of therapy, she can now walk with crutches, and in order to improve her walking and overall health, Anita needs to undergo another scheduled examination and treatment at a scientific and practical centre in Moscow.
Diagnosis and treatment
Anita was born when her mother was eight months pregnant, she weighed 2.7 kilos. After birth, the fragile baby spent ten days in the hospital under the supervision of doctors, and she was referred to a neurologist. The doctors diagnosed cerebral palsy when the little girl was eleven months old.
"After she was diagnosed, I started travelling with her [to Russian clinics]. Russian doctors predicted that by the time she was seven, Anita should be able to start walking on her own. But when we come back here, there is nowhere you can help such children learn to walk, and that makes things difficult", - says Anita's mother Marta Chalach-oglu.
Three years ago, the little girl was again taken abroad for treatment, and the doctors reported that she had not been prescribed the correct course of therapy.

+ LEARN HOW TO HELP
"We gave her crutches, and she became round-shouldered. Then a friend of mine who comes to Abkhazia from time to time began trying to help her. This has been going on for three years, but when my friend leaves, I cannot help Anita with her exercises as I did before because she always wants to go outside, "- said the girl's mother.
"The little girl is gaining weight every year, and so her condition could deteriorate at any moment. We have an x-ray taken every year and there doesn't seem to be any change for the worse. For three years I have been waiting in the anticipation that the girl will start walking on her own, but we haven't got there yet," Anita's mother complained.
She loves reading and going to the beach
Despite her health problems, Anita is no different from other children, she loves to read books, and in the summer she swims in the sea, apart from that, she helps her mother with the housework and goes shopping.
"I really like reading, we are given different lessons in a special school, which I really enjoy, and I also like to go shopping," she says.
Little Anita dreams of becoming a doctor when she grows up and healing people and animals. "I want to treat cats and dogs, and people too, of course," the girl said.
Izolda Khagba, who is chairwoman of the Board of Trustees of the Ashana Cultural and Charitable Foundation, has appealed for people to help Anita Kharchilava recover her health.
"She has gone through a great deal during her short life, she and her parents have had to endure operations and treatment in different clinics, but now a situation has arisen in which this family needs help. They have managed on their own until now, but today the situation has changed. If every one of us shows charity and solidarity with this family, I am sure we will achieve results in a short time, because in the near future Anita needs to travel to Moscow for treatment. I am asking everyone who hears us today not to ignore this family's pain, but to support them," said Isolde Hagba.
In 2017, Anita had an epileptic fit, and she is still taking medication every day, but this has made her gain weight rapidly, which makes it even more difficult for her to move around.