The Silent Victims: Urgent Action Needed for Abkhazia's Captive Wildlife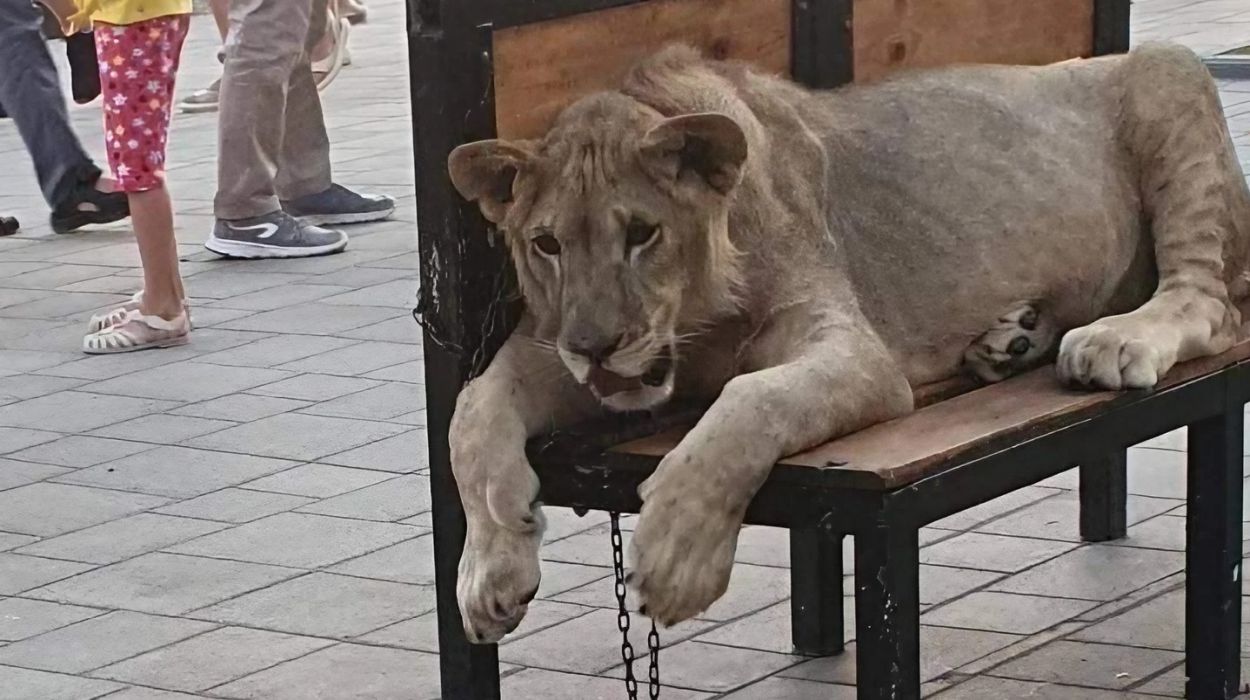 SUKHUM / AQW'A — In the heart of Gagra, Abkhazia, an unacceptable sight unfolds daily. Amidst the idyllic setting of the Colonnade, an image of animal suffering raises concern. A young lioness, shackled and sweltering under the summer sun, has been exploited for tourist photos by an enterprising individual. The state of the lioness, languishing without water and subjected to heat for hours, sparks outcry among local and international onlookers.
Recent reports indicate that the animal is in a semi-conscious state, possibly under the influence of tranquilizers or other substances, fuelling speculation about neglect and animal cruelty. Local police and authorities seem to remain inert despite the outcry from concerned citizens. Numerous appeals by animal rights activists have, so far, gone unanswered.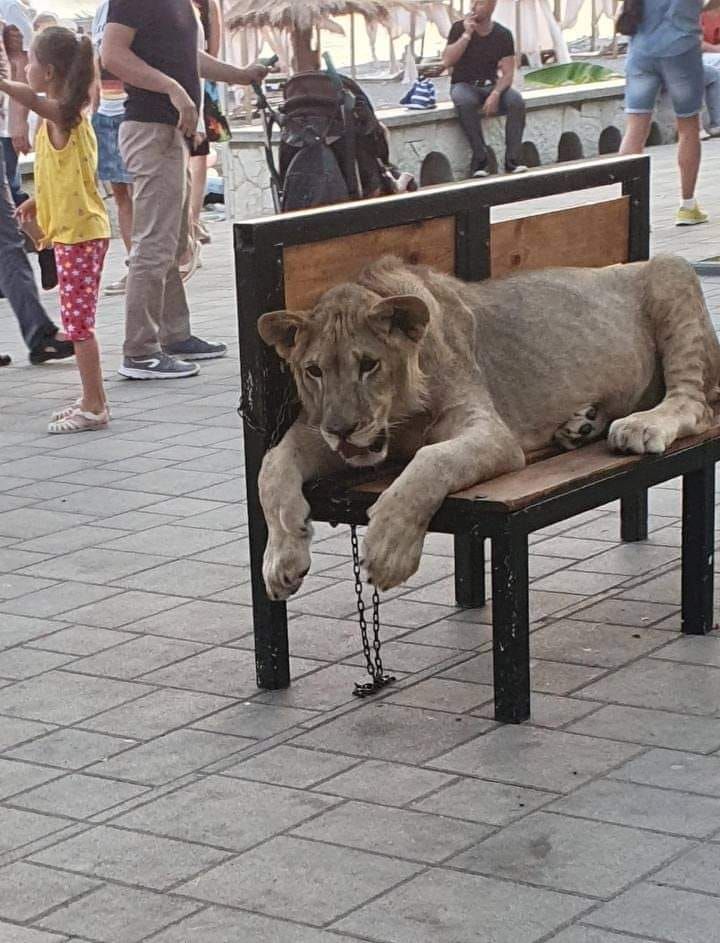 Young lioness shackled and exploited for tourist photos under the summer sun. Source: Facebook.
Update! Abkhazia's General Prosecutor, Adgur Agrba, mandates swift action against animal cruelty in tourist spots. After outcry over mistreatment, officials are addressing exploitation and considering rescue measures. Abkhazia's stance on animal welfare intensifies. Read more....

The Abkhazia Police Department recently stated: "Cities are no place for wild animals. The ordeal of a chained young lion in our urban environment is evident. Our team from the Gagra District's Department of Internal Affairs oversaw the safe relocation of the lion cub, named Simba. He now enjoys freedom in a rural setting, housed within a generous, secure enclosure."
Public sentiment on Facebook echoes the rising concerns over the lioness's treatment in Gagra. Commenters on a recent post stated:
"This is a disgrace for all of us to allow such a thing!"
"Gagra city administration, where is your response to this atrocity? How can you always stay silent? Take action. How long can we express our outrage? It feels like there's chaos everywhere you look..."
"It's a great sin to mock animals. Apparently not everyone understands this."
"And there is a clause about the prohibition of organising and conducting photo sessions with wild and exotic animals."
"The Parliament of Abkhazia adopted the law "On Responsible Treatment of Animals" this year!!"
This grim scenario is not limited to the lioness alone. Eyewitness accounts reveal that various animals such as monkeys, owls, hawks, and other wild birds, are similarly kept in captivity and under chains for financial gain from tourists in Abkhazia. The voices expressing anger and heartbreak over this situation grow louder by the day.
+ New Animal Welfare Bill Aims to Protect Stray Animals in Abkhazia
+ Abkhazian Parliament to Deliberate on Animal Treatment Legislation
+ Police Receive Complaint Regarding Dog Poisoning Incident in Gagra
Compounding the problem, there has been a notable rise in the stray dog population over the last five years. An increasingly common sight, these stray dogs reflect a concerning lack of animal welfare regulations in Abkhazia.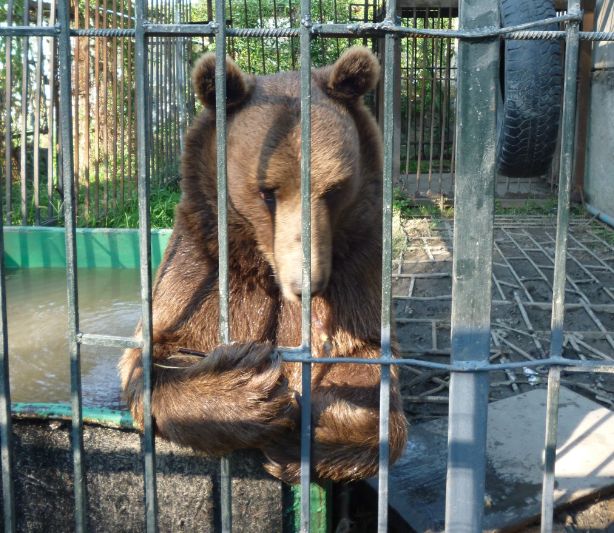 Photographic evidence from as far back as 2015 reveals that a bear has been caged and poorly treated in various locations, most notably in the Sukhum Turbazaar. Despite an interval of years, a recent 2018 visit indicates that the bear's plight remains unchanged, raising significant concerns about local attitudes towards animal welfare.
This situation calls for immediate action. The animal welfare situation in Abkhazia is dire, and it requires a concerted effort from the government, local citizens, and international organisations. The Born Free Foundation in the UK have already been alerted to this disturbing issue.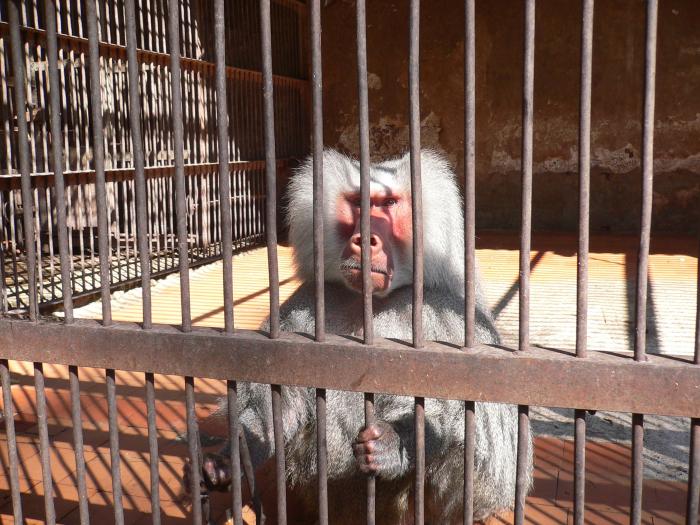 The time has come for animal welfare to take priority. Abkhazia's rich wildlife is a treasure that must be protected and respected. The government must implement and enforce stringent animal welfare regulations. Citizens must take a stand and refuse to partake in or tolerate animal cruelty. Tourists must be educated about responsible tourism and encouraged to report instances of animal abuse.
Every action, no matter how small, contributes to the cause. The more voices raised in defence of these helpless creatures, the more likely we are to see a change. It is time to act – not just for the lioness languishing under the Gagra sun, but for all animals suffering in silence in Abkhazia.