Viacheslav Chirikba: "We want to restore the lost connection between Abkhazia and Italy"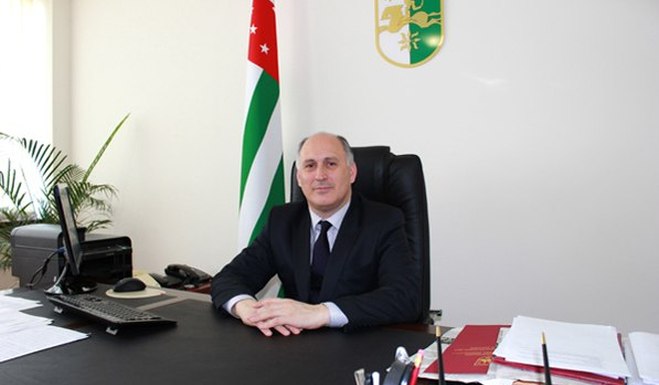 SUKHUM -- Minister of Foreign Affairs of the Republic of Abkhazia Viacheslav Chirikba met a delegation of businessmen from Italy (Pesaro). 
The delegation was accompanied by representative of the Foreign Ministry of the Republic of Abkhazia to Italy, Mauro Murgia. The delegation included officials of the agroproduction company «LPR»: technical and financial consultant, Mauro Marchini; engineer-manager, Leonardo Rossi; legal representative, Leonardo Rossi.

Welcoming the guests, V. Chirikba noted that "the Italians and Abkhazians have much in common – this is primarily people who have a similar mentality and temperament." Whilst acknowledging that "the big problem is the political non-recognition of Abkhazia by the international community," V. Chirikba stressed that the Ministry he heads is pursuing as its main goal "to give the public accurate information about Abkhazia, to assert that Abkhazia is a part of Europe."
"We want to restore the lost connection between Abkhazia and Italy. I hope that after the last meeting of the Senate, in the cities of Rome, Urbino and Pesaro, and personal contacts, there will be more understandable situation - Chirikba said. - Our goal is to Abkhazia has been recognized as a European state. And until that happens, we want to develop personal contacts in the field of education, culture and business. We will facilitate contacts and Abkhaz Italian business. So glad to see you here and ready to hear your opinion about Abkhazia. "
The delegation members are interested in creating a joint Italian-Abkhaz agricultural enterprise. They told the minister that the business sector in which they are working successfully for many years. "For a short period of stay in Abkhazia, we saw a lot in common with Italy - nature, plants and landscapes. From the media we know about the possibilities of Abkhazia in the field of tourism and culture, "- said Lamberto Rossi, a legal representative of the «LPR».
To get better acquainted with Abkhazia Italian businessmen will meet in the Ministry of Economy, Ministry of Agriculture, State Committee on Tourism and the Chamber of Commerce. Foreign Minister organizes a tour for visitors to historical sites, show them the sights of Abkhazia.