Abkhazia and the Finnish Construction Company Honka Have Signed a Distribution Agreement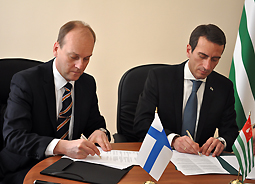 SUKHUM -- The signing of a distribution agreement between Abkhazia and the Finnish construction company Honka has taken place at Abkhazia's  Embassy in the Russian Federation.
The agreement was signed by Honka senior vice-president Risto Kilkki and the head of the Abkhaz Trade Representation in the Russian federation, Oleg Bartsits.

Also present were the Ambassador Extraordinary and Plenipotentiary of the Republic of Abkhazia in Russia, Igor Akhba, Honka sales Director Tina Mäkinen, export manager Maria Tyurenkova, and Elena Vorobiev, a representative of the Abkhaz Foundation for Innovation and Technology.

Greeting the guests from Finland, Igor  Akhba thanked them for demonstrating an interest in Abkhazia and said he hopes for log-term fruitful cooperation.
"The world-famous Honka company is one of the first to come to us in Abkhazia," Akhba said.
R. Kilkki for his part said "We work in many countries of the world. Abkhazia will become one more country where our representation will function. We hope that in the course of our coming visit to Abkhazia we shall get a deeper knowledge of the country, its culture and traditions."

"We attach great importance to the signing today of the agreement, insofar as Honka is one of the world leaders in its field and its rich experience and impressive achievements will contribute considerably to the development of Abkhazia's economy," said O. Bartsits.

Honka is a world leader in the production of wooden houses. Like many others, the trans-national Honka corporation began as a small family firm founded in 1958 in the Finnish town of Lieksa by the five Sarelainen brothers. In 1966, the company opened ist first exhibition of wooden houses near Helsinki. Honka was the first company to mechanize the process of constructing timber houses and exporting them. At present its main markets are Russia, Finland, Germany, and Japan. Its two world records – for the largest hotel (4500 sq meters) made of timber and for the largest timber restaurant – are for buildings in Russia.

Honka has undertaken projects in more than 50 countries and has its own representation in 30 countries.