Viacheslav Chirikba: Our goal is to remove Abkhazia from international isolation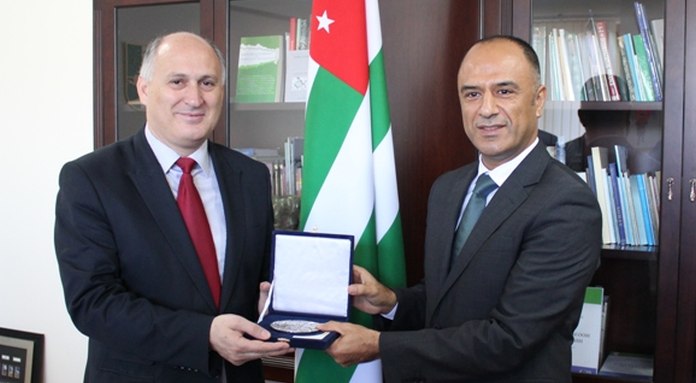 SUKHUM -- Abkhazian Foreign Minister Viacheslav Chirikba received a Turkish delegation led by Abdulkadir Uchar, Mayor of the town of Side.
The meeting was attended by the Mayor of Sukhum, Alias Labakhua, and Deputy-Foreign Minister, Irakli Khintba. Sukhum and Side today signed an agreement to establish fraternal relations.
"We are pleased that we can start a dialogue and cooperation at the level of twin-cities. We already have a similar experience with the city of Adapazari, where many friends and family live, and we hope that Side will become a town just as close to us. We look forward to fruitful cooperation," said Viacheslav Chirikba, as he welcomed the guests.

Abdulkadir Uchar noted that the delegation from Side was very warmly received by the city-authorities and said that, during the two-day stay in Abkhazia, he had already managed to fall in love with this country.

"We would be happy to see you and in our town. The doors of our town are always open for Abkhazia," said the mayor of Side.

According to him, the signing of the agreement on the establishment of fraternal relations with Sukhum will facilitate the strengthening of ties between Abkhazia and Turkey.


"Turkey is a beautiful country and its people are amazingly warm, friendly and welcoming," said Viacheslav Chirikba. As for the town of Side, this, he said, is not just a tourist-town but has a very rich history, and therefore Sukhum and Side will have a lot of areas for cooperation."

Very important, according to the head of the Foreign Ministry, is the interchange of cultures between the two countries. "In addition," said Chirikba, "Side, with its extensive experience in the field of tourism, could share it with Sukhum."

The minister also emphasised that the large Abkhazian diaspora resident in Turkey is a natural link between the Abkhaz and Turkish peoples.

"The Abkhaz diaspora in Turkey forms part of the people of Turkey; it participates in the construction of the state. These are very loyal and very dedicated Turkish citizens. I hope that they, too, will contribute to the development of relations between our two peoples," said Chirikba.

The Minister stressed the importance of restoring sea-links between Abkhazia and Turkey.

"We want to restore sea- and air-links between Abkhazia and Turkey. Our goal is also that different countries, particularly our neighbours, recognise Abkhazia's passports, so we can travel without trouble to Turkey on Abkhazian passports. Our aim to bring Abkhazia's international isolation to an end will, I hope, be assisted by ties with Turkey," said the Minister of Foreign Affairs of Abkhazia.