Traditional drink: head of the Union of Wine-makers of Abkhazia on the development of the industry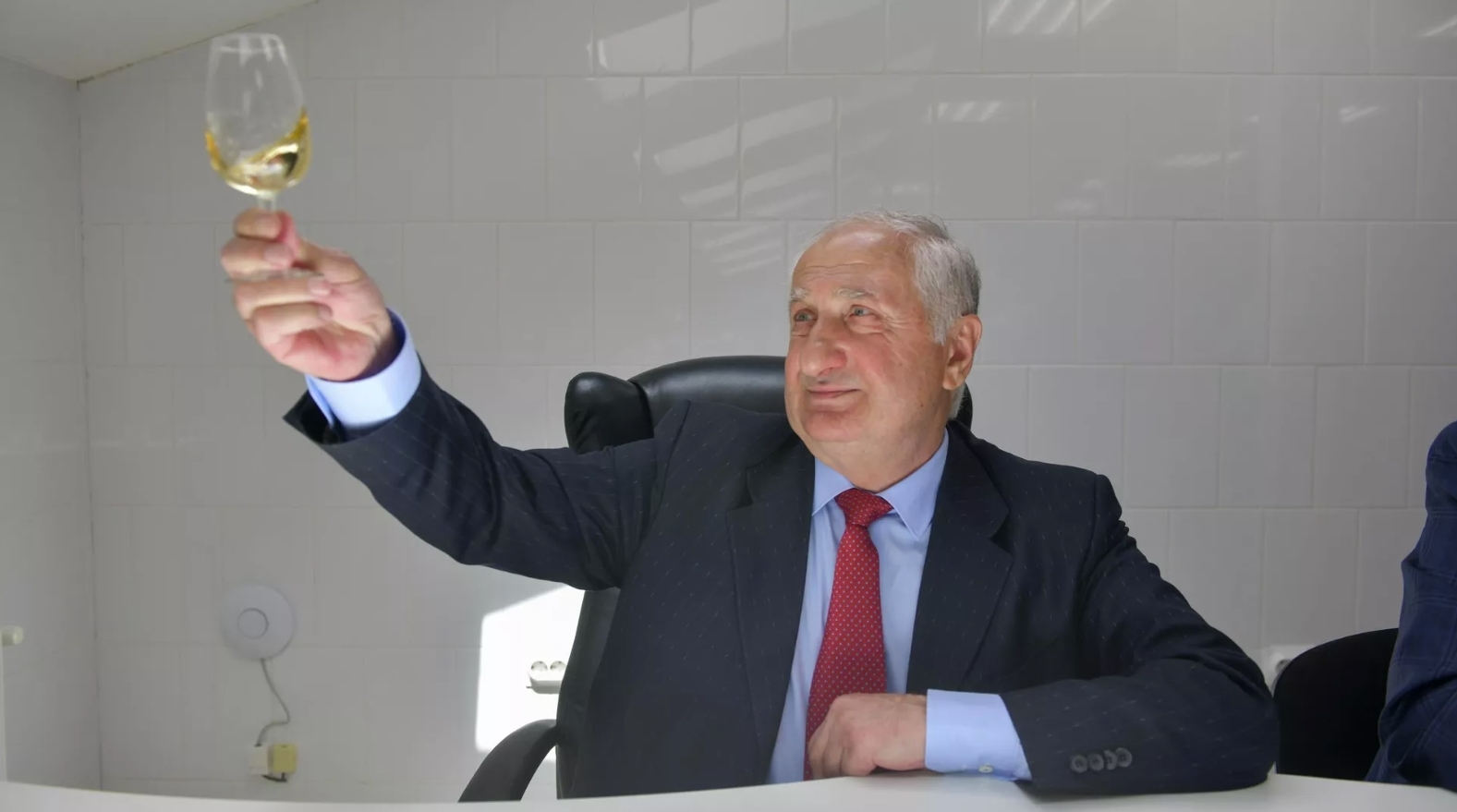 On 19 May Anatoli Avidzba, Academician of the Russian Academy of Sciences, Doctor of Agricultural Sciences, Professor, Academician of the International Academy of Grapes and Wine, Honorary Member of the Academy of Sciences of Abkhazia, was elected President of the Union of Viticulture and Wine-makers of Abkhazia.

He spoke about the plans of work in the organisation and how viticulture and wine-making are developing in Abkhazia today. Interviewed by Naala Mukba.
– First of all, I would like to thank you for taking the time and for being interested in these issues. The production of grapes and wine is a necessary thing, not only because it is a budget-forming industry, but also because wine is a useful product. There are 18 amino acids in grapes which are very beneficial for the human body, and moderate wine consumption is beneficial.
In countries such as Italy, France, Spain, Portugal, Chile, and Argentina are consumed dry red wines saturated with polyphenols, useful substances, – an adult consumes from 500 to 750 grams of wine per day. Therefore, it is necessary to be involved in this industry, especially in Abkhazia, where from time immemorial they have been engaged in the production and development of private wine-making. In my opinion, in industrial vineyards, you need to have up to 8-10% of fresh table-varieties in order to be able to get enough of the necessary amount of amino acids by eating fresh grapes.

If we talk about the production of wine, then any feast is not complete without this drink, and the task of the winemaker is to make available high-quality grapes, after the processing of which one obtains wine-material from which wines are made. We need to work on this subject.

In my opinion, the development of this industry in Abkhazia should begin with an explanatory note addressed to the president and government. They will send it through the Minister of Agriculture – no doubt there is there a department for the development of viticulture and wine-making in the republic. If not, it is necessary, apparently, to create a committee or department within the Ministry of Agriculture.


In this explanatory note, I would indicate the regulatory and legal support of the project. It is necessary, of course, to prepare a concept, then a project that will form the basis for the development of this industry. The second is the need to adopt a law on the restoration of plantations that were in Abkhazia during the Soviet era. Grapes are a moisture-loving and heat-loving crop, it is necessary to determine the places most favourable for production. Knowing the geography of vineyards in different countries, including the Crimea and Russia in general, I can say that grapes feel good in rocky soils and on slopes, at a height of 100-200 metres above sea-level.
For the production of traditional dry wines in Abkhazia, there are more than 10 indigenous varieties. At one time, the company "Wines and Waters of Abkhazia" applied to the Magarach Institute; we took cuttings and propagated seedlings in order to develop these varieties in nurseries on the territory of Abkhazia. As far as I am informed, wine-material was imported to the republic from the Ukraine and most of it from Moldova. Now, as you can see, the situation that is happening in connection with the sanctions against Russia suggests that we need to have our own nurseries, where we can develop adapted varieties that are complexly resistant to pests and diseases, drought-resistant and frost-resistant.


+ Wines of Abkhazia
+ Wine & Spirits of Abkhazia
+ Drones Changing The Wine-business
American grape-varieties Isabella, Lydia and so on, which are traditionally grown in the Republic of Abkhazia, they are the ones to which great attention should be paid. It is necessary to carry out work on the selection of soil, the selection of terrain, and to grow planting material at home. Even if you buy temporarily from other countries, then, as a rule, grapes have a specific yield of 25 to 30 years in our conditions, but in the conditions of Europe itself – 50-55 years.
From the moment of selection of planting material, and until the end of the life of the grapes, all environmental standards are observed during processing. For the first three years, you need to treat grapes, like a baby – you need to shape, direct, water, and to practise drip-irrigation. In the fourth year, it already begins to bear fruit. In the fifth or sixth year, the root-system of vines goes from five to eight metres, in some places up to 15 metres, that is, after three or four years, drought is not disastrous.

- In Abkhazia, one of the main export-objects is wine. How to ensure the export of your wine-material? What do you think is preventing us from providing our own wine-production with our own raw materials? You spoke about the legislative base, which we do not have.
In order to receive funding at least partially, you can make a private-public partnership, attracting investment for development. Today, entrepreneurs are not able to develop independently, because the laying of one hectare of a vineyard costs about 20 thousand dollars. This is a lot of money; knowing the possibilities of the budget, they are unlikely to be able immediately to pay the funds. Why did I start with an explanatory note? It was in order to come up with such a proposal to the government of the Russian Federation, to get an interest-free loan to plant grapes.

To lay out the grapes you need to prepare the area; the seedlings also need to be picked out if the varieties are undersized and vigorous. Selection should be made depending on the analysis of the soil. To do this, the first two or three years you need to grow your own material, for which you need to have small nurseries, at least at the start. Then it will be possible to distribute and plant the grape-varieties.
- If we talk about grape-varieties, Isabella is considered not the most expensive variety. We mainly produce table-wines, but the quality is not so high. How to improve the quality of wine?

At the 25th Congress of the International Congress of Vine and Wine, I spoke in Paris, at which time Europe and America rejected wines that were made from Isabella and Lydia varieties. They said that they allegedly contain carcinogenic substances harmful to the human body. But we conducted laboratory studies in various institutions, including in Israel, Spain, and Italy, where they did not know the kind of variety and the kind of wine. We have proved in studies that the content of carcinogenic substances in the grape varieties Cabernet, Merlot, Saperavi is higher than that of Isabella. Therefore, there is nothing harmful there; the only thing is that you need to follow the entire chain of technology in the production of the grapes and the processing, and, of course, have auxiliary materials that must be used for production. That is, the wine must be stored in a barrel in which cognac spirits have spent one year, after which the barrels can be used for five to eight years. For wine, it is necessary to sustain a temperature of 16 to 17 degrees all year round, with natural ventilation, but there are no such conditions – we know about this. Therefore, it is necessary to build small basements where there is ventilation and where at least a small number of air-conditioners can be installed.

You can make good wine, but ruin it during storage, and it becomes unusable. Wine-making is a budget-forming industry and it must be dealt with in detail – from the selection of a site through to obtaining high yields and quality.