Excursion to Samurzakan and Abkhazia [Excursion au Samourzakan et en Abkasie], by Carla Serena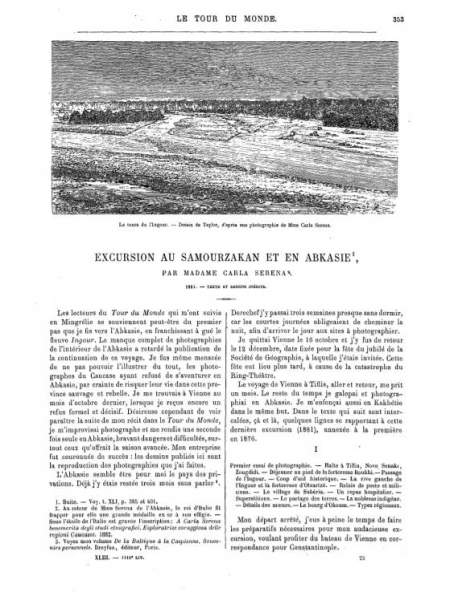 Excursion au Samourzakan et en Abkasie
Le Tour du Monde 43 | pp. 353-416

Author: Carla Serena
Year: 1882
Place of Publication: Paris, France
Publisher: Hachette
Number of Pages: 64 
Language: French
Carla Serena (Antwerp 1824 – Greece 1884) was a Belgian born woman married to a Venetian merchant, who was based in London. At the age of 50 she left her family in London and took a six-year long solo journey in the Ottoman Empire (1874-75), in the Russian Empire (1874, 1875-77, 1878-79, 1881) and in the Persian Empire (1877-78). After her journey she published a variety of scientific articles in the geographical journal Le Tour du Monde and her memories in the volume Mon voyage. Souvenirs personnels.
Her point of view as a Western European solo woman traveller is interesting in several ways. On the one hand, her scientific essays differ from her memories in terms of orientalist stereotypes, the latter being more straightforward and anecdotal. On the other hand, Carla Serena's writings display a wide range of different Easts, from Islamic barbarian Persia to France-like Poland, differentiated in terms of religious and ethnic prejudices, placement of people along the civilised-savage continuum and personal attitudes towards the regions she visited.

In addition to the analysis of orientalist elements in Carla Serena's work, I will show how boundaries between West and East are arbitrarily defined in her writings, and how the Caucasus displays a peculiar status, being considered both as Europe and Asia. In particular, my paper focuses on the analysis of her travels in Eastern Europe, at that time part of the Russian Empire.
See: Carla Serena (1824-84): A Solo Western European Woman Traveller and Her Multifaceted Easts, by Daniele Artoni (University of Verona, 2016)
Excursion au Samourzakan et en Abkasie
The full text in PDF can be downloaded by clicking here (19.3 MB)

Four Illustrations from "Excursion au Samourzakan et en Abkasie"